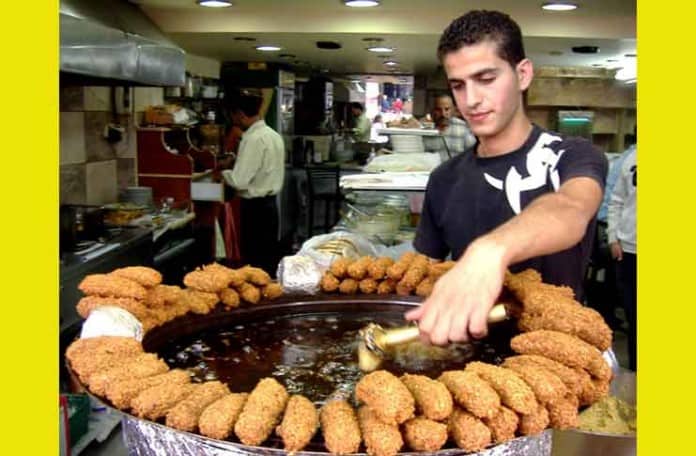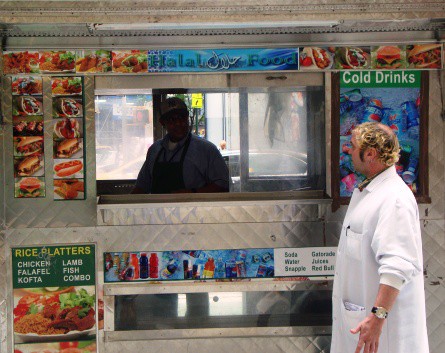 Before starting New York Street Food, I used to get a muffin every morning from Youssef's cart on the east side of Broadway between 58th & 59th St.  Youssef is one of the friendliest vendors I've met, and even though I was only getting a muffin, he treated me like a regular.  When there was a line, he quickly gave me a muffin out the back of the cart, so I didn't have to wait on line.
One day a few months ago Youssef told me that he was going to Alaska (?!?).  I think he was going to start a food cart up there, but I'm not sure.  Alaska seems like a strange place to go for a Middle Eastern person.  Not only is it brutally cold, but I thought Sarah Palin made it illegal for anyone other than "white Americans" to move to Alaska (political satire, people).
Well, Youssef was back Monday at his old spot near the NE corner of Broadway and 58th St, and he said he now has falafel available for lunch, as well as the usual chicken/lamb over rice, gyros, Italian sausages, hamburgers and cheese steaks.  If you're looking for this cart, it's in front of the new Argo Tea on Broadway and 58th St.  The cart sign says only Halal Food – no other name is listed.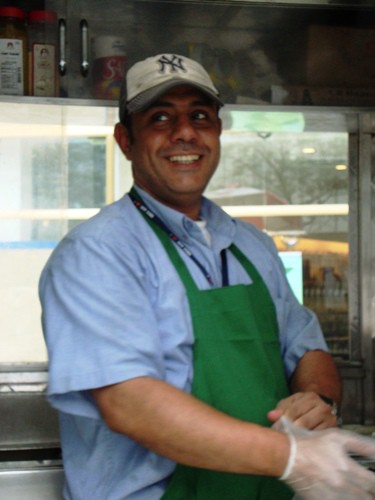 I guess the deep fryer wasn't up to speed yet, because he didn't have falafel today, but there was some fresh chicken grilling with a nice-looking spice rub on it.  Today's Lunch is chicken over rice, the measuring stick for street carts.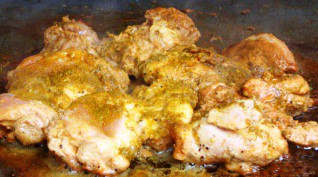 Youssef said he had two rice choices – yellow rice and a spicy brown rice.  I went for the spicy brown rice and requested white sauce and hot sauce on top of the chicken.  He only put a bit of hot sauce on, so I asked if it was really hot.  He said yes, and a regular customer behind me said just a little hot sauce was enough.  Alright then, we'll see.
When I got back to the office and took the first bite, there was a strong zing on my tongue.  It was apparent Youssef knew how to make hot sauce because this was one of the better hot sauces out there.  There was not a lot of white sauce, so I'll have to reserve judgment on that, but the hot sauce was very good.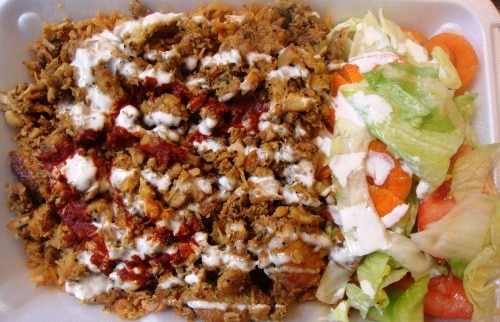 The chicken was a mix of white and dark meat, and it was not overcooked or dry.  There were some good-sized chunks of chicken, and the spice rub gave it a nice flavor.
Even though Youssef called the brown rice "spicy brown rice", it did not taste spicy to me.  That was probably because the hot sauce was so hot.  Nevertheless, the brown rice was done right, and it provided a good base for the chicken and sauces.  Next time I'll have to ask for extra white sauce because I couldn't really taste it today.  There was also a side salad of lettuce, tomato and carrots, which was fine.
Today's Lunch gets an 8 out of 10.  Is this the best street food in the city?  Probably not – but it is a solid, decent lunch for $5 with a very spicy hot sauce, and it's right near my office.  On some days, that's exactly what I need.  If you're near the Columbus Circle area, Youssef's cart is a good option.