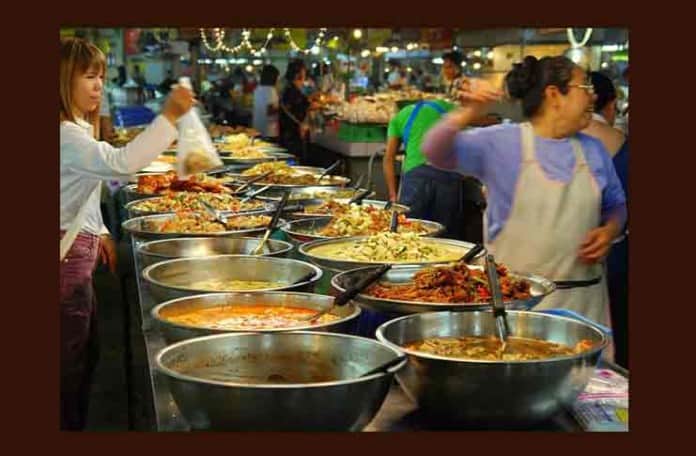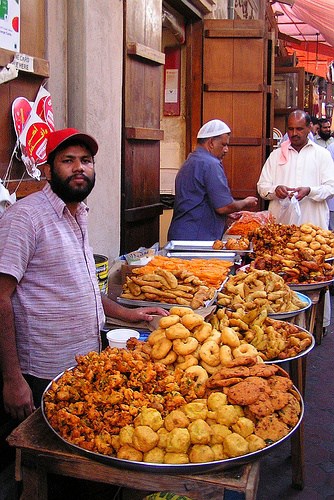 As many of you know, NYC food trucks were recently threatened by two City Council members who proposed a bill to strip food trucks of their business licenses if they received 3 parking tickets.  While this most-recent threat appears to have been averted through public outreach and the considerable time and effort put forth by the vendors themselves, street vendors in Delhi, India are looking at an impending crisis of their own.
Delhi officials plan to evict street vendors before the Commonwealth Games begin in October, which may mean an end to Delhi's street food culture.  If this occurs, thousands of street vendors will be robbed of their livelihood, and office and market areas to which they generally cater will go back to lunch boxes.
Most Delhi street vendors specialize in only one or two items and become known for them. You get litti, machchi pakori and all kinds of naan. There's no regional dish you can't get in Delhi.  Some vendor or the other is doing it – and it's cheap.
At Hari Om Kashyap's thela in Acharya Niketan market, you get two-three varieties of subzi, raita and two naans of your choice – there are about half a dozen varieties – all for Rs 20. He is also the only one in the vicinity with Amritsari naan on the menu. This special bread has atta, maida, suji and when it emerges from the tandoor, he slaps some butter onto it. Around 250 customers, most of them regulars, have their meals at his cart every day.
And once a fortnight, the dreaded '' committeewale'' (vendor-speak for city officials) come on rounds. '' We run when they come. But sometimes the police take away our carts,'' he says.  Police visits are less frequent but Kashyap has had his cart confiscated and been fined to the tune of Rs 1,000-1 ,500 (approximately 10 days' profits).
Food critic Vinod Dua is more confident about the walled-city vendors' chances of survival. After all, they've had over a century to dig in their heels.  "Street food is fine as long as it has roots somewhere.  In old Delhi, it's been around for centuries – Dahi Bhalla, Gol Gappa, they've been around. It's a tradition, there are songs associated with people selling kulfis'' he says.
''When we go abroad, we head for the flea markets, the hawker markets. Where do you go when you're in Bangkok? They are a prime tourist attraction,'' argues Kishwar.  She and Singh maintain street food cooked fresh before your eyes is in fact more hygienic with less harmful bacterial content than restaurant food.  ''The condition of kitchens behind doors is appalling'' says Kishwar.
Singh agrees. ''If there is security of livelihood, they can be taught how to dress, to wear gloves and trained in handling food. That's not difficult to do.  Provide them a secure space, access to water and safe disposal of waste.  Lay down the norms, they'll follow.'' [The Economic Times (of India)]