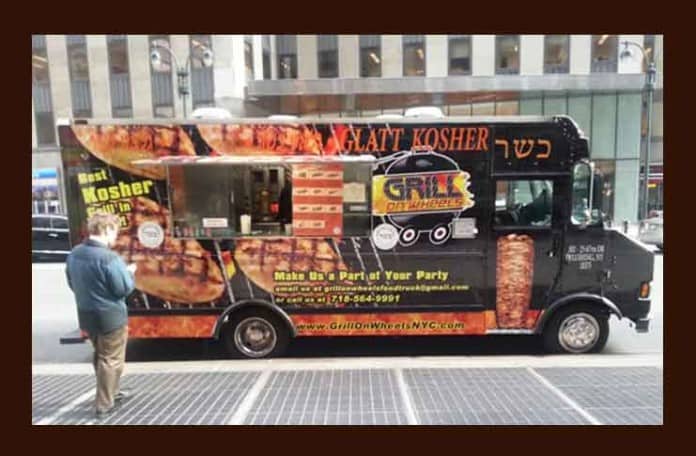 Look at that sun shining through the window!  Make sure you get some at lunchtime today – and while you're at it, enjoy some great New York Street Food from the vendors on the right and the trucks below.
As always, check the pink Mobile Munchies twitter feed on our homepage before heading out, as these trucks often have to move on a moment's notice.
schnitzeltruck – 48th & 6th u ready for the schnitz monster? Gonna be at location @ 11:30. Panna cotta with strawberry jam. Preorder @ 347-772-7341z c u soon
4 new tweets. StreetSweets – Street Sweets we are here for The West Village, Hudson St btw King & W.Houston 8a-4:30p. Street Sweets will be giving away several pairs of tickets to The 2010 NYC Food & Film Festival… http://fb.me/BZiwm9Fu
fritesnmeats – Were on Park Ave bet. 26th & 27th st. Come & grab some Burger Lovr & continue to show ur support against the Anti Food Truck Bill
nyccravings – 53rd btw park/lexington! Ready! http://fb.me/BaRiF87W
VLAIC – Panda was late coming in today to 6th and 22nd but should be parked as usual on 23rd at 5th Av at 10am
waffletruck – Happy Thursday! We're on 46 btwn 5 & 6 til 4:30 in the pm. Tell us a knock knock joke for 1 free dinges today. Interrupting cow who?
CupcakeStop – Today you can find our new truck on the South Street Seaport or our shoppe inside the Limelight Marketplace on 6th and 20th (1st floor)
EddiesPizzaNY – Happy thursday. We are on 52nd and park- southeast corner. this weeks special is chicken cutlet and hot cherry peppers. Call ahead to avoid line. 9174397522. Tonight is union square from 5pm to 9pm!
VLAIC – Coffee trucks @ 5th & 15th & 5th & 23rd, Try the Panama Cold Brew!
BistroTruck – Same location 5Ave & 16St. World cup special is inspired by Mexico: Fish tacos . Soup of day: sopa de tortilla (corn, tortilla, chile pasilla, tomato). Dessert: -arroz con leche (mexican rice pudding) – flan de coco y naranja.
RickshawTruck – Ooooh yeah its thurdsday!! Wooo!! FiDi, Hanover square and water st. Also SOHO! Hudson and houston 11 til 3!
CalexicoCart – Both carts are on the street. Today's special is Pollo Rib & Belly Ina southwestern BBQ sauce. Enjoy!
Hoboken/Jersey City
VeganLunchTruck – Special pancakes this week: Coconut milk spelt pancakes with pine nut butter and Vermont maple syrup. $8.00…. http://fb.me/zGBJYRO5
TheKrave – 6/17 – 12:00-2:00, Hudson & Essex, Inside Liberty Towers Gourmet 12:00-2:00, Hudson & Harborside Pl…. http://tumblr.com/xl1bpjfo0
laspicetruck – 11:30 – 2:00 @ hudson and grand across from my friends at the Goldman Sachs building. LST and LPT join me on… http://fb.me/AP1lbFy9. today free desserts for the first 15 customers!!!
1 new tweet.
TheTacoTruck – Jersey City, come on out! Lunch today will be at Hudson & York St. from 11:45-2:30. http://fb.me/ArOwBaRt