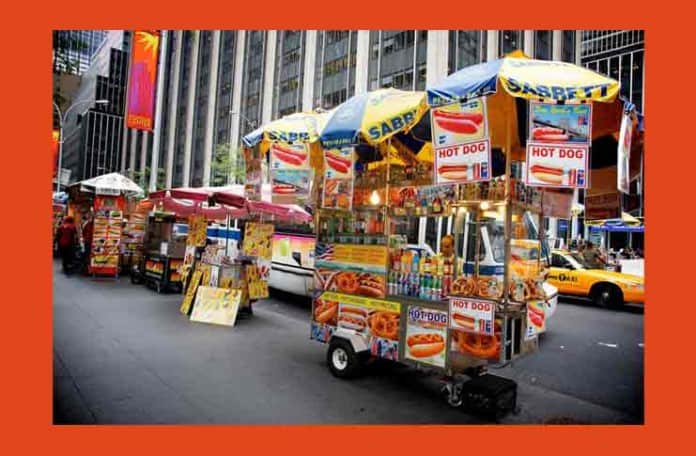 Last Friday I was involved with a film shoot at the Big Gay Ice Cream Truck for Eat Street, a show being produced for Food Network Canada.  On Thursday, they were filming at the Biryani Cart, and I stopped by to meet the film crew.
By the time I got there, around 1:15, the filming was mostly over, so it turned out to be a good time to meet the crew: Peter (Director), Lori (Producer) and Shane (Cameraman).  There were a couple of other people hired locally to help out too.
About 5 minutes after I got there, the owner of the Biryani Cart, Meru, came over and offered to provide lunch for everyone.  Peter, Lori and Shane got the chicken biryani, and Pat (a local hire) and I got the chennai (rhymes with henna) kathi rolls.  While Meru's biryani is very good, my favorite dish is the chennai kathi roll, which is the subject of Today's Lunch.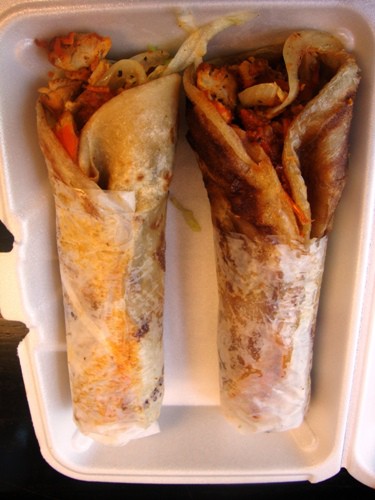 The main ingredient in chennai kathi rolls is that orange-colored tandoori chicken cut into bite-sized pieces.  It's put into nan bread with onions, lettuce and a spicy-sweet chili sauce, then rolled and wrapped in wax paper.
The chicken was a mix of white meat and dark meat, but there was none of that funky stuff you sometimes get with dark meat chicken.  The onions and lettuce were nice additions, and the bread was good too.  It held everything together well without being too obtrusive.  The bread had a bit of a doughy taste, which was fine with all the strong flavors going on inside the roll.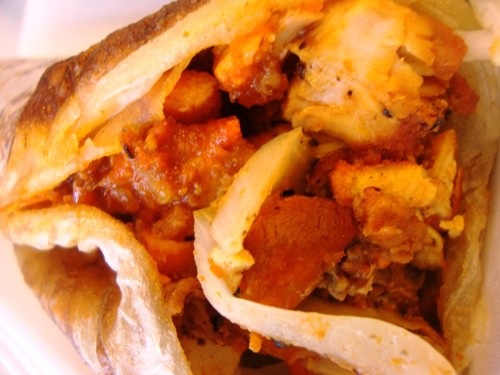 IMHO, what puts this dish into the stratosphere is the amazing sweet & spicy chili sauce, which is exactly what it sounds like – sweet and spicy.  The contrast between the sweet and spicy works perfectly with the chicken, onions, lettuce and bread, and makes this one of my favorite lunches since starting New York Street Food.
Peter and Lori really enjoyed their chicken biryani lunches, too (below).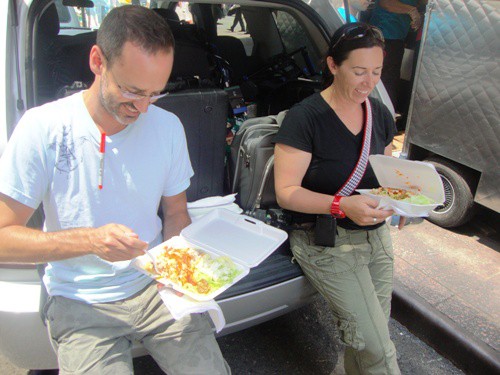 Today's Lunch gets a 9.5 out of 10.  It's easy to see why the Biryani Cart has won the People's Choice Vendy Award for the past 2 years.  Can Meru pull a three-peat in 2010?  Check back in September to find out.