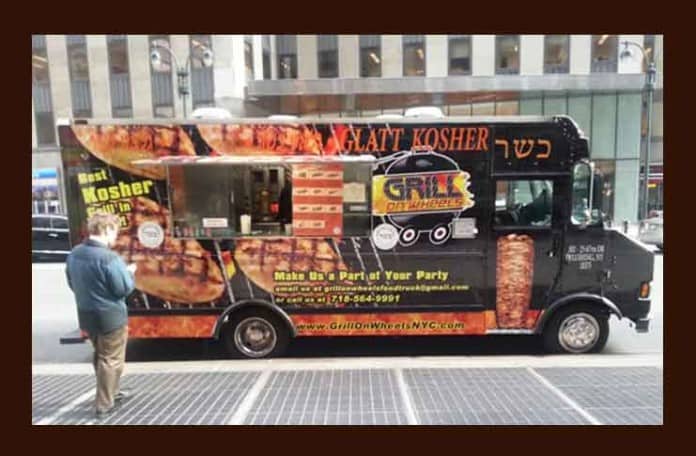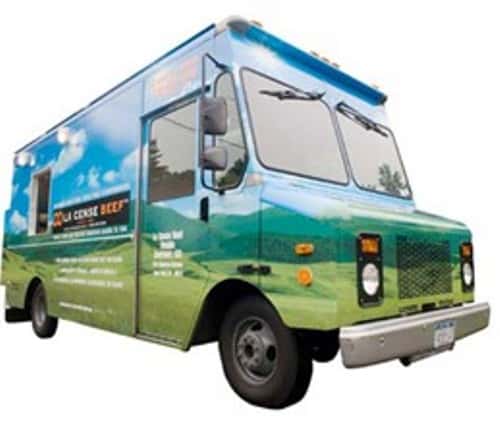 Got caught in some rain this morning, but now it's sunny.  Looks like it's gonna be one of those kind of weeks.
We can still enjoy some great street food from the vendors on the right and the trucks below. Just make sure to check the pink Mobile Munchies twitter feed on our homepage before heading out in case your intended truck had to move at the last minute.
LCBBurgerTruck – The LCB Burger Truck is parked @ 111 Wall Street today. See you at lunchtime!
StreetSweets – Gd morning Dog Days of Summer. St Sweets will b on 46 St & 6th Ave from 8a until 4:30p today. Stop by & let us make ur day a little sweeter.
quickstopkosher – Monday July 19th we will be located @ Mount Sinai Hospital From 8 am until 3 pm
RickshawTruck – Monday! On schedule. will be at 46th bet 5av + 6av as well as DUMBO Wash + Front street see you there 11a-3p chill it out with dumplings
CupcakeStop – Truck on 52nd and Lexington, shoppe inside the Limelight Marketplace on 6th and 20th, 1st fl. and new bakery in Montclair NJ 1 Greenwood Ave
EddiesPizzaNY – Happy Monday! We are on 26th btwn 11th and 12th until 3pm and then murray hill from 4pm until 9pm. Come try our pesto pizza! Call ahead orders 9174397522.
schnitzeltruck – Morning water and broad. We're heading your way today with deliciousness stocked to the fullest:) b there @ 11:30. Come get some Mon schnitz
fritesnmeats – Howdy Battery Park City, Goldman, AMEX & BoNy were on Murray St b/w West St & N. End Ave. Get ur week started with Burger Love! 9172929226
waffletruck – Dumbo Monday! We're on Front & Washinngton til 4:27pm. Your best blonde joke snags you a free dinges today. As if!
2 new tweets.
nyccravings – 48th btw 6th and 7th. Should be ready by 11:30…waiting for a spot to open up for us to park.
2 new tweets.
CalexicoCart – The special today on Wooster & Prince is shredded chicken in a roasted apple & toasted peanut sauce. Enjoy!Come check us out. We're open 7 days a week out @ Pier 1 in the BK Bridge Park!
Chefsamirtruck – NO truck today…today is hospital day, surgery or no surgery? SEND ME POSITIVE VIBES!!!
juicepirate – we juiced like crazy this weekend. inside and out. thanks to all who gave us Love at Prospect Park! we'll be there again next Saturday!
Hoboken/Jersey City
TheKrave – No lunch all week – due to a corporate event, we will not be serving lunch this full week. To get your korean… http://tumblr.com/xl1dr9su5