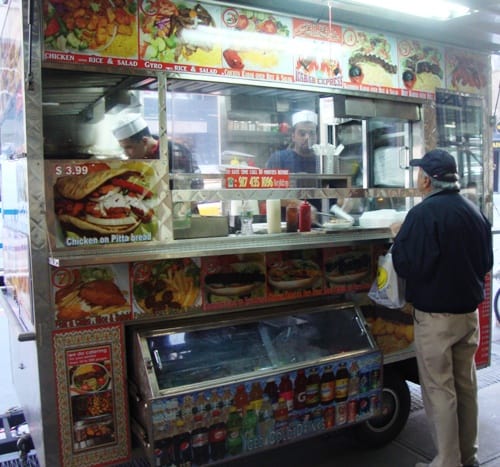 I didn't realize it had been over a year since I visited Kabab Express, just inside the SE corner of 6th Ave & 55th St.  Their kababs take a few minutes to cook, but they are grilled fresh in front of your eyes.
I wanted to try something new, like a lamb or beef kabab, but they don't have lamb anymore, and they didn't have beef today because it was their first day in a brand new cart, and things were a little disorganized.  The new cart was much nicer than the old cart, and it even has a refrigerator section.  Guess I'll have to try a beef kabab another time.
I also saw a sign for spicy chicken wings over rice and asked about that.  He said they should have it next week, but I've heard that before.
Today's Lunch is a chicken kabab over rice ($7) from Kabab Express.
When I ordered, they took out a large flat skewer, took the saran wrap off the meat, and put the skewer on the flame.  It was like one of those Argentinian or Brazilian churrasco skewers, and had to be over a foot long.  This skewer could have been used as a weapon if someone ever tried to rob the cart.  They turned the meat over several times for even grilling, then put the meat over rice and asked what sauces I wanted.  White and hot, I said.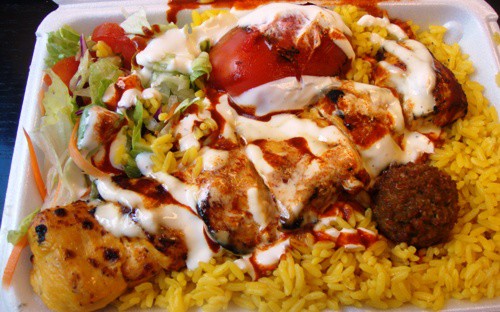 When I opened the container, there were 6 big pieces of white meat chicken with the white and hot sauces, half a grilled tomato, a small salad, and they even tossed a falafel ball in for nothing.  This looked pretty good!
The chicken was done just how grilled chicken should be done – browned with a little charring around the edges, but still juicy.  The chicken had a yellow tint from what was most likely a curry rub, but it was not spicy and didn't have a heavy curry flavor.  There was a lot of chicken here for $7!
I'm not a tomato person, but if I was, the grilled tomato looked pretty tasty too.
As for the sauces, the white sauce was fairly standard, but the hot sauce was most definitely hot.
At Kabab Express, you can get either yellow or brown rice, and I went for yellow.  The rice was soft and moist, and a tiny bit salty.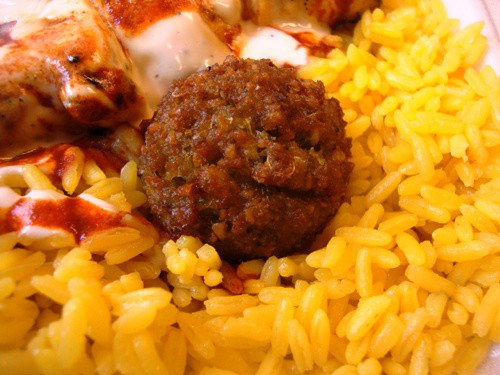 The falafel ball was a nice surprise.  It wasn't at the same level as Taïm Mobile, but it was crispy on the outside and spiced well on the inside.
Today's Lunch was definitely enjoyable.  With the weather getting a little more bearable, I don't mind waiting a few minutes for a freshly grilled kabab.  Or you can call in your order to 347-666-0554  about 10 minutes before you want to pick it up.