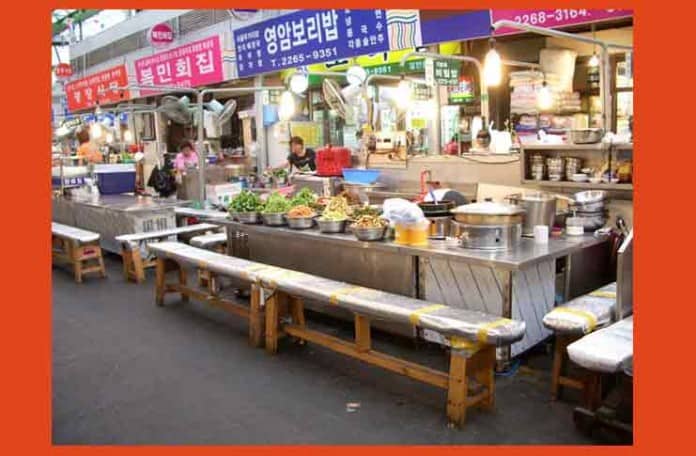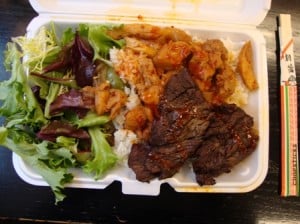 For Today's Lunch, I braved the sub-freezing weather and walked about 10 blocks each way to the Bulgogi Cart on W. 49th St bet 6th Ave & 7th Ave, but much closer to 6th Ave.  I asked the vendor what he recommended, and he suggested the beef ribs and spicy chicken combo for $8.  Since it was a bit of a walk, I decided to take his suggestion and get the combo so I could try 2 items on the same trip.
The combo came with a salad that was a couple of types of lettuce with a very light dressing that was nothing special, but under the lettuce were cellophane noodles with peppers and onions that was pretty good.  I didn't even see the noodles until I started eating the lettuce, and immediately switched over.
The chicken was good, mainly chopped pieces of dark meat with a little white meat and a few onions and potato.  He squirted on a generous amount of spicy red pepper sauce that really livened it up.  This wasn't the chopped chicken you get at a lot of the halal food carts that scares some people, but it wasn't quite the all-white meat chicken you get in Carnegie John's chicken and rice platter.  It was somewhere in the middle, but on the better side.
The beef short ribs on the other hand were excellent.  There were 2 large pieces of boneless beef ribs, which had a nice smoky bbq flavor and some after-heat, but not too much.  The meat was tender and really enjoyable.  Beef short ribs is a popular Korean dish, and it's easy to see why.
All-in-all, a very good lunch, and good value for $8.