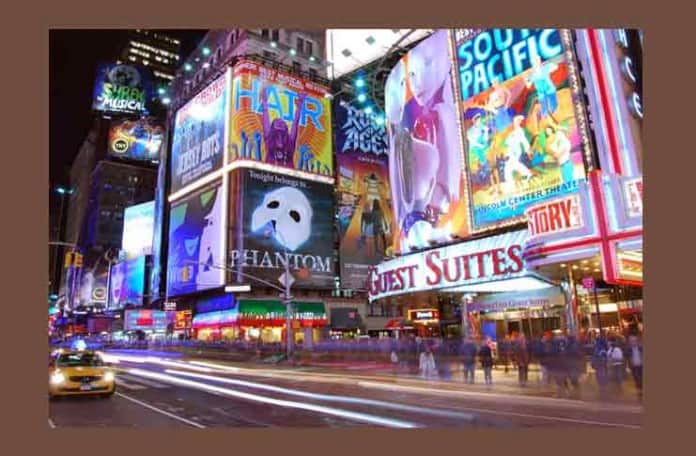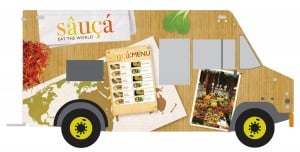 A new food truck is coming to Washington DC this month that embraces different cultures through food, music, art, events and people.  As a fully functioning restaurant on wheels, Sâuçá aims to bring global, healthy food to the residents of our nation's capital.
The specialty on the menu is the Sâuçá—a twist on the pita/wrap/food-on-bread concept inspired by true street food – ordered, prepared and eaten on the street.  Guests order by global region:   European, (Croque Monsieur) North American, (BBQ chicken) South American, (Fish Tacos) Asian, (Banh Mi) Middle Eastern (Kabobs) or sub-continent Africa / India (Curry dishes) with a savory meat or tofu protein and a starch such as the Sâuçá world bread, or rice, and the defining difference – the sauce!  The result is a sâuçá (a 'sandwich' with unique sauce(s) made with spices from one of the global regions).
Also offered will be soups, salads, and the sâuçá sweet – the Toffle, a gourmet waffle with a choice of toppings, great for either breakfast or dessert.  Drinks include a special mint-infused orange blossom Limunad, (lemonade), organic coffees, and hot teas.   Menu prices range from $5–$8 for breakfast, lunch and dinner sâuçás, to Toffles for $5, beverages, soups, and salads from $2–$7.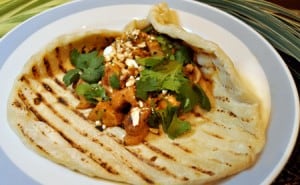 Did I mention the flat screen TVs on the side of the truck, wifi and an international pay phone.  Equipped with GPS and mobile electronics once it launches on the streets, the Sâuçámobile can be tracked via Googlemaps on the web site, www.eatsauca.com, or by following on Twitter or through the Sâuçá iPhone app. (available to iPhone users post launch/late January).
The video below demonstrates the Sâuçá 'payphone,' which will be accessible through a small door on the curbside of the truck, sliding out when the door is open. Sâuçá customers will be able to make a 1-minute phone call to any friend, anywhere in the world by depositing 2 sâuçá tokens (each sâuçá meal purchase earns one token).
Sounds interesting.  Check out the progress of the Sâuçá truck on their blog here.