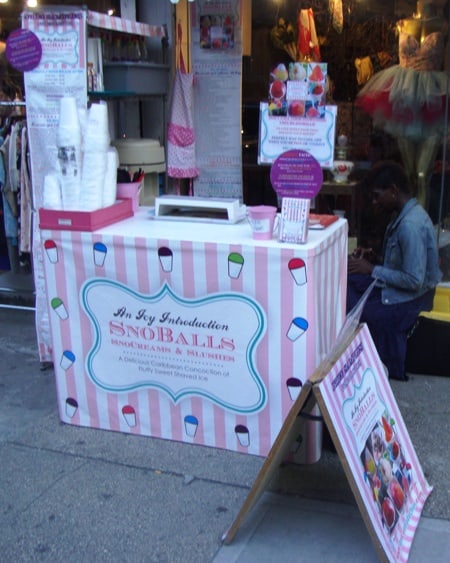 There are many ways to cool off during a NYC summer, and we just found another one – An Icy Introduction, who make Caribbean-style SnoBalls, SnoCreams and Slushes.
Readers of NYSF know about Wooly's Ice, who make Taiwanese shaved ice treats, and won Best Dessert at last year's Vendy Awards.  An Icy Introduction is a Caribbean version of this cool treat.
Kafi Dublin comes to us from the island of St. Vincent, and she told me that shaved ice is very popular all around the Caribbean.  That makes perfect sense in such a warm climate.
So what exactly are SnoBalls and SnoCreams?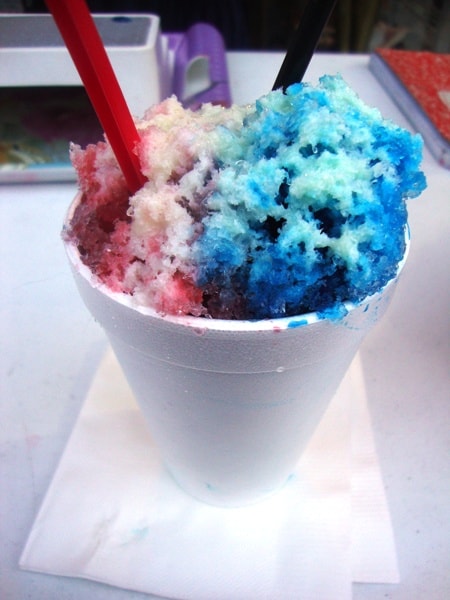 A SnoBall is shaved ice drenched with syrup, and topped with items such as sweet condensed milk, tres leches sauce, white chocolate sauce, peanut butter sauce or caramel sauce.
At An Icy Introduction, the syrups have a thick consistency that clings to the shaved snow, as opposed to simply flowing through to the bottom of the cup. Kafi says the syrups are made with a blend of Muscovado sugar (unprocessed cane sugar from the Caribbean) and Castor sugar.
As for flavors, An Icy Introduction currently has over 80 flavors including sugar-free, Signature Caribbean and custom blended specialty flavors.  You can see the list of flavors here.
In addition to SnoBalls, the stand also offers SnoCreams and Slushes.  A SnoCream is similar in consistency to ice cream. The fluffy shaved iced is blended with sweetened condensed milk into a creamy texture, then topped off with a flavored syrup.
The list of flavors and choices was a bit overwhelming at first.  Kafi asked me to tell people not to be afraid to ask for samples.  As she said, who knows, the "Dirty Girl Scout"  or "Tiger's Blood" might be your favorite one.  You won't know unless you try.
The SnoBalls are $4 for a 12 oz cup, $5 for 16 oz and $6 for a 20 oz cup, and you can get two flavors in one cup.  SnoCreams are $1 extra and toppings are $.50 each.  The full menu is here.  To make it easier to eat, the treats are served with both a straw and a long spoon.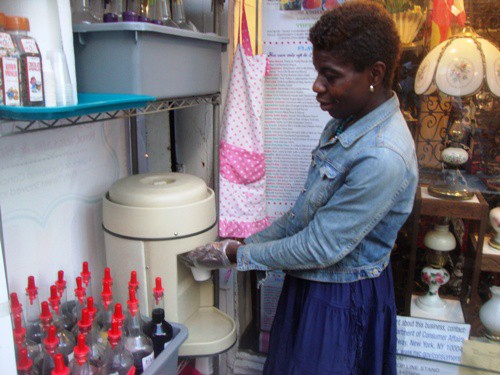 We went for a small cup of Bahama Mama and Blueberry, with sweet condensed milk on top, which cost $4.50.
First Kafi puts ice into a machine that makes it into the desired consistency. Then it's put into a cup and she puts on the chosen syrup(s).  After that, your choice of toppings are added.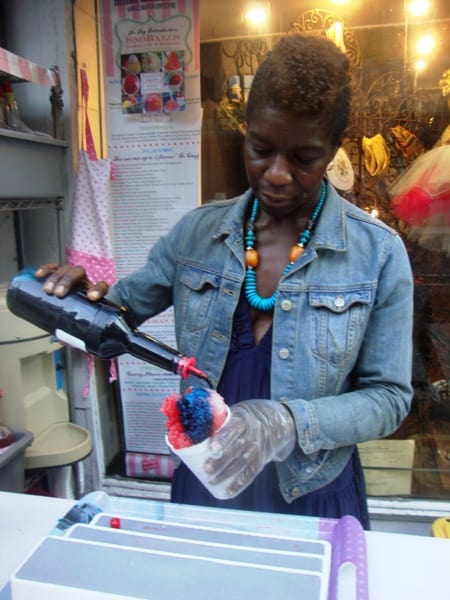 For me, the small size was plenty, although it wasn't a particularly hot day when I went.  On a hot day, a larger size might be more appropriate.
The Bahama Mama had a sweet, tropical fruit flavor.  There was a little coconut and a hint of rum, but not much.  The blueberry was a bit more intense in flavor.  The condensed milk added another dimension to this dessert, with a thick, sweet creaminess that sat on top of the ice.
The tiny stand is located outside 345 Lafayette St, just a few steps north of Bleecker St.  Their hours are from noon to 10pm, except Fri-Sat, when they are open until midnight.  For more information, their website is here.