A new food truck parked by our office on Monday called Yume Teriyaki Grill. The guy we spoke with taking orders, Douglas, said they've been around for a month or so, but mostly parked downtown by Wall St.
As a new vendor, they are exploring new areas, and we were happy to give them some pointers. Broadway between 55th & 56th St is getting way too crowded. With 5-6 vendors per day, it's only a matter of time before the police crack down on the block.
The menu is obviously teriyaki-based, but there are 7 different choices ranging from $6-11, including a veggie option.
Being big seafood lovers, and having recently eaten a lot of shrimp, we went for the salmon teriyaki for $11. The steak and salmon teriyaki dishes are the only ones over $10.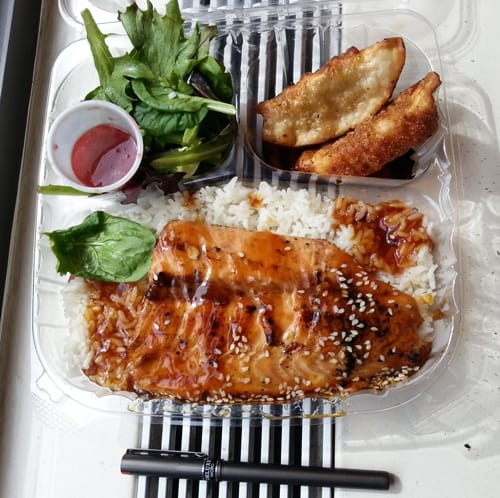 We were told it would be about 7 minutes because they grill the salmon fresh. No problem! We never mind waiting for freshly-cooked food.
During the wait, Douglas told us they were independent, and not affiliated with any other food trucks or carts.
According to their website, "yaki" means grill in Japanese and "teri" means shine, as in glazed.
Each meal comes with white or brown rice, gyoza or sauteed veggies, and a salad with either balsamic or raspberry vinaigrette dressing.
The salmon is served skinless, and is a decent-sized piece of fish. There's a light teriyaki glaze on top, sesame seeds, and even a tiny bit of char from the grill. Pretty tasty!
Don't expect a heavy sauce. The salmon came with a light glaze, which had a slightly fruity undertone.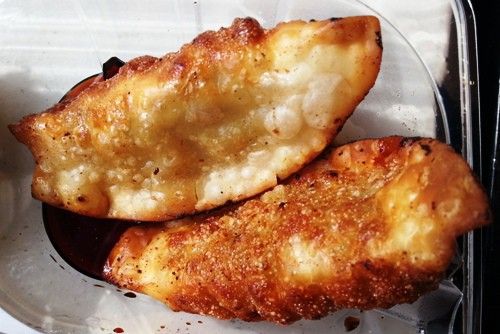 With a choice of pork or chicken dumplings, we chose pork. In our experience, chicken dumplings are often disappointing.
The gyoza were deep-fried, not pan-fried or steamed. This made them nice and crunchy, even after dipping them in the sauce provided.
Salads are usually an afterthought in street food, but the small side salad had a big taste from the raspberry vinaigrette dressing. A good palate cleanser at the end of the meal.
Although there are somewhat similar food trucks on the NYC streets (Sweet Chili, Hibachi Heaven, etc), Yume is just different enough to carve their own niche. We'll definitely be back to try their other teriyaki dishes.
You can find Yume Teriyaki Grill on twitter here or on the  Mobile Munchies twitter feed.