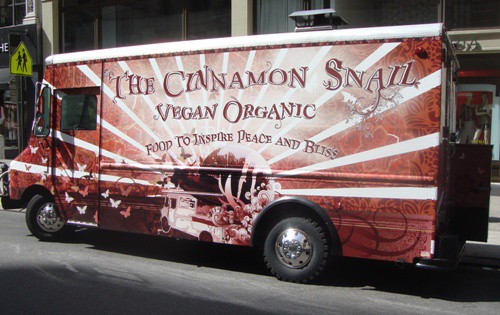 With the Cinnamon Snail back on NYC streets, we went opposite the usual route last week and had dessert first.  You can't go wrong with their pastries.
But Adam also has two new lunch items on the menu, a portobello mushroom carpaccio and what I decided to get, an ancho chile seiten burger, which costs $8.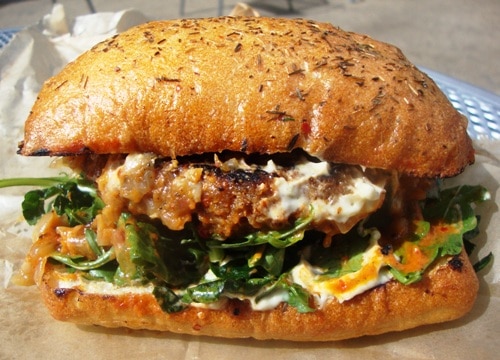 I'm not well versed in vegan cuisine, so I looked up seitan.  While it's made from wheat, seitan has little in common with flour or bread.   Also called "wheat meat", seitan becomes surprisingly similar to the look and texture of meat when cooked.  Seitan is also high in protein, making it a popular protein source for vegetarians.
In this case, it was made into a burger and grilled.  Adam served it on a rosemary focaccia roll with onions and garlic that had been simmered in beer.  The burger and onions were served on a bed of arugula with a piri piri pepper sauce and a horseradish cream sauce.
This was a big sandwich to get my mouth around, but I managed.  The roll was soft and herby, and the first taste to come through the roll was a creamy horseradish taste.  Shortly thereafter were the seitan, arugula and pepper sauce, which all got kicked up a notch from the horseradish cream.
The seitan was softer than a burger, but still held together pretty well.  I'm usually not one to eat veggie burgers, but this was very good.  Part of that had to do with the delicious sauces on the sandwich, but the burger itself was decent too.
About the only change I would make is to the onions, which were cooked until they were mushy.  I think a little more body to the onions would have been better, but overall this was an excellent lunch…and my tongue was tingling for a while afterwards.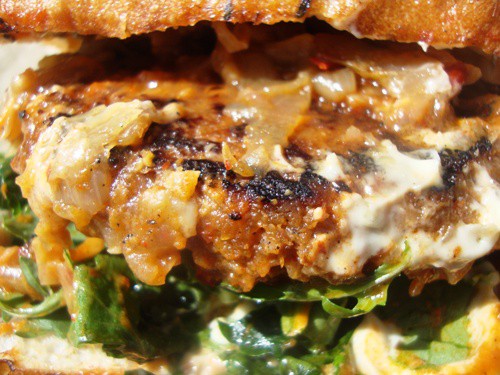 You can follow the Cinnamon Snail on twitter here or on our Mobile Munchies twitter feed, and their menu is here.  They hit different neighborhoods in Manhattan during the week, but they will also be at events in Jersey City and Red Bank throughout the season.