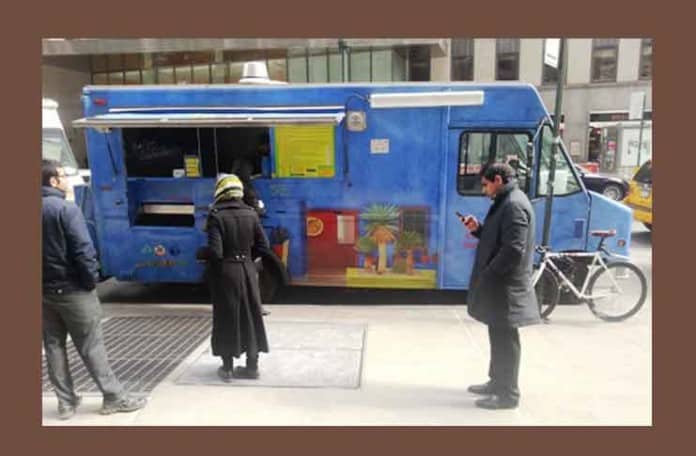 Taco Bite first hit the NYC streets in the Summer of 2012, when a former employee of the Tribeca Taco Truck went out on his own. The menus are fairly similar, but there have been a few changes since we last had a bite at Taco Bite.
In addition to tacos, burritos and quesadillas, they now offer burritas, which are low calorie burritos served on lettuce, without rice. They also offer burrito platters, which have rice and beans, but no tortilla.
We perused the large menu and decided on a burrito platter with nopales, which is cactus, for $8. This makes it a good vegetarian option, if you happen to swing that way.
The regular burrito is $7, and we tried to ask why it was $1 more with no tortilla, but didn't really get an answer from the woman working the window.
Opening the lunch container, we could see why it cost $1 more. There was a HUGE amount of food, more than you could possibly fit into a burrito.
We put a little salsa verde on top and went to town.
If you've never had nopales, it's a soft, fleshy green vegetable, which they cut into strips.

The nopales were pickled at Taco Bite, and spicy too. Maybe they were pickled in jalapeño juice. We're kidding, but with the spiciness, it's possible.
The nopales were mixed in with lettuce, shredded cheese, cilantro, onions, and you could have tomato too, which we asked them to leave out.
This was all served atop yellow rice and black beans, making for a very filling, tasty vegetarian lunch for $8.
Taco Bite gets around to different areas, so check their twitter here or our Mobile Munchies twitter feed to find out their exact location. Once you're in the general area, their bright blue truck is easy to locate.