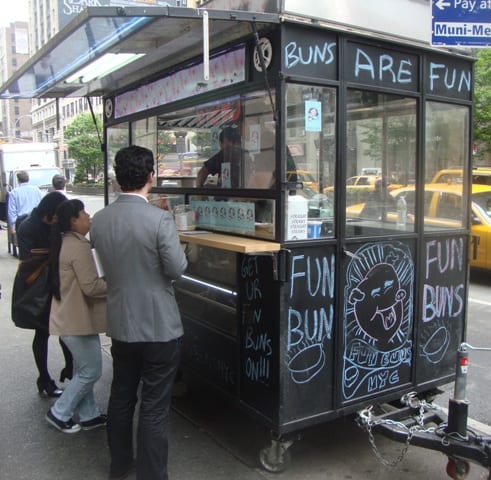 Feel like Chicken Bao? The Fun Buns cart emerged last spring with pork belly bao (Chinese buns), then they came out with beef bao at the beginning of the summer.
They must be doing something right. Last month Fun Buns was named as a 2012 Vendy Award Finalist in the Rookie of the Year category, and we got to enjoy them at the Vendys a few weeks ago.
The last item added to their menu was chicken bao, which we hadn't had a chance to try yet. Time to rectify that situation.
Buns are $3 each, but they have a combo with 3 buns, chips and a drink for $10. That's what we ordered, with 2 chicken and a beef bun. The chips and drinks are a little different, which we'll tell you about after the buns.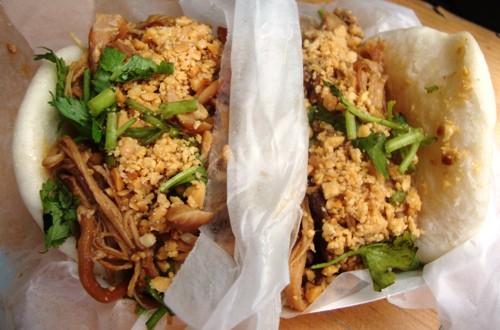 The buns are nice and soft, but made for eating right away. Don't try to travel too far with them, or they will get soggy in the middle by the fold.
The peanut and cilantro toppings were similar to the pork belly and beef buns, but the marinade was different. The chicken was marinated in hoisin sauce and soy suace instead of 5 spice powder (pork belly) or star anise, cloves & cinnamon (beef).
The chicken was shredded well and tender, and the hoisin/soy sauce marinade went well with both the meat and the crushed peanuts and cilantro.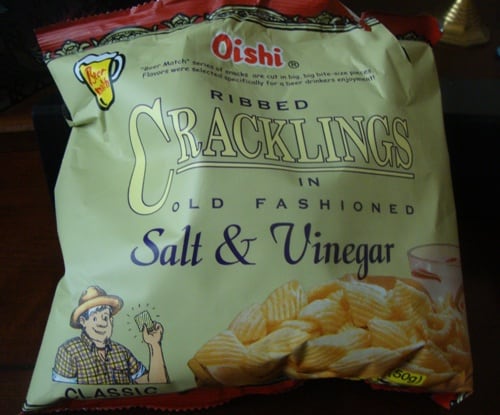 As for the chips, they have two kinds of Japanese snacks, spicy prawn crackers and salt & vinegar ribbed cracklings. We went for the salt & vinegar cracklings, having tried the prawn crackers once before and not particularly enjoying them. Let's say they are an acquired taste. The salt & vinegar cracklings were more to our taste, but I think we'll drop the "ribbed" part of the name. Too reminiscent of a different product.
To drink, they have fruit sodas like Pellegrino or Limonata (we forget exactly which), but what we really like is the Thai iced tea. It's in a can, but still tastes pretty good.
You can follow Fun Buns on Twitter here or on our Mobile Munchies twitter feed. Here's their menu.
We already reviewed the beef bao here, but we'll give you another photo, just to induce that drool factor.