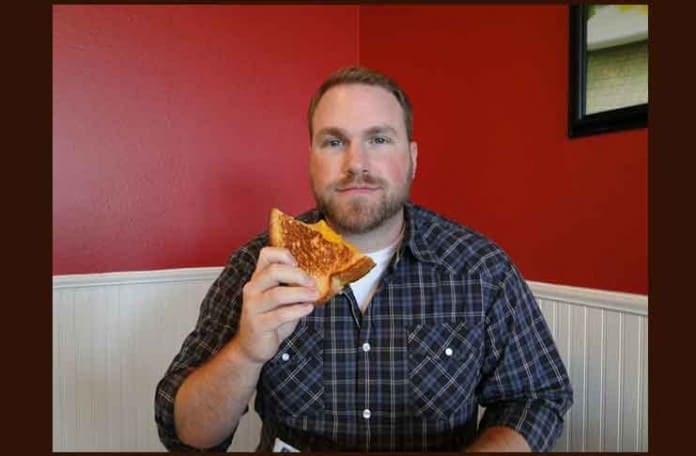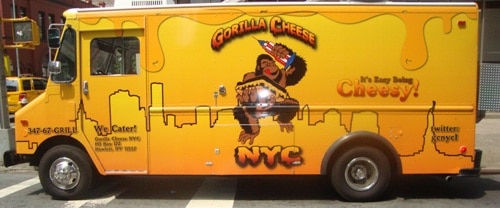 I stopped by Gorilla Cheese NYC recently, but haven't had a chance to post a review.  They had an interesting lunch special that day – homemade falafel, muenster cheese, tomato and tahini sauce on French bread ($6.50).
James from Gorilla Cheese told me a lot of people think French bread means a baguette, but it's not.  His French bread is more similar to white bread in shape and size, but it's a little thicker, and holds up to grilling better than white bread.
I also ordered tater tots ($2.50) and asked for some of his dipping sauces to try, of which there were 4 different types.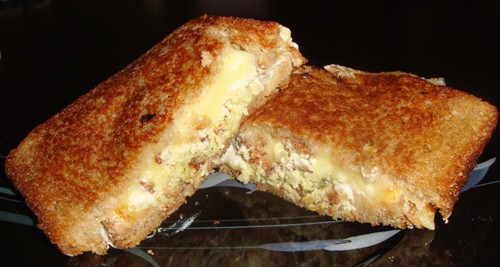 The sandwich was perfectly grilled to a golden color, but the secret weapon was the falafel.  It was homemade, but had a bit more kick than much of the falafel out there.  When I say kick, I don't mean heat, I mean it was well-spiced, not bland.
The falafel was complemented by a mild muenster cheese and some tomato.  Very tasty sandwich guys.
The tater tots were crisp on the outside and soft inside, and as I said, there were 4 dipping sauces – vidalia onion, balsamic glaze, sweet chili and ginger.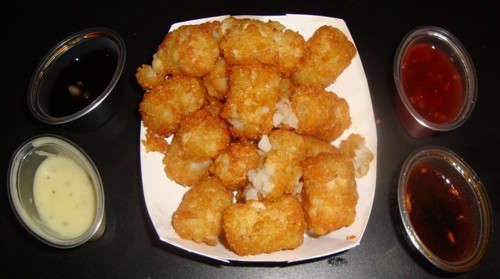 The vidalia onion was smooth and creamy, the ginger was reminiscent of the soy & ginger dipping sauce you get with Chinese dumplings, the balsamic glaze had a vinegary bite and the sweet chili is just what it sounds like, a sweet and spicy dipping sauce.  How much you like each of these will depend more on your taste than the quality, because they were all good.
In a short period of time, Gorilla Cheese NYC has become a stalwart of the New York Street Food scene.  Their food is inventive and done well, and they are building up a nice following.
This week's special sounds pretty good t00 – a beef patty melt: beef patty, muenster, pickles and sauteed onions.