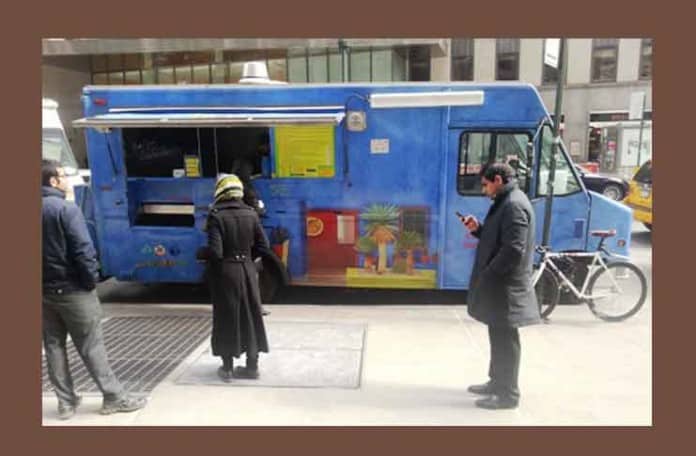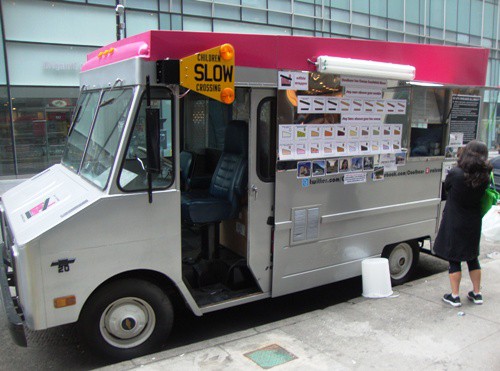 Today is the return of Frites 'N' Meats, and they will be giving away Free Thank You Fries at these locations today.
The new LIC food truck lot has Taim, Kimchi Taco and Andy's Ices, and the Katchkie Truck is now serving great pulled bbq chicken and pork sandwiches and burgers every day in West Soho.
As always, check the Mobile Munchies twitter feed before heading out, in case anyone had to move at the last minute.
LICfoodtruckLOT Chase away your Monday blues with lunch at the Food Truck LOT! Today's schedule: Taim, Kimchi Taco and Andy's Ice's
TaimMobile
Open at 11 at LIC lot on 43 and crescent ! We have Harissa falafel!
KimchiTruck
Good morning! Lunch at LIC Lot 43-29 Crescent St. 11:30-3pm. Dinner
@highlinenyc
Lot on Tap 30th St & 10th Ave. 5-10pm.
Frying_Dutchmen
We will be open for lunch today in Hudson place (varick street between charlton and vandam streets from 11:30 to 3:00pm
KatchkieTruck
What will it be today? BBQ pork or BBQ chicken? You really can't go wrong! Come see us for lunch in the Hudson Square Courtyard
KorillaBBQ Korilla 3.0 at midtown east!! 55th and lex come grab some lunch be open by 1145 c u guys soon!!
UncleGussys
Here we go folks Gyro Is ready, souvlaki is grilling Chicken galore 🙂 We do it with love all the time everytime.
CoolhausNY
Catch Brian on T2 making a special appearance in Queens 62-33 Woodhaven Blvd from 12-2pm! Try our NEW
@Ovenly
Vegan Coconut Almond Cookie!
EddiesPizzaNY
Today the cart is out on 52nd and 6th for lunch. Call ahead your order to 917.510.7269. Pizza Pizza
Mexicue
55th and park…a cross-street by any other name would smell as sweet…and savory. Open betwixt 11:30 and 3.
cupcakecrewnyc
Good morning Mid-town!Back to the grind Mondays.Start the week off with a satisfying Cupcake:-) Today our truck is parked on W50 & 6Ave.
bigdsgrub
8/8 G'morning!! Heading to Vanderbilt and 46th!!! Today's lunch special : Sriracha Hot Wings! OH YEAAAAAAA #sriracha
SweeteryNYC
Good morning Hudson St, Sweetery is here at King St. for you all day, we hope you missed us as much as we've missed you.
waffletruck
Manicalicious Monday! Le Truck is on Varick & King til 4:29pm. Roaming CARTS Le Goesting is on Greenwich & N. Moore til 4:31pm Le Bierbeek is at Columbus Circle til 8:47pm Aaaannnnddd… Order as the monopoly guy for 1 free dinges. Aaaannnnnd…Central CARTS Le Vedette is on 60 & 5 til 7:58 Le Kotmadam is at le Great Lawn til 7:59pm Allez!
LCBBurgerTruck
Happy Monday! The LCB Burger Truck is @ 111 Wall St today. See you at the truck for a delicious grass fed beef burger, sandwich and more!
New Jersey
TheKrave Monday – business as usual – 12:00-2:00 Hudson and Harborside Pl. 5:30-9:00 Columbus and Marin http://tumblr.com/xl13yyljpu