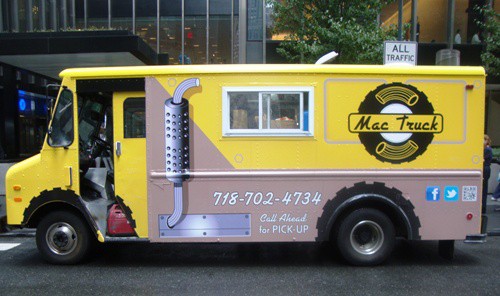 We always say YES to Pulled Pork Mac and Cheese, and right now the most brand-spanking new food truck in NYC is the Mac Truck. Yes, macaroni & cheese…but with lots of options!
We were out of town when the Mac Truck opened, but on Friday we had a First Look. Thanks again to Amar from Food To Eat for giving us an initial review early last week.
As with many food trucks these days, the menu is mix and match to your personal taste. For no additional charge, you can get add-ons like B&G peppers, sambal, extra sauce and more.
The classic m&c is $6, but the day we went, they tweeted to try their Pulled Pork Mac and Cheese, B&G peppers and sriracha mayo, which costs $8. Don't mind if we do! Just add a little extra cheese sauce to that, if you don't mind.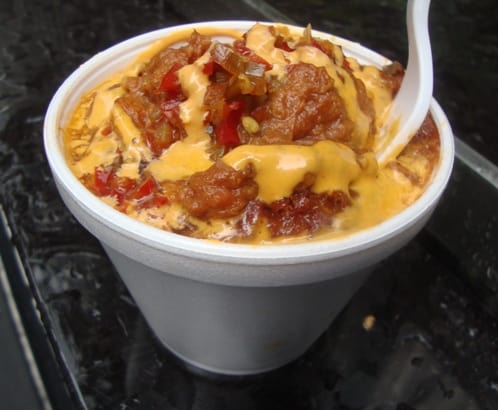 To quote The Scooter, "Holy Cow! I think that one's out of here!" Talk about a home run of flavors.
Starting on top, the B&G peppers had a nice, vinegary tang and some heat, which was kicked into high gear by the sriracha mayo. Between the two, there was a lot of tang and spiciness up top.
Just under the peppers was the pulled pork, made with a sweet bbq sauce. That's how we like our pulled pork. A vinegary pulled pork with B&G peppers on top would have been too vinegary and acidic.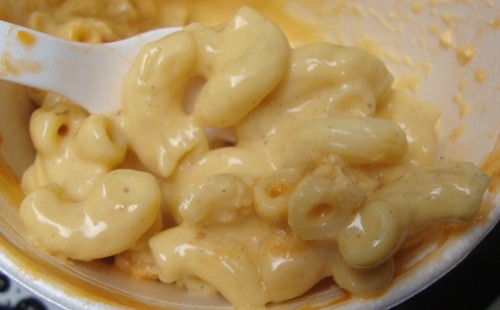 Mixed into the top was an extra dose of cheese sauce, which you can get for no extra charge. And it all sits on a bed of macaroni & cheese. Phew!
The macaroni wasn't exactly al dente, but it wasn't mushy either. It was soft, but not limp (yeah, yeah, I know…that's what she said). That's a major accomplishment for mac & cheese, which we assume was made earlier in the day.
To figure out what their classic mac & cheese is made with, we used our crackerjack journalism skills and asked. Dominick told us it was made with a mix of American cheese, cheddar cheese and cream cheese. He also said they use a beer base instead of cream or a bechamel sauce. So that's what gave the mac & cheese at the bottom an earthiness and richness – beer!
The Mac Truck has been spending most of their time in midtown, but they are getting a lot of requests from people working in other neighborhoods. To find the Mac Truck, check Twitter here or our Mobile Munchies twitter feed.
Next time, we would love to try a poached egg on top for $1 extra. My wife would probably kill me for adding a poached egg to mac & cheese. If we're lucky, the dish will kill us first. Hey, at least we'd die full and happy, and still have a few bucks left in our pocket!