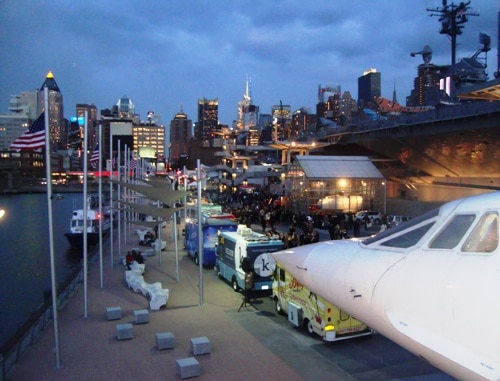 Last night was the first Choice Streets event, put on by the Village Voice.  It's an extension of the annual Choice Eats event, which we attended in 2011.
Choice Streets was held alongside the Intrepid, which was open to explore, as was the Concorde.  The photo above was taken as I exited the Concorde.
There were over 20 food trucks at the event, including past Vendy Award Winners & Finalists such as Solber Pupusas, The King of Falafel & Shawarma, Souvlaki GR, Kelvin Slush, Mexicue, Taïm Mobile, Cupcake Crew, Wafels & Dinges and Korilla BBQ.
But we've talked about all of them many times before, so let's talk about a few of the new vendors, plus an old vendor with a new dish.  Then we'll go back to a few old favorites.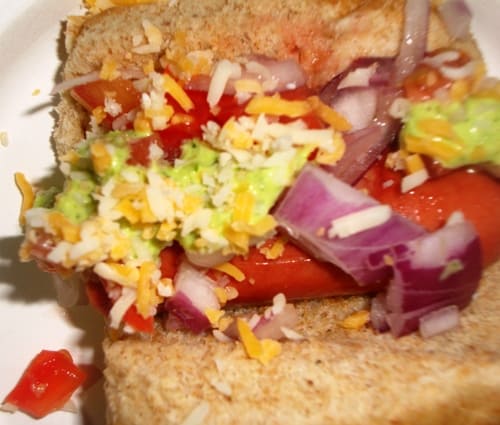 One of the newer vendors was NYC Healthy Bites. They had samples of two types of their organic hot dogs, sausages and vegan sausage – the Diablo Dog and Greek Dog.
We tried the Diablo Dog, which had diced tomatoes, onions and shredded cheese with a "spicy" cilantro sauce on a hot dog.  It wasn't particularly spicy or devilish, but it was tasty.
NYC Healthy Bites was around Columbia University for a while, but they now seem to be moving to different locations around the city.  Find them on twitter here or our Mobile Munchies twitter feed.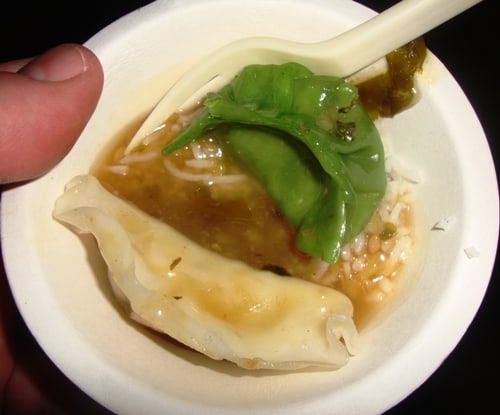 Another new vendor was Chinese Mirch, who we mentioned earlier today.  Chinese food cooked in a wok with Indian spices was interesting.  Their Tibetan momos in a ginger chili sauce (above) was tasty enough that we definitely want to try more of their food.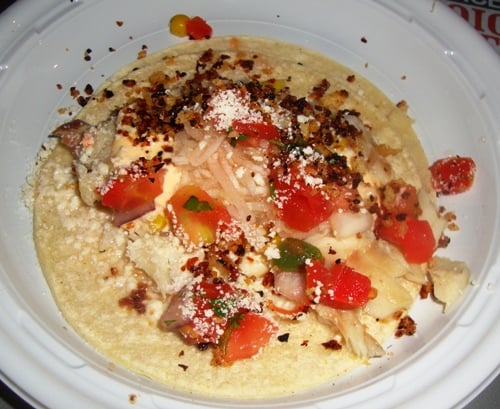 We are very well acquainted with Korilla BBQ, but they came up with something new for Choice Streets – a fish taco.  They also had a beef taco, which my wife enjoyed, but I love fish tacos.
This one had a citrus daikon salad (daikon, tomatoes, corn and cilantro) and crushed, dried kimchi powder.  The taco was a little watery from the daikon salad, but the taste was delicious, and two tortillas kept it from breaking apart.
The fish taco from Korilla BBQ was probably my favorite dish of the event.  Unfortunately, it was a special dish for Choice Streets, and will not be served on their truck.  Maybe if we all ask for it, they will have to bring it aboard.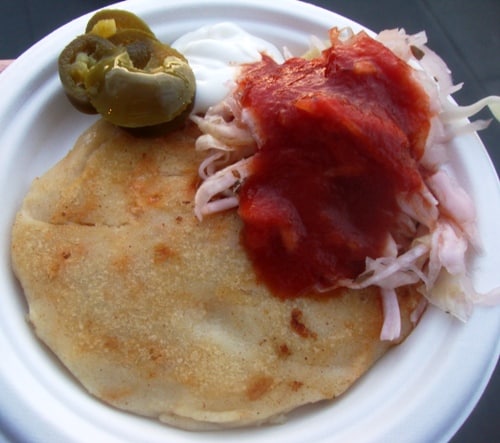 Even though we've had it before, we had to get a dish from Solber Pupusas, winner of the 2011 Vendy Cup.  It was a smaller version than usual, but that was fine with so many other dishes to try.  Inside the pupusa was shredded meat, and it was topped with their homemade pickled cabbage and onions, Makers Mark tomato sauce, jalapeños and sour cream.  Great as always.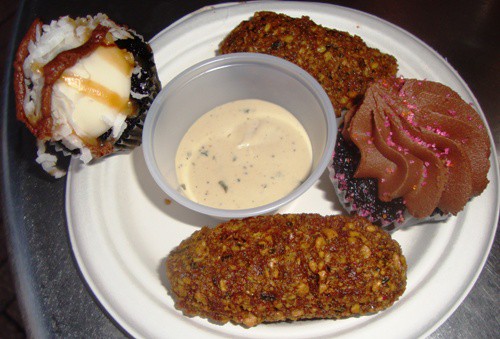 We ended the evening with falafel from the King of Falafel & Shawarma, the 2010 Vendy Cup Winner, and a couple of cupcakes from Cupcake Crew, who were a finalist in the dessert category last year.
The falafel was crunchy on the outside, moist on the inside, and perfectly spiced.  It's good to be king!
Frankie's cupcakes were a great way to end the evening – a Samoa and a chocolate/chocolate cupcake.  Both had dark chocolate cake, and one had milk chocolate frosting with pink candy crystals, while the other had had coconut flakes and stripes of caramel and chocolate.
In addition to the food and drink, we got to go on the Concorde, experience a flight simulator, and walk around the Intrepid aircraft carrier & museum.  What a remarkable setting for the 1st Choice Streets!  Hats off to the Village Voice and the Choice Streets team for an excellent event.