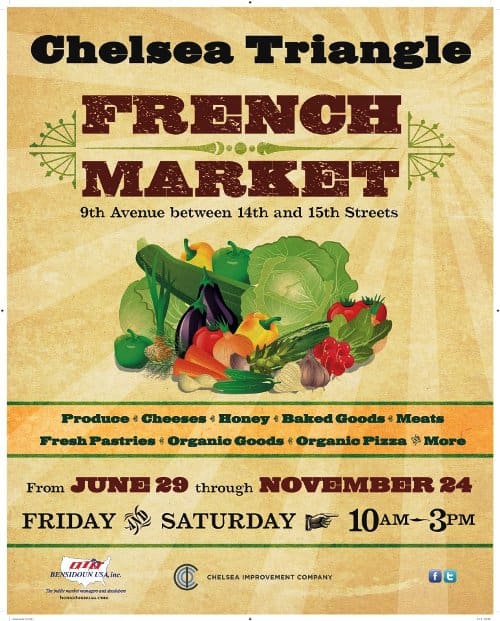 In case you haven't heard, there's a new outdoor market opening tomorrow in the Meatpacking District.
The Chelsea Triangle French Market will be open every Friday & Saturdays from 10am-3pm, and it will be open until just after Thanksgiving!
The market was organized by Bensidoun USA, who have organized a number of French Markets elsewhere in the US.
Among the items expected to be available at the market are:
• Greens, arugula, lettuces, spinach, mushroom (both foraged and cultivated), tomatoes, onions, ramps, herbs,  and sprouts
• Apples, stone fruit (peaches, plums) pears, strawberries, blueberries, and raspberries
• Organic dried pasta made in New York State
• Artisanal baguettes, baked goods, granola and specialty breads made with organic grains including an array of gluten-free and vegan offerings
• Grass fed beef and pork products including steaks and sausages
• Honey and maple syrup
• Authentic Italian pizza made with all organic and local ingredients, cut to order
• Baked items such as French cannelles and madeleines
• Homemade mozzarella and other Italian specialties
• Pickles, sauerkraut, pickled vegetables
• Organic veal, pork and chicken products, cured meats, eggs, and sheep, cow and goat's milk cheeses
• Organic teas
• French bakery items
If you are a vendor who is interested in being a part of the Chelsea Triangle French Market, contact Johanna Safar at jsafar@bensidounmarketsny.com  or Jody Milano at (917) 406-7477.
The Chelsea Triangle is on 9th Ave between 14th & 15th St, on the side of the Apple store.  The French Market's facebook is here.