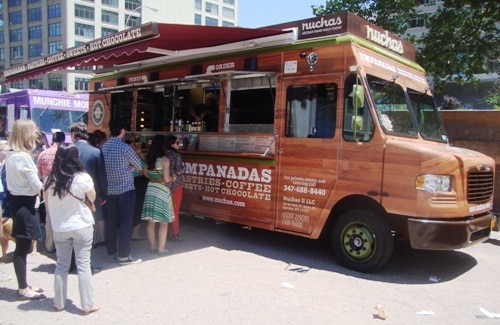 A few days ago, we alerted you to a new empanada truck called Nuchas Empanada Truck.  You may or may not have seen their kiosk in Times Square, but there's no way you're going to miss this truck. It's gotta be one of the largest food trucks around.
Another food truck owner told me the Nuchas Empanada Truck was 31.5 feet long, which is a good 5-6 feet longer than most other food trucks.  The roof seems to be a little higher too.
But we didn't go for the truck, we went for the food! Nuchas Empanada Truck has 4 different types of meat empanadas, 3 types of veggie empanadas, and a sweet dessert empanada, along with a few other desserts.
The empanadas cost $3 each after tax, and they have a special of 3 empanadas and a drink for $10.  That saves you $1, and is exactly what I did. This gave me a variety to sample as well.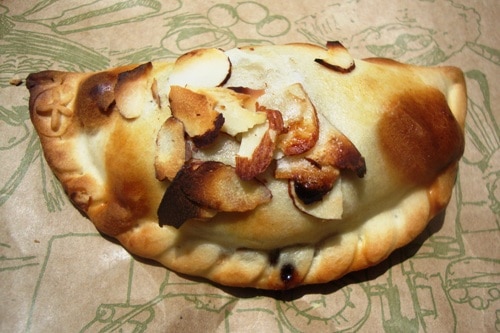 One nice thing about Nuchas empanadas is they are baked, not fried. There's a giant oven in the back of the truck with a number of shelves that rotate around.  That's how the empanadas are baked.
The empanadas came out of the oven very hot.  I had to be careful not to burn my mouth on the first few bites, and even the last few bites were still plenty hot.
The first empanada I tried was the classic Argentine.  It was filled with spiced ground beef (Pat LaFrieda's according to the menu), olives, carrots, peppers, scallions, onions and potatoes.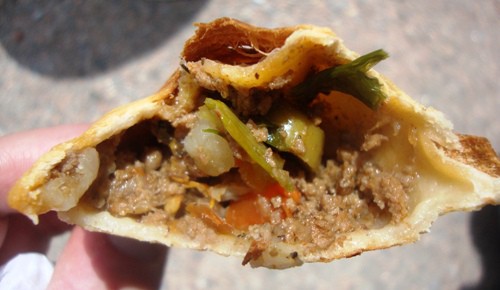 You can see above that each ingredient was distinct, they weren't all mushed together.  Once it cooled off, the Argentine empanada was slightly spicy, and very tasty.
Next up was the portobello empanada, which was made with a spinach dough, giving it a light green tint.  If you thought the outside was green, check out the inside below.
The inside was filled with spinach, chopped portobello mushrooms, mozzarella cheese and onions.
If you like spinach, you'll love this one.  Between the dough and the filling, it was quite spinach-y.  I like (but don't love) spinach, so the spinach filling with white dough would have been my choice if it was available.  The melted mozzarella did add a nice flavor and texture to the proceedings.
We ended with a dessert empanada, which is shown in the second photo above, with slivered almonds baked onto the dough.
The filling had apples, pears, cranberries, nutella and chocolate. Yum!
The inside of the empanada had a nice cinnamon fragrance, which I love.  The fruit, chocolate, cinnamon and nutella were all discernable while eating this empanada, as were the almonds on top of the dough.  What a great way to end lunch!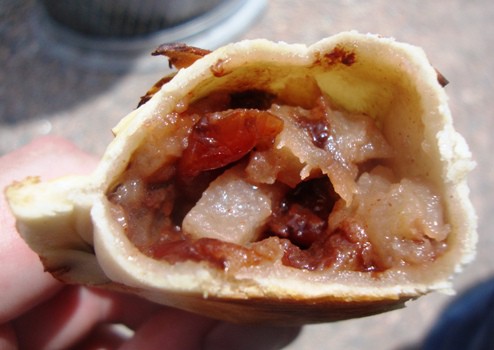 As you can tell, I definitely enjoyed this meal, and look forward to trying the rest of the menu.
My only concern is how are they going to park this boat on the street.  It's not going to fit into too many parking spots.  At least that shouldn't be a problem on the food truck lots and at weekend events.
You can find Nuchas Empanada Truck on twitter here or on our Mobile Munchies twitter feed.
The Nuchas website is here, and if you can't locate the truck, their kiosk is on the east side of Times Square by 44th St & Broadway.  You can see the full Nuchas menu here.