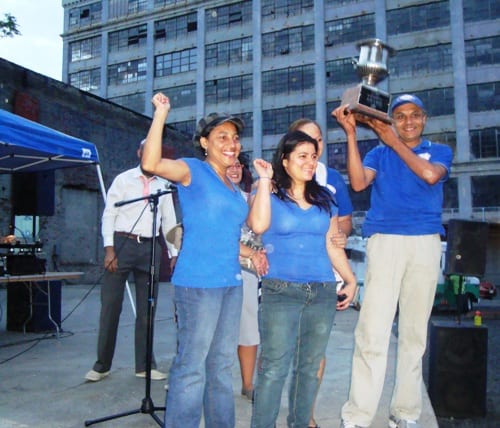 They did it again! A Red Hook Ballfields Vendor, El Olomega, was the big winner at the 2013 Vendy Awards, held Saturday, Sept 7th in Brooklyn. That makes 4 out of the last 5 years that a Red Hook Ballfields Vendor has won the prestigious Vendy Cup, awarded to "The Best Street Vendor in NYC".
It was a beautiful day for the Vendy Awards, with lots of sun and temperatures around 80 degrees. Warm enough for shorts, but not too hot to be uncomfortable. That's important when there are 28(!) excellent vendors to sample among all the categories.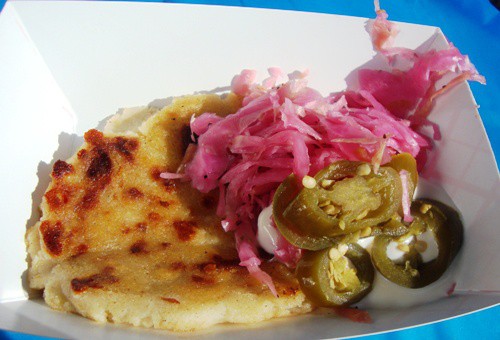 El Olomega is a vendor originally from El Salvador, and pupusas are their specialty. Pupusas are corn masa patties stuffed with various fillings, grilled, then served with pickled onions, jalapenos, cabbage, and crema.
The pupusa choices yesterday were pork and cheese, chicken and cheese, or loroco (an edible flower) and cheese. Since we had the loroco flower and cheese from El Olomega when we visited the Red Hook Ballfields a while back, we had the pork and cheese yesterday.
While the pupusa was totally homemade, delicious, and deserving of the Vendy Cup, we were surprised, as Solber Pupusas won the Vendy Cup only 2 years ago.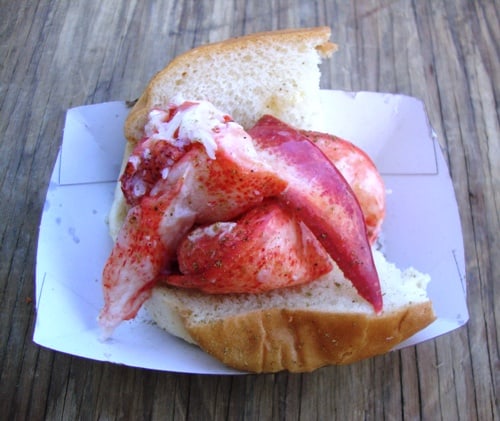 The People's Taste Award, chosen by the people attending the event, went to Luke's Lobster.
Luke's had the longest lines of the day of any vendor, which often translates to an award. Luke's offered small lobster rolls or lobster grilled cheese.
There was plenty of meat on the small piece of bread, and only a small dab of mayo, letting the sweet, juicy lobster shine through.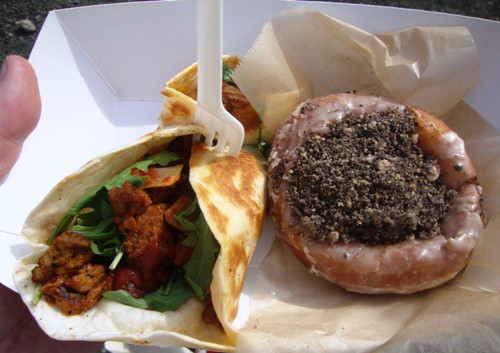 Last year's People's Taste Award Winner, The Cinnamon Snail, brought their A-game, but it wasn't enough to put them over the top with the judges.
Adam and company served Korean BBQ Seitan, Lemon Caper Grilled Oyster Mushrooms and Lemongrass Tempeh Tacos as savories. For dessert, there were Cranberry Glazed Cake Donuts and Norberweiberhydrafab Donuts (pictured above), which were amazing.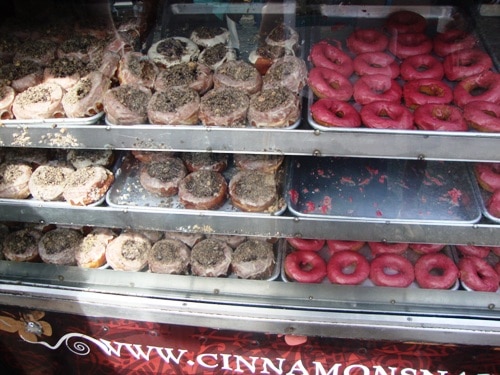 Norberweiberhydrafab Donuts is obviously a made-up name, but it consisted of white chocolate glazed donuts stuffed with bourbon hazelnut ganache, and dusted with dirty blonde streusel. It tasted as good as it sounds!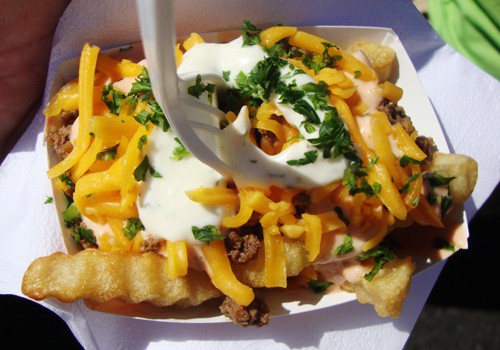 Another pleasant surprise was the Taco Chips from The Chipper Truck. We had never been to The Chipper Truck before. They are an Irish truck that vends nights in Woodlawn, the Bronx.
We didn't expect too much from a chips (french fry) truck, but this was a great dish. They started with crinkle cut fries, added ground beef, cheddar cheese, their special pink sauce, garlic mayo and some greens on top. The garlic mayo was the secret ingredient, making the taco chips "pop'. Nice job!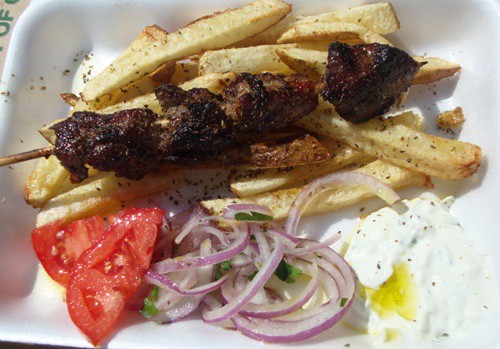 Souvlaki King of Astoria did a nice job as well. They served lamb or chicken souvlaki, fries, and a thick, herby tzaziki sauce.
All the Vendy Cup Finalists were excellent, but why do you think that a Red Hook Ballfields vendor has won 4 of the past 5 Vendy Awards?
Our theory is that just getting into the Red Hook Ballfields as a vendor is a kind of pre-screening process. Only a certain quality of vendor is allowed to sell at the Red Hook Ballfields. This gives them an advantage at the Vendy Awards.
Regardless, the Vendy Awards is our High Holy Day, and it didn't disappoint in 2013. This was our 5th Vendy Awards, and there has not been a dud in the batch. Every one has been awesome!