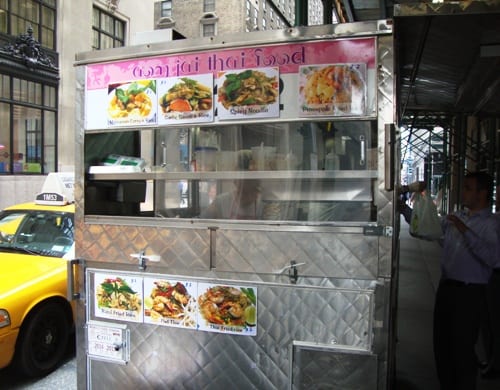 Last week after picking up lunch on 47th & Park, we passed a new Thai food cart on 46th St between Park and Vanderbilt Aves.
It's called Aom Jai Thai Food, and did not appear to be associated with the other Thai Food carts in midtown, Tuk Tuk Boy, Muay Thai and Bankkok, which we understand are all affiliated.
This week we headed directly to this particular Thai food cart. Did not pass Go, did not collect $200, but we did collect a tasty lunch for $7.
There were 2 women in the cart, and we asked the person in front what the cart's name Aom Jai meant. She smiled and said it was her name.
The menu is pretty much create-your-own dish. There are about 10 sauces (peanut, cashew, spicy noodle, basil), and you add the protein. Not sure if they have tofu, but it's easy enough to order the dishes without meat if you're a vegetarian.
We asked Aom for her recommendation, and she said Spicy Noodles with Beef. Sounded good to us.
Opening the container, we could smell the cumin-scented beef. It was sliced wide and thin, and had been grilled a little, but cumin was the draw.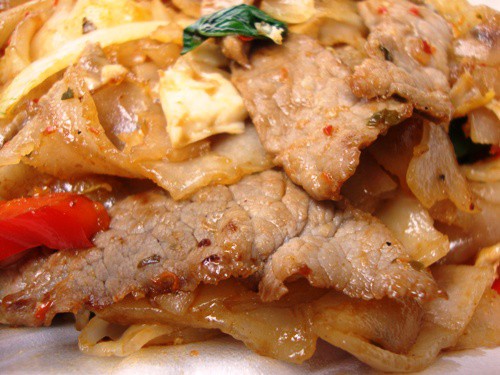 The beef also had chili flakes, which perked up the dish nicely. They added some spiciness, but just the right amount in our opinion.
In addition to the beef, there were fresh basil leaves, scrambled eggs, grilled onions and bell peppers.
All of this was in and around a huge mound of wide, flat rice noodles. These were among the better street food noodles we've had in a while. The noodles were springy, and a few were slightly crispy on the edges where they had been grilled.
The noodles were not mushy at all, and did not have any excess oil either. There was some oil to cook everything, but we were happynot to find a load of oil on the bottom of the container.
We will certainly be going back to Aom Jai Thai Food cart on 46th St between Park and Vanderbilt Aves. They don't tweet or have a website, but this was one of the better noodle dishes we've had for lunch lately.