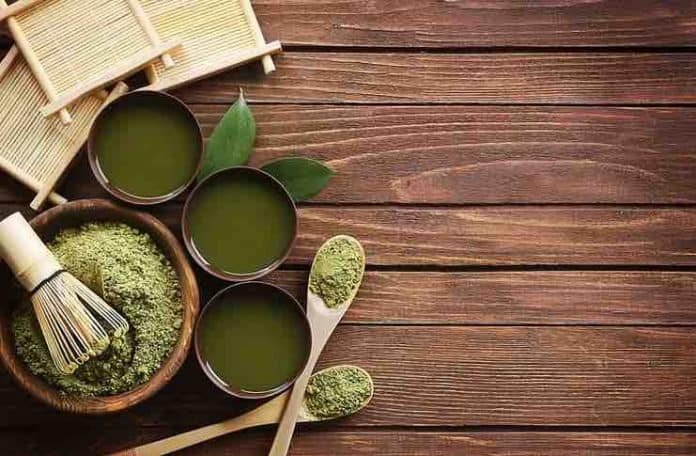 Matcha, alternatively known as a green tea latte, has been present for years. Matcha is an excellent source of energy. Individuals operate at varying energy levels based on their respective lifestyles and schedules. 
Matcha enables sustained levels of strength and endurance, which keeps the metabolism going through the day.
Here are seven amazing recipes for matcha:
1. Matcha Yoghurt 
Matcha green tea yogurt is a frozen treat that will win over your family with its freshness. You make the match yogurt using yogurt, almond milk, ice cubes, matcha green tea powders, and mint leaves. It would be best if you had a blender and added ice cream, almond milk, mint leaves, and yogurt. Blend the ingredients until you get a smooth mixture.
The ice cream recipe is vital to beat the heat of the summer and leaves everyone feeling cool. The good thing about this recipe is that it is refreshing, and the unique flavors make you crave for more. You may prepare matcha yogurt for occasions like kitty parties, game nights, and birthdays to relish this recipe.
2. Matcha Popcorn
If you love matcha and popcorn, then this is the right recipe for you. You will require a 1/2 cup corn kernels, two teaspoons matcha, two teaspoons sugar, and two tablespoon vegan melted butter. You need to melt the butter in a large bowl, add sugar, salt, and add matcha powder in a separate pot over medium heat pop popcorn. After the popcorn pop, add it to the bowl and combine until the popcorn is well coated.
3. Coconut Matcha Latte
You need to blend the ingredients in a high-speed blender until smooth. The components you require are 1 ½ light coconut milk, ½ unsweetened soy plant milk, four dates, and one teaspoonful matcha powder. Transfer the mixture to a pot on high heat and stir continuously, scraping the bottom of the pot with a wooden spoon.
When the mix is hot but not boiling, remove from heat and serve into desired mugs. Add drops of reserved coconut milk on top to create a latte design if desired. Those who visit this site may learn more about coming up with custom matcha recipes.
An example here is If you would like thickness consistency, reduce the temperature while heating, and continue to stir. If you would like the texture to be thinner, add more plant milk.
4. Matcha Pancakes
In a large bowl, whisk the egg together with 1/3 cup milk, two tablespoons vegetable oil, two tablespoons sugar, and ½ teaspoon vanilla extract. Add flour, one tablespoon matcha powder, 1 ½ teaspoon baking powder, and a pinch of salt. It would help if you whisked 7-10 times until the batter became lumpy. 
Heat a heavy cast-iron skillet over medium heat and brush with oil. Make circles of pancake batter on the skillet using a cup measure. Wait until bubbles pop on the surface, then flip the pancakes and cook for a few minutes.
5. Matcha Hot Chocolate
You need four ingredients to make matcha hot chocolate to make this recipe: white chocolate, milk, water, and matcha powder. The sweetness of the white chocolate brings the perfect balance to the bitterness of matcha.
Melt ¼ cup of the white chocolate chip with milk in a pot. You should heat water to boil and add two teaspoons of matcha powder. When milk and the white chocolate mix is hot, mix the water and matcha mix. Ensure you stir well and pour it into two cups. Alternatively, you may use soy milk or almond milk instead of regular milk.
6. Matcha Cheesecake
This is definitely my favorite of our Matcha Recipes list.
Put the biscuit in a bag and crush it finely. Add melted butter and milk to the crushed biscuit in a bowl and mix. Place the mixture in a refrigerator and cool for about 30 minutes. Place ½ tablespoon gelatin powder in a heat-resistant dish, add water, and let it set. Add ½ cup sugar to the cheese and mix well.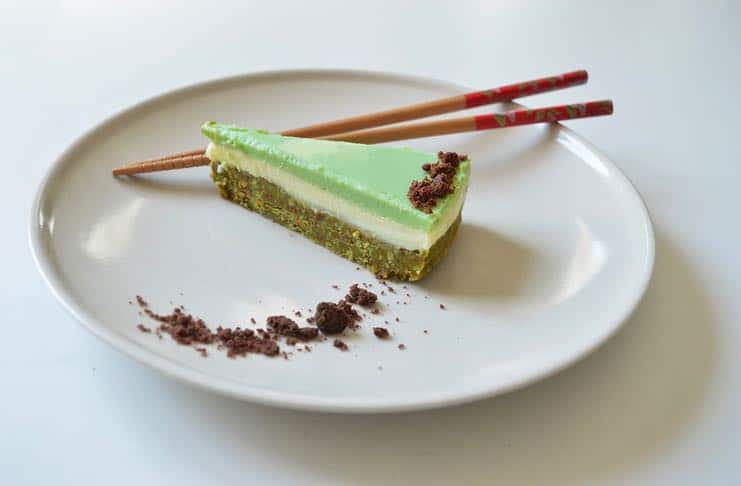 Put yogurt, gelatin, and heavy cream and mix. You should divide the mixture into two equal parts, add matcha melted with hot water and mix well. Pour exactly half the amount of white filling into the mold and cool for 10 minutes. Cool in a refrigerator for about 3 hours. Remove the cake from the mold and put it on the dish, sprinkle the tea strainer, and sprinkle matcha powder.
7. Matcha Dalgona Coffee
This last one if probably the easiest of our Matcha Recipes. Combine instant coffee, hot water, and sugar and whip until soft peaks form. Whip matcha, sugar, and filtered water in a container until clumps disappear. Pour sweetened matcha mix into a cup and add ice. Slowly add milk and pour directly on top of the ice to keep the layers separated with matcha. Spoon Dalgona coffee and fluffy it nicely on top of milk and ice. 
When choosing quality matcha, ensure you purchase genuine matcha powder. Matcha is full of health benefits if you are looking to make a healthy change in your life. Besides, it is a refreshing way to get caffeine.
Want to read our latest NYSF reviews? Here's our review of Japanese restaurant Ikebana-Zen and here's our review of The Stand Restaurant & Comedy Club.