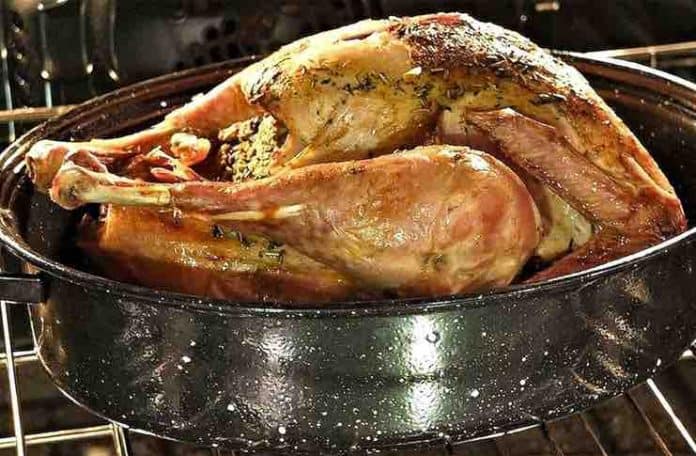 With summer right around the corner, it's time to break out the barbecue or grill, clean it off and fire that thing up – it's smoking time.
Smoked meats are delicious, whether it's a smoked pork butt or a delicious brisket. Even lean cuts of meat like chicken breasts or fish taste well smoked. But if there is one style of barbecue people tend to overlook, it's smoked whole chicken.
People tend to think that smoked whole chicken is difficult and are intimidated by the idea. If that's you – don't be! Smoked chicken is much easier to make than you think.
You'll need the right equipment and the right technique, but once you know what to do – it's easy, and the results are out of this world. We'll show you our favorite smoked chicken recipe below.
Best Smoked Whole Chicken Recipe: On Smoker Or Gas/Charcoal Grill
We certainly aren't strangers low and slow BBQ, having spent more time than we care to admit with oak and hickory smoldering out back with a giant piece of meat sitting on top, soaking up all that smokey flavor. (Actually, we don't care about admitting it: barbecue is delicious and worth every hour spent making it).
With that said, we hadn't tried much-smoked chicken until relatively recently. Which is odd – we love rotisserie chicken but hadn't quite worked up the appetite for smoky, succulent chicken just yet.
We were missing out. Smoked chickens have since become a rather common part of our meat rotation, making regular appearances all summer long. It's just as good and smoky-tasting as pork or beef, and done right- just as soft, tender and juicy too.
Ingredients:

For Seasoning:
1 Whole Chicken
· 1/2 tsp sea salt or kosher salt
· 1/2 tsp thyme
· ½ tsp rosemary
· 1 tsp paprika
· 1 tsp black pepper or mixed pepper
· ½ tsp mixed cloves
· 2 tsp onion powder
· 1 tsp onion powder
· 1 tsp cumin
For Smoking:
1/2 Cup Apple Cider Vinegar
1 Cup Wood Chips (applewood, hickory, oak)
Directions:
1. In a small bowl, add all seasoning ingredients and mix.
2. Coat the ENTIRE chicken with the seasoning. Throw some salt inside the bird for better cooking and even flavor.
3. Let sit for 30-60 minutes to absorb salt.
4. Heat smoker or grill to 25-275F. Note: Precise Smoking Temperature is important. A good thermometer can help you get this exactly right. (Learn More).
5. Pour the ACV into a dripping pan. If your smoker has a lower rack, place the pan there. If it doesn't, just place it to one side of the grill grate.
6. Place chicken on the rack above the pan or to the opposite side.
7. Smoke the bird for 45 minutes to 1 hour per pound.
8. When the internal temperature of the chicken reaches 160-165 degrees, it's done.
9. Remove bird from smoker/grill and let rest for 10-15 minutes. This will allow the juices to settle evenly and also let the bird cool off to comfortable serving temperature.
10. Slice and enjoy!