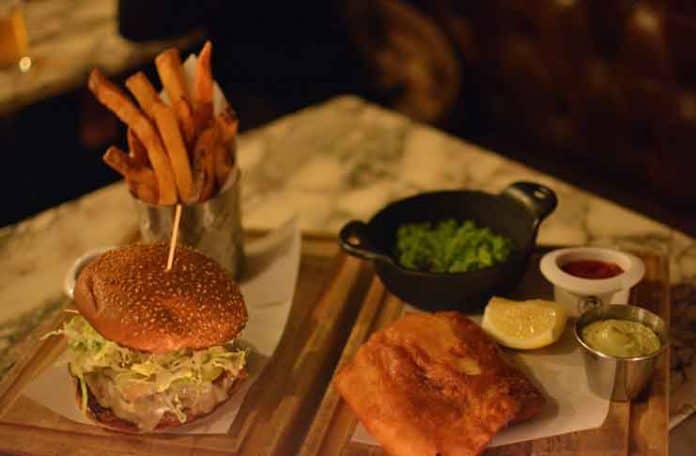 America's independence from Britain offered our young nation of America numerous benefits: governing autonomy, representative taxation, baseball, jazz, the Star Wars franchise. Often forgotten though is that the split with the mother country did come at a cost; meat pies never seemed to make their way across the pond. Thankfully, 200-plus years later, Jones Wood Foundry is working to rectify this loss and is doing so with great success.
Located on the Upper East Side, Jones Wood Foundry offers an excellent gastropub menu and their weekly specials allow one to do so at very reasonable prices. I could say that I happened to drop by on Tuesday when they feature a pie and pint special for $25, but that would be a lie because I specifically dropped by on a Tuesday specifically for the meat pie. While the Lamb Shepherd's Pie is always on the menu, they also have a rotating Pie of the Day. On this particular Tuesday, I enjoyed a steak and mushroom pie with gravy sauce that Is making me hungry again even as I type this. Did I mention that the pie also features two different crusts? Rich suet for the bottom and a buttery tough pastry for the top. The pie also comes with your choice of mashed potatoes—which were the perfect creamy consistency or fri…ahem chips (fries).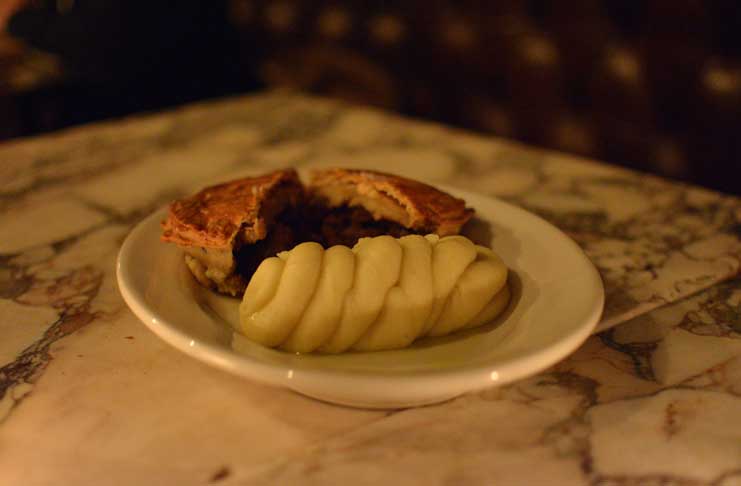 While the pies alone are worth the visit, Jones Wood Foundry also makes a killer fish & chips, which I believe is a prerequisite to calling your establishment a pub. These aren't your everyday British-substitute-for-chicken-tenders fish & chips. Jones Woods Foundry serves what I would describe as an upscale luxury version of the dish. The fish is one solid very fresh piece of beer battered cod fried to flakey perfection. If the Queen visits New York and requests to eat Fish & Chips—which seems very likely—I would point her and her staff to Jones Woods Foundry.
I know you're wondering about the appetizers. How could I skip right to the mains? Listen sometimes, for certain reasons, things just don't progress chronologically but this does not mean that the appetizers weren't spectacular. If I had daily access to Jones Wood Foundry's scotch egg I'd be dead within a decade of cholesterol overdose. The sausage surrounding the egg has a mildly spicy kick and breading is exquisitely crispy. Despite being rather large, I noticed the egg seemed to disappear rather quickly. The Yorkshire Pudding Pop-over we ordered did not disappear quickly but it wasn't for lack of trying. The Pop-over was doughy and fluffy and pretty much everything one would want from bread.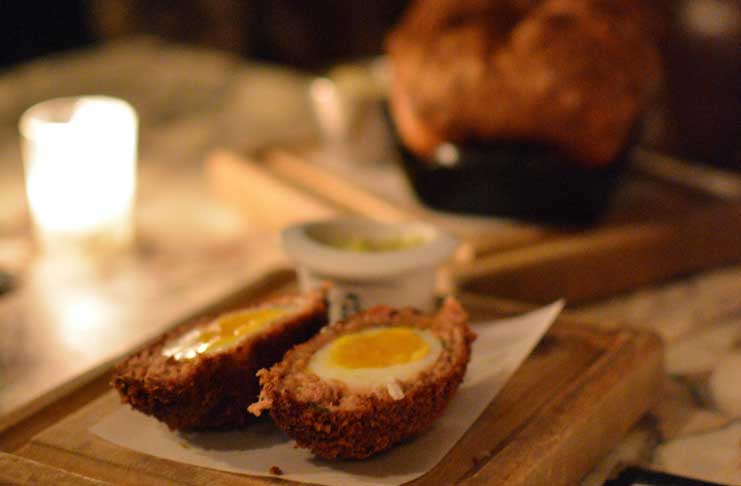 The beverage menu is equally impressive. If you drink beer, there is probably a beer on there that you'd like. If you want something more interesting, Jones Wood Foundry also serves delicious beer cocktails. While the Blackcurrant Snakebite brought me flashbacks of the classier portions of my semester abroad in London, the Britannia Ginger Shandy was refreshing, light, and paired well with everything.
Now, here is where my visit got contentious. In seeking recommendations, General Manager Dan John suggested we try the burger because it was, in his opinion, "the best burger on the Upper East Side". BOOM, that is a big claim (I think). Even after trying the burger, I cannot verify this claim, but really, it's only because I can't recall another burger I have eaten on the Upper East Side. I can say though that the burger at Jones Wood Foundry was really good. It was cooked properly; the seasoning was excellent and it was so good I can easily see why Dan would make this claim. If English pub food isn't your thing, this burger is the way to go, but also you should try the traditional pub food because at Jones Wood Foundry it's really delicious.
Ted Reilly lives and eats in New York City and can count the number of times he's said "no" to ice cream on one hand. As a teenager in the Midwest, his daily lunch diet consisted of mall pizza and/or Burger King. His passion for food developed as a college student in New Orleans where he regularly attended crawfish boils and sought out the best jambalaya. Since then he's been an avid consumer of okanomiyaki, 回锅肉, and [anything] curry. He loves traveling but knows that you can find any dish you want somewhere in Queens.