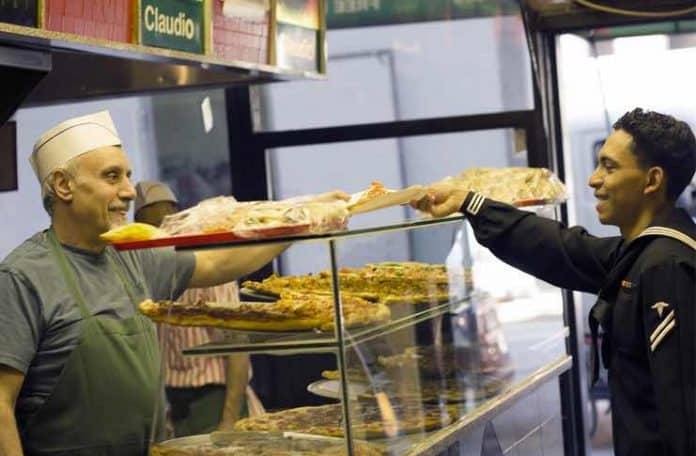 So, you're craving some New York style pizza, but you don't live in NYC?
Good news!
While nothing beats taking a food vacation over to New York City, you can achieve this style pizza from the comfort of your home wherever you are – the best part being you can cook it exactly how you like it.
Here is what you need to keep in mind to create the best homemade New York style replica pizza from your home:
The Main Components
The main components of a delicious NYC style pizza are the sauce, cheese, and crust.
Let's begin with the sauce. You want to achieve a balanced level of sweetness and acidity with a slight hint of herbs.
For your tomato sauce, you will need the following ingredients:
Whole tomatoes
Dried oregano Halved onions
Butter
Olive oil
Preparing the Base
The base of your sauce can be made by simmering the tomatoes, onion halves, and butter.
This will bring forward a smooth sauce. Be sure to remove the onions after cooking. The spices you use will create the flavour you want, so be sure to review recipes before trying one out (you can always include your own or substitute some).
Attaining Cheesy Delight
As for the cheese, use grated, dry mozzarella cheese. This is the only way you will achieve that New York style finish. Be sure to use full – fat mozzarella and grate it yourself. As much as you're tempted to, don't go for the pre-shredded cheese, which lacks freshness and flavour.
The Perfect Crispy Crust
The last factor is the crust, and this is where the real difference lies. New York style pizza crust is crisp with a browned bottom that is about 2mm thick. It is thicker than a Neapolitan crust but not as thick as a pan pizza. The crust of your pizza will be thin, but you also want to be sure it's sturdy.
Finally , the dough also has some key characteristics that you need to follow to achieve NYstyle pizza.
The flour used should be made from American bread flour.
Sugar should be added to the crust. It adds some flavour and that browned look.
Olive oil is the last ingredient. It prevents the pie from drying out or becoming tough.
Once you have all of this done, throw on the toppings – as little or as much as you want!
Have a pizza in mind that you fell in love with when in New York? What was the name of it?
Look up recipes and give it a try.
The Cooking Process
Now that you have this basic NY style pizza knowledge, it's time to talk about the cooking process. If you're thinking about making your own pizza at home, it's best to invest in a pizza oven that will stand up to the British weather. These ovens heat up much quicker than indoor ovens and cook your pizza faster and more evenly.
There are several options available on the market that are easy to use and suit your interests. Consider the look, functionality, and usability of your pizza oven. Many options even have a rain cover for unpredictable weather.
Once you have your recipe, ingredients, and oven, invite some friends over for dinner. We guarantee they will be just as impressed with the result as you will be!
With this quick and easy guide, you're ready to embark on your culinary journey and create
the flavours and crispy bite of a NY style pizza, right from the comfort of your home. We'd love to hear your feedback, tips, and experience of making your very own signature New York style pizza!
Happy cooking and good luck!