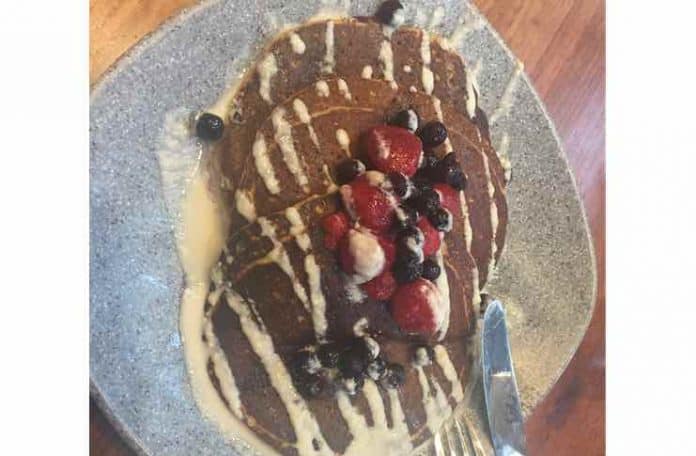 A Yummy Review by Faith Rein
National Pancake Day is here again!
Don't worry if you missed it or wasn't even aware there was a special day to recognize Pancakes.
Jordy's Cakes are available daily.
JORDY'S BANANA CHOCOLATE CHIP PANCAKES Banana, Hu Chocolate, Almond, Organic Egg, Organic Coconut, Raw Honey.
Don't be scared these were delicious.
Not being gluten-free or Paleo or all that healthy to the dismay of my doctor.
I was not sure what to expect.
Pancake was good. Perhaps not as fluffy as the ricotta cheese pancakes I long for. But I think my body was happier with this choice. The freshness of each bite was a flavor burst in my mouth.
Complex taste and as I continued each bite would create another new flavor.
Banana pancakes with a surprise bite of Hu Chocolate ( made in house) hiding in the middle. The slight coconut gave it a nice texture. Fresh fruit on top and a drizzle of Cashew cream. Cashew cream is my new favorite now.
Let me tell you about this, not so hidden Gem.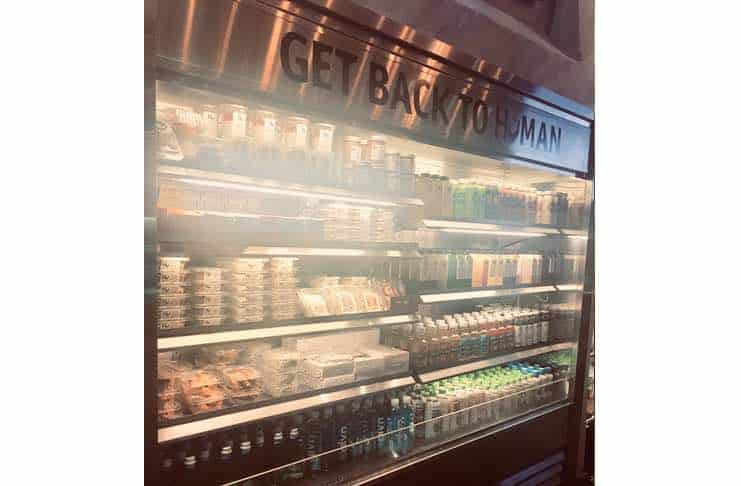 Hu Kitchen: A Homey Space for the Neighborhood 
Hu Kitchen in Union Square is where you can find these surprisingly delicious – Paleo Pancakes. A block away on 5th and 14th.
A Huge space I was greeted by a warm and friendly smile.
You walk past the Market where you find organic non-dairy smoothies. Zach, the GM picked out the Almond Banana Smoothie. Great choice. Then lots of treats. Crack Bar – Organic. coconut, Tapioca, Arrowroot, Organic coconut flour, House-made Almond butter, org.. coconut oil. Organic coconut milk, pure maple syrup org hu chocolate. It really is delicious.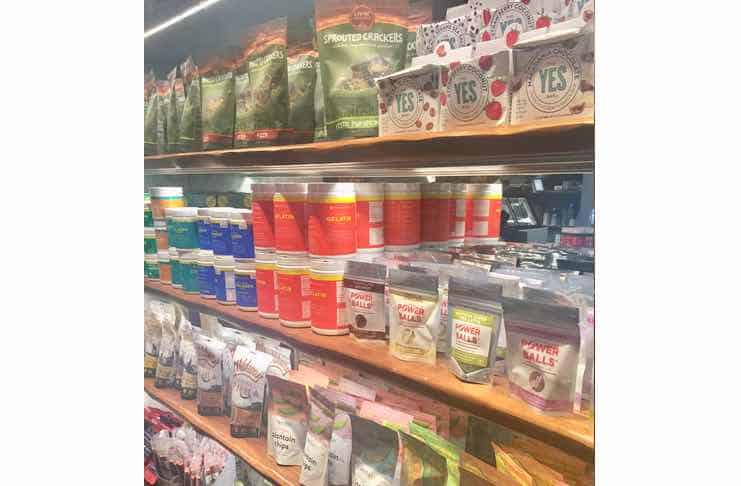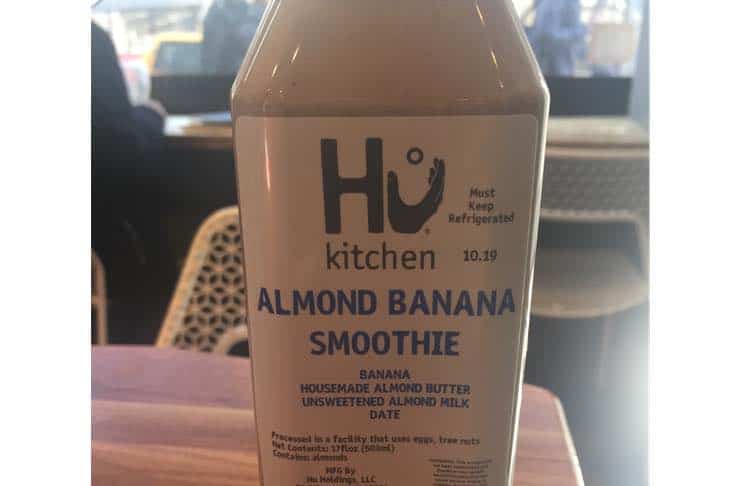 Reaching the "kitchen" I was impressed with the variety this Paleo Restaurant offered.
2 floors of dining space and they give you REAL plates and silverware.
Hu also boasts about its Happy Hour and organic wines.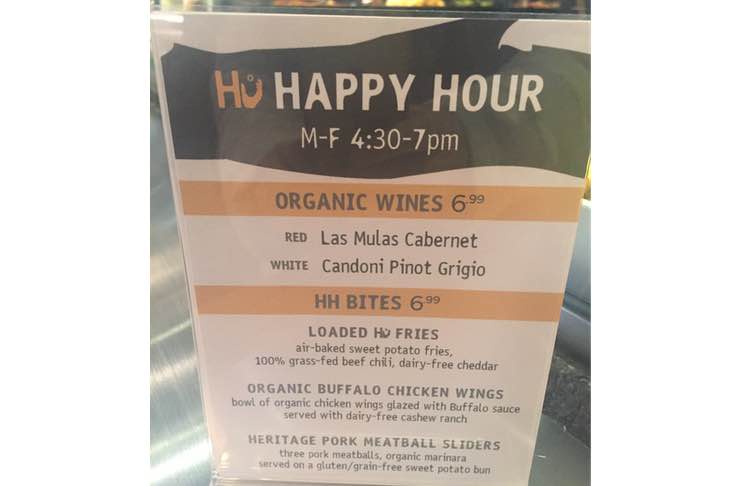 They have created a homey space for the neighborhood. If the neighborhood was conscience of health.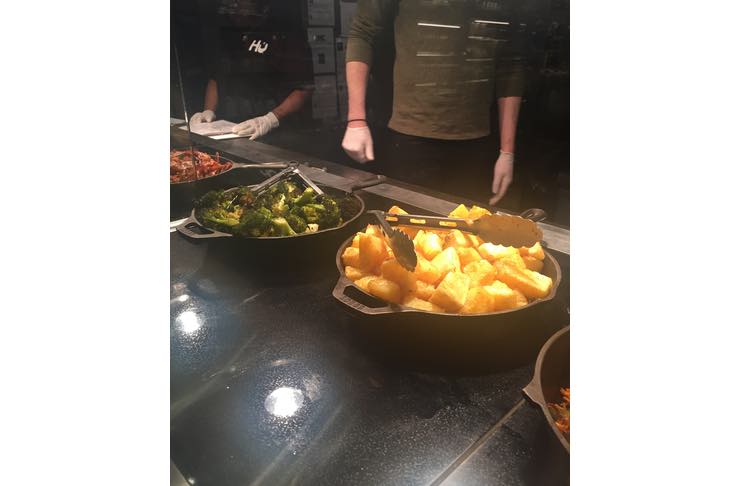 Paleo is that trend that has shown up and doesn't seem to go away. Yet is scares many.
The aim of a paleo diet is to return to a way of eating that's more like what early humans ate. The diet's reasoning is that the human body is genetically mismatched to the modern diet that emerged with farming practices — an idea known as the discordance hypothesis.
Farming changed what people ate and established dairy, grains, and legumes as additional staples in the human diet. This relatively late and rapid change in diet, according to the hypothesis, outpaced the body's ability to adapt. This mismatch is believed to be a contributing factor to the prevalence of obesity, diabetes and heart disease today. My PSA for the day.
According to Hu Kitchen website:
The goal isn't to just get by…

The goal is to live actively, age gracefully, and flourish.

We are inspired by quality foods ability to heal versus poor quality food's guarantee to hinder.

We started Hu to help people get back to eating, living, and thriving like humans. This is how we Get Back to Human.
I am not paleo but have decided to eat in a healthier way. Starting by being aware of what I take in. Reading labels and educate myself.
Hu Kitchen makes it easy by being the first all paleo restaurant in NYC. The future is very bright and hopefully, more Hu Kitchens will pop up in your neighborhood and across the country.
This is more than just pancakes. It's a healthy and great way to live.
Living and loving in NYC, food has been a passion of hers. East Coast to West, Faith's goal is to explore and learn with the contribution of other like-minded foodies. Faith Rein has written for 2Girlsfromabar@blogspot.com. Youtube channel – faith.rein, love food love faith. You can find her @: Faith.rein/facebook (always looking to add friends) / faith rein@twitter / faith.rein@instagram / faith.rein@gmail.com