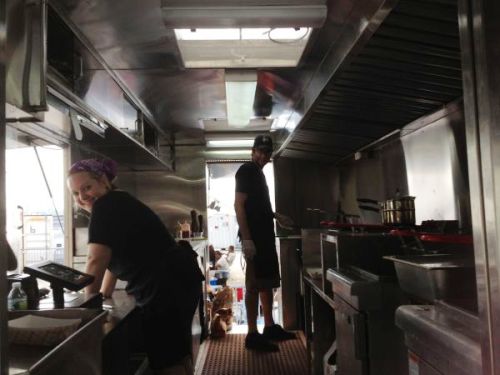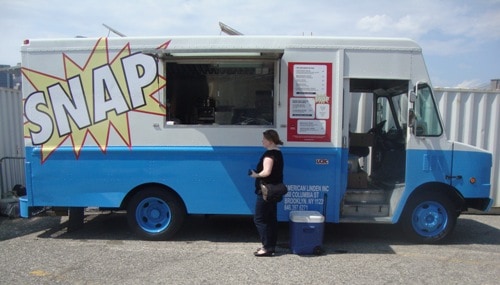 We've been telling you about the Snap Truck and their authentic Chicago hot dogs before they even had a truck.  Then we told you about their Kickstarter campaign, where they successfully raised the last $10,000 needed to get the truck on the road.
That means the Snap Truck is now up and running, and we had a NYSF First Look during their debut at Photoville. Man, it was brutally hot that day in Brooklyn!
So where can you find the Snap Truck this week, what can you expect to eat, and can they satisfy vegetarians?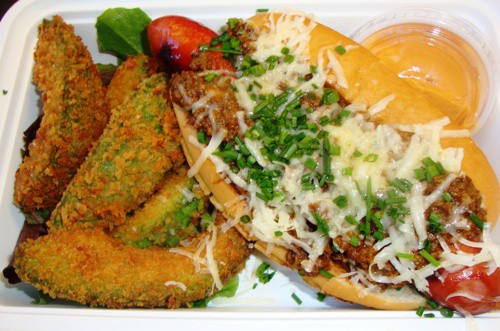 In addition to their famous Chicago dogs made with  Brooklyn Bangers (photo below), Snap are also well-known for their panko-crusted avocado fries. If you're a vegetarian, they can even make you a Chicavocado dog, which is a Chicago-style hot dog with avocado fries in the bun instead of a hot dog.
They also have a number of other hot dog and burger options. You can see the various menus for hot dogs, burgers and fries.
While the Snap Truck does not currently have a NYC street permit, they will be at the Hudson Square Food Truck Lot today and the LIC Food Truck Lot on Friday.  Liz told me they expect to be at Pier 13 in Hoboken too.
You can follow the Snap Truck on twitter here or on our Mobile Munchies twitter feed to make sure there were no last minute problems.
As always, if you try Snap Truck, let us know what you think.