Ever wondered what happens every single minute in the most populous never-ever-sleeping city in America? Well, as New York's No. 1 Street Food portal, we are always on the lookout for fresh info and tools that could benefit our readers. Last week we found this cool New York Minute Countdown tool, which counts and crunches down the numbers of just what happens in each given minute in our world's most fast-paced insomniac city!
Produced and created by NetFlights, one of the UK's top travel experts, this cool tool profiles everything from how many people visit Times Square every single minute (95!), how many Broadway tickets are sold every minute (25!), how many Taxi rides are made (400!), and also – how many Pizzas and Hot dogs are eaten every single minute! What's your guess?
The results are quite surprising, but we'll let you guys click the link above and check it out for yourselves. However, the numbers themselves weren't enough for us. What peeked our curiosity even more was to try and figure out which Pizza and Hot Dog joints are selling the most during those precious NYC minutes?
Well, unfortunately it was impossible for us to get hold of this lucrative sales data, so we decided to provide you guys with our raw "expert" estimations. Here are our predictions as to the most popular selling Pizza and Hot Dog joints in New York city.
The 2 Most popular Pizzas in NYC
#1 is Lombardi's Pizza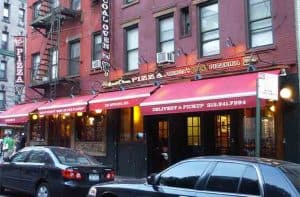 Our first criterion was to use and check one of the worlds most popular crowd-sourced reviews app, YELP. We looked for the "Most Reviewed" Pizza place, and according to our latest check on the App – with over 5,000 reviews, Lombardi's Pizza was at the top No. 1 Pizza in NYC. It has almost 1,000 more reviews than the No. 2 on the list. This is not rocket science of course, but it can probably translate how popular a place is, and how strong their sales are.
Opened in 1905, Lombardi's is located at 32 Spring Street in Manhattan, and has been acknowledged by the Pizza Hall of Fame as the first pizzeria in the United States. This title by itself brings tons of curious tourists to Lombardi's every year. But leaving all that fame and prestige aside, Lombardi's is an old school Italian that delivers authentic NY pizzas. They always come out hot and fresh, with a thin crispy crust, with generous amounts of mozzarella cheese on top. Be wary, the lines might get long at times, but hey – it's "America's first Pizzeria!".
#2 is Di Fara Pizza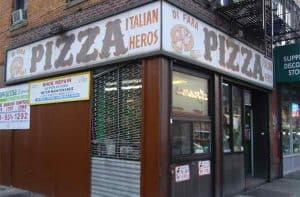 Our second criterion was to see what respected Chefs and Bloggers say. If lots of them talk about you (good stuff of course), then most probably you're popular, and you're probably selling a lot of pizzas.
For this purpose, we read lots and lots of online blubber, talked to lots of guys and gals, and mixed it all together with our own rich recipe of experience and grit. We ended up with one of the best pizzas in NYC. A unique institution that's been delivering delicious pizzas for over 50 years.
Our favorite pizza at Di Fara is the classic, with nice peppers, sausage, freshly cut basil (phenomenal!), high quality olive oil, super yummy tomato sauce and fresh cheese. It always comes out perfectly cooked, thin and crunchy.
Di Fara Pizza is worth the wait and the price, and any UBER ride into Brooklyn.
The 2 Most Popular Hot Dogs in NYC
#1 is Katz's Deli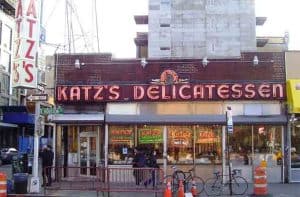 With a whopping 7,577 YELP reviews! (as of June 29th , 2017) – this Kosher style restaurant is the most reviewed Hot Dog joint on YELP. With these powerful numbers, we bet they feed a lot of Hot Dog lovers every single day.
Located on New York's Lower East Side, this century-old joint is where former President Bill Clinton was said to have eaten two of Katz's delicious classic hot dogs. Katz's was also the site of the famous scene of Meg Ryan in the romantic comedy "When Harry Met Sally", but they weren't eating Hot Dogs.
Open since 1888 (!!!), Katz's Deli has become a NYC institution, with legendary dishes. What's our favorite? Same as President Clinton! We love those classic jumbo-size beef dogs, with that garlicky blend of spices, the nice char on the outside, the line of mustard and that tiny bit of sauerkraut or stewed onions. It's Perfect.
#2 is Feltman's
If 1888 sounds like far back in time, then think again.
In 1869, Charles Feltman came up with the idea of inserting a Frankfurter sausage inside a specially made long roll, which could be held conveniently and eaten on the street. It soon became a hit. It was the world's first Hot Dog.
Located at Surf Ave., at W. 10th St., in Coney Island, even Al Capone, the notorious gangster who ruled the Chicago Mafia during the Prohibition era, used to walk over to Feltman's to grab a few hot dogs when he was still just working as a bouncer at the nearby Harvard Inn.
So what's our favorite dog at Feltman's? The Al Capone of course!
It's a unique hot dog made with Michael's of Brooklyn vodka sauce and freshly shredded Parmesan cheese.
There aren't a lot of better things to do, than eating a delicious hot dog at the world's first, where the world's most famous Gangster used to sit…