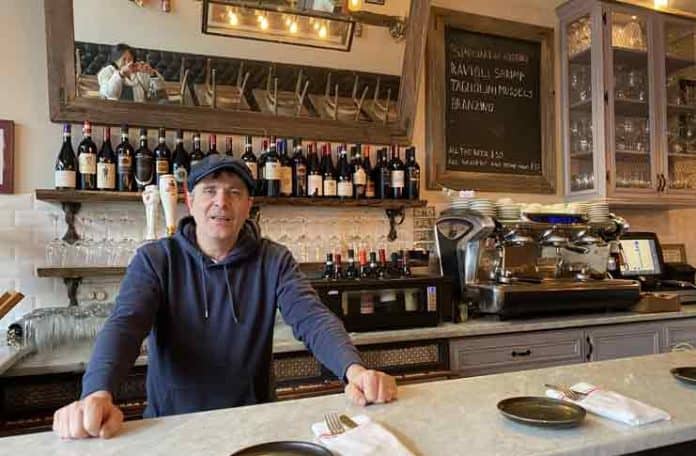 The last few weeks have been world-changing. 
Anxiety is a daily emotion. 
Social distancing is a new phrase we all take seriously. Talk of self quarantining and too many other catchphrases we all wish we never had trending. 
We can not ignore the adjustments in our lives now and perhaps the future. 
My commitment to assisting to support the restaurant industry in NYC so all I can do is write and eat. 
VIA VAI in Astoria extended a tasting through pick up, not sit down eating at this charming restaurant on 23rd Street. 
Remember when we could sit in at a table casually sipping a lovely glass of wine? Beautiful people watching with the doors and windows open exposed to the quiet spot in a bustling city. 
This will be a way of life once more is what we all need to believe.
Via Vai has the most amazing if not the best burrata I've even had. I was lucky enough to have one of those lovely spring evenings enjoying the offerings of Via Vai a few years ago. 
Thoughts of an easy calm summer's evening in maybe Tuscany or any place taking you away from all the stress of life. 
On this day I picked up my delivery I met with the owner of Via Vai, Antonio Morichini. He was smiling and waiting for me. An empty restaurant. Chairs on the table at 6:00 PM a sad sight and not the norm.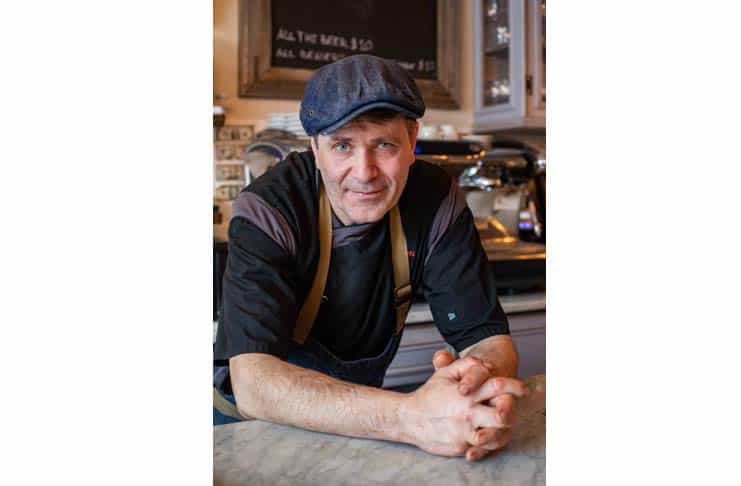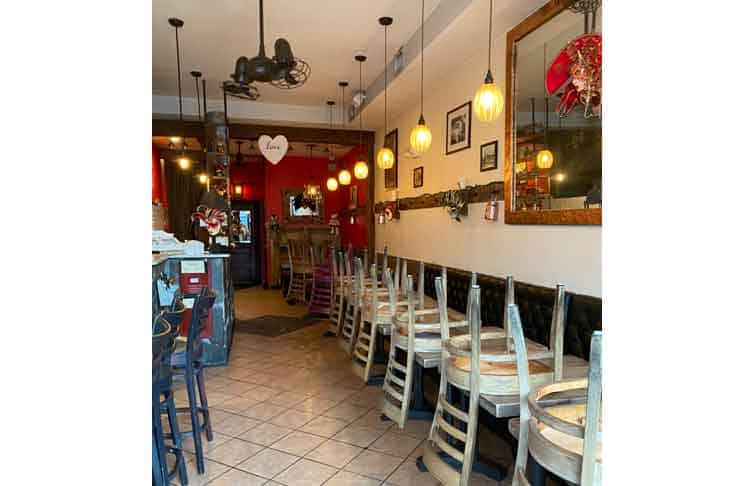 Piles of plates, full bottles of wine and glistening clean wine glasses sit alone. 
Craving a Be our Guest rendition where candlesticks sing a welcoming song and come to life.
Our meal was calamari, crispy and perfectly soft in the middle. This is not an easy starter to serve as delivery. Always best right out of the fryer. These were perfect even after the short travel. 
MAIALE Pork filet tenderloin prosciutto & sage saltimbocca, with truffle mashed potatoes & grilled asparagus 
A side of meat balls. 
When I eat French I always order the chicken. Chicken is my measure of a great French Bistro. 
Meatballs is the test for every Italian. 
These were perfect. Moist, flavorful sitting in a marina that did not compete but enhance this meatball experience. 
Tagollini that I'm sure when served immediately would have knocked my socks off. Even a slight warm-up at home it was still delicious. 
The finale to this amazing meal was the pannacotta. 
Now pannacotta will be my order choice for the future. 
A drizzle of caramel sauce. Forget the Tiramasu get the pannacotta. 
What I take from this evening of better take out than the average pizza, which is never average, not in NY.
We have the best restaurants in the country. 
This period I plan of supporting these Dining in from my choices of Dining out. 
A special dinner from these talented individuals will help us all remember we still are in a great city and we all can help each other. 
Things have changed, we can't lose the things we have always enjoyed and will again. Adjust, be flexible, be safe and patient. 
Call your favorites and put them at the top of the list. 
Call and order at VIA VAI: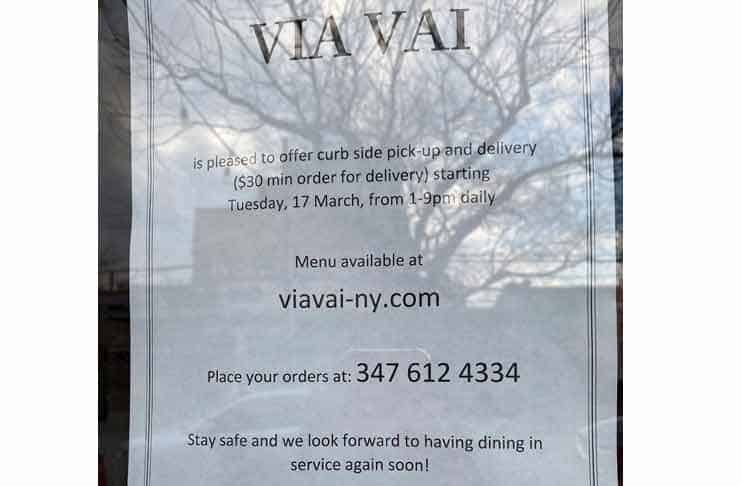 As I could not do an interview with Via Vai I am including information from their press release:
VIA VAI Astoria: Italian Cuisine & Wines Takes Center Stage
Concept: VIA VAI is an authentic meets contemporary Michelin-recognized Italian experience that is worth crossing the bridge for in Astoria.
The chef-owner run operation is helmed by Roman native Antonio Morichini, who has crafted and oversees each individual aspect of the restaurant from the dishes to the wine list and even décor with the help of his wife Cynthia.
Devoted to bringing the real tastes of Italy to New York, Chef Morichini's menu is an ever-evolving love letter to his homeland, and Rome, infusing his own modern and inventive twists for surprising flavor profiles. Each plate served is beautifully constructed with delicate precision and can be complemented by their impressive and not to be forgotten Italian wine list. In Astoria, the husband and wife team have been serving the community for over five years and bring authentic Italian cuisine, wine and hospitality to the forefront crafting an inviting mini vacation with the feel of Italy for its diners.
LOCATION: 31-09 23rd Ave., Astoria, NY 11105
WEBSITE: www.viavai-ny.com
PHONE: 347-612-4334
INSTAGRAM: @viavainyc
HOURS: Mon. – Thurs.: 4:00pm -10:00pm
Friday – Saturday: 12:30pm-11:00pm
Sunday: 12:30pm – 10:00pm
VIA VAI Menu:
Food
Antipasti

APPETIZERS

POLPETTE


Beef meatballs with tomato sauce

BUFALINA


Imported buffalo mozzarella and prosciutto

I SALUMI
Selection of Italian cold cuts

IL TAGLIERE
Selection of cold cuts and cheeses

CALAMARI
Fried calamari with herbs and citrus zest

IMPEPATA DI COZZE
Steamed mussels, white wine, lemon and black pepper

SALMONE
House cured salmon tartare with capers, shallots, avocado and horseradish dressing

BRESAOLA
Cured beef tenderloin in a cannoli style filled with robiola cheese chives and pistachios served in a bed of sprouts finish with black truffle sauce

Insalate

SALADS

CAVOLO


Kale, arugola, hazelnuts, avocado, green apple and ginger vanilla dressing

RAPE ROSSE


Red beets, arugola, melon, pine nuts and goat cheese with house dressing

Pizza Tonda

ROUND PIZZA
12" INDIVIDUAL | ROMAN-STYLE THIN CRUST

MARGHERITA


Fior di Latte

MARGHERITA CON PROSCIUTTO


Prosciutto, Fior di Latte

MARGHERITA CON BUFALA
Imported buffalo mozzarella

PORCINI AND TRUFFLE
white base pizza with porcini mushrooms fior di latte and white truffle oil

Primi

PASTA DISHES

ROTOLO DI GNOCCO


House made rolled gnocchi filled with ricotta cheese and spinach served in a butter sage sauce 

PAPPARDELLE CON AGNELLO


House-made buck wheat pappardelle with white lamb ragu, asparagus and truffle oil

TAGLIOLINI AL NERO CON GAMERI
House-made black ink tagliolini with shrimp, asparagus, fresh mint and pecorino romano

TAGLIATELLE AL BRANZINO
house made tagliatelle with branzino, black olives, capers, cherry tomatoes and fresh basil

FETTUCCINE BOLOGNESE
House-made fettuccine with beef Bolognese sauce

TONNARELLI CACIO AI 4 PEPI
House made tonnarelli with black pepper pecorino and parmigiano cheese

TAGLIOLINI CON SCAMPI E GRANCHIO
house made tagliolini with langostine bottarga and crab meat cherry tomatoes basil slightly spiced

RISOTTO OF THE DAY ask your server 
(Acquarello rice.est.wait time at least 25 min)

Le Pasta Romane

TRADITIONAL ROMAN PASTA DISHES

BUCATINI ALL AMATRICIANA


Bucatini with cured pork cheeks, tomato sauce, onion, black pepper and pecorino romano

MEZZI PACCHERI ALLA GRICIA


mezzi paccheri (gragnano gold selection) with cured pork cheeks onion black pepper and pecorino romano cheese

SPAGHETTI CARBONARA
house made tagliolini with pancetta eggs black pepper parmigiano and pecorino romano cheese

Secondi

MAIN COURSE

MAIALE


Pork filet tenderloin prosciutto and sage saltimbocca, with truffle mashed potatoes and grilled asparagus

COSTOLETTE


Mildly spicy braised beef short ribs with creamy gorgonzola polenta

GAMBERONI
Pan seared shrimp in kataifi crust, with sautéed spinach and balsamic reduction

CAPPESANTE
Pan seared scallops with green peas fondue crispy pancetta and porcini mushrooms finish with black truffle sauce

ANATRA
Duck breast served with hazelnuts mashed potatoes blueberry and raspberry reduction and homemade red onion marmalade
In addition to our regular menu items, we are proud to offer our daily specials.
VIA VAI uses only prosciutto, fior di latte (mozzarella), parmigiano, and pecorino romano imported from Italy.
*Please alert your server to any food allergies
Desserts & Drinks
I Dolci

DESSERTS

ARTISANAL GELATO


Home-made gelato ask your server for our selection

PANNA COTTA


With caramel sauce

TIRAMISU

TORTINO DI CIOCCOLATO
Chocolate cake with warm raspberry filling

NUTELLA PIZZA
White pizza with Nutella spread

Per Dopo Cena

AFTER DINNER DRINKS

DESSERT WINE

PASSITO DOLCE
Dessert wine

COFFEE/CAFFÈ
Cappuccino
Espresso
Doppio espresso
Macchiato
Caffè latte
Americano
Wine & Beer
I Rossi

REDS

Cerasuolo di Vittoria Feudi del Pisciotto Giambattista Valli  DOCG 2016


(60% nero d'avola, 40% frappato) (Sicilia)



Nero d'Avola Feudo Maccari "Saia"  DOC 2013


(100% nero d'avola) (Sicilia)



Sagrantino di Montefalco Collepiano Arnaldo Caprai  DOCG 2013


(100% sagrantino) (Umbria)



Rosso del Soprano "Palari" DOC 2011


(70% nerello mascalese, 30% nerello cappuccino) (Sicilia)



Taurasi Donnachiara DOCG 2015


(100% aglianico) (Campania)



Pinot Noir Gottardi "Mazzon"  2013


(100% pinot noir) (Alto Adige)



Guidalberto Tenuta San Guido Bolgheri 2016


(60% cabernet sauvignon, 40% merlot) (Toscana)

Barolo Michele Chiarlo Tortoniano  DOCG 2013


(100% nebbiolo) (Piemonte)

Brunello di Montalcino  Le Lucere San Filippo  DOCG 2011
(100% sangiovese grosso) (Toscana)

Barbaresco Riserva Asili Michele Chiarlo DOCG 2010
(100% nebbiolo) (Piemonte)

Amarone della Valpolicella Masi  "Costasera Riserva"  DOCG 2012
(80% corvina, 20% rondinella) (Veneto)

Sfursat 5 Stelle Nino Negri  DOCG 2011
(100% nebbiolo della valtellina) (Lombardia)

Barolo Renato Ratti "Rocche dell Annunziata"  DOCG 2011
(100% nebbiolo) (Piemonte)

Tignanello Antinori  2011
(80% sangiovese, 15% cabernet savignon, 5% cabernet franc) (Toscana)

Brunello di Montalcino Riserva  Tenute il Poggione "Vigna Paganelli"  DOCG 2010
(100% sangiovese grosso) (Toscana)

Aglianico Donnachiara  2017
(100% aglianico) (Campania)

Syrah Pallavicini 2016
(100% syrah) (Lazio)

Lacrima di Morro,Velenosi  DOC 2018
(100% lacrima di morro) (Marche)

Terra dei Sogni, Vivera 2016
(cabernet, syrah, merlot, petit verdot, nerello, cappuccio) (Sicilia)

Cesanese del Piglio, Corte dei Papi San Magno DOCG 2015
(100% cesanese) (Lazio)

Montepulciano di Abruzzo "I Vasari old vines" Fratelli Barba  DOC 2015
(100% montepulciano) (Abruzzo)

Pinot Nero Classico 2018  DOC Abbazia di Novacella
(100% pinot nero) (Alto Adige)

Chianti Classico Lamole di Lamole "Etichetta Blu" DOCG 2016
(90% sangiovese, 10% canaiolo) (Toscana)

Montessu Isola dei Nuraghi 2016
(carignano, syrah, cabernet, cabernet franc) (Sardegna)

Valpolicella Ripasso Classico Superiore "I Progni'  DOC 2016
(corvina, corvinone, rondinella, molinara) (Veneto)

Rosso di Montefalco Vigna Flaminia Maremmana Arnaldo Caprai  2015
(15% sagrantino, 15% cannaiolo, 70% sangiovese) (Umbria)

Nebbiolo d' Alba Ochetti  RenatoRatti DOC 2017
(100% nebbiolo) (Piemonte)

Barbera d' Alba Pio Cesare DOC 2016
(100% barbera) (Piemonte)

Rosso di Montalcino Ciacci Piccolomini DOC 2017
(100% sangiovese) (Toscana)

Gattinara il Chiosso DOCG 2013
(100% nebbiolo) (Piemonte)

I Bianchi

WHITES

Ribolla Gialla Tenuta Luisa 2017


(100% ribolla gialla) (Friuli)  

Kerner Strasserhof  DOC 2016


 (100% kerner) (Alto Adige)

Friulano Livio Felluga   DOC 2017
(100% friulano) (Friuli Venezia Giulia)

Pinot Bianco Kattmeier  DOC 2018
(100% pinot bianco) (Alto Adige)

Chardonnay Antinori "Bramito del Cervo" 2015
(100% chardonnay) (Umbria)

Etna Bianco Cusumano  DOC 2017
(100% carricante) (Sicilia)

Soave Classico"La Rocca" Pieropan DOCG 2014
(100% garganega) (Veneto)

Verdicchio Classico Superiore Riserva Casal di Serra "Umani Ronchi"  DOC 2012
(100% verdicchio) (Marche)

Vintage Tunina Jermann 2016
(sauvignon chardonnay ribolla picolit) (Friuli)

Muller Thurgau Kettmeir  DOC 2016
(100% muller thurgau) (Alto Adige)

Falanghina Donnachiara 2018
(100% falanghina) (Campania)

Lugana Ca Maiol  DOP 2018
(100% trebbiano) (Lombardia)

Grillo Feudi Maccari 2016
(100% grillo) (Sicilia)

Pecorino "Cortalto" Cerulli Spinozzi 2016
(100% pecorino) (Abruzzo)

Vermentino Lunae Colli di  Luni Grey Label  DOC 2018
(100% vermentino) (Liguria)

Samas Isola dei Nuraghi 2018
(chardonnay, vermentino) (Sardegna)

Riesling Istituto Agrario San Michele DOC 2016
(100% riesling) (Trentino Alto Adige)

Sauvignon Blanc Colterenzio "Prail"  DOC 2016 
(100% sauvignon) (Trentino Alto Adige)

Vertigo Bianco Livio Felluga 2015
(chardonnay, ribolla gialla) (Friuli) 
                      
Pinot Grigio Jermann  2018
(100% pinot grigio) (Friuli)

Vernaccia Riserva La Lastra 2015 DOCG                  
(100% vernaccia) (Toscana)

Gewürztraminer Kastelaz Elena Walch 2017 DOC 
(100% gewürztraminer) (Alto Adige)

Rose Il Borro DOC 2018
(100% sangiovese) (Toscana)

Rosè e Sparkling

Rosé and Sparkling

Lambrusco Ermete Medici "Concerto" 2015


(Emilia-Romagna)

Ca del Bosco Cuvee Prestige brut Franciacorta DOCG


(Lombardia)

Vino da Dessert

Dessert Wine

Pasithea Oro  Gewurztraminer Girlan  DOC 2009


(Alto Adige)                                                           
Living and loving in NYC, food has been a passion of hers. East Coast to West, Faith's goal is to explore and learn with the contribution of other like-minded foodies. Faith Rein has written for 2Girlsfromabar@blogspot.com. Youtube channel – faith.rein, love food love faith. You can find her @: Faith.rein/facebook (always looking to add friends) / faith rein@twitter / faith.rein@instagram / faith.rein@gmail.com