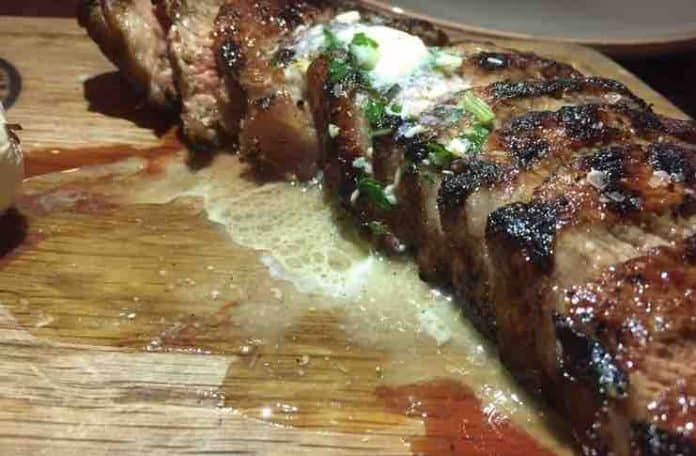 A night to remember – By Faith Rein 
Looking for a special night to spend with a special someone? Galantines ? Valentine's Any occasion or just because it's a Thursday.
Uncle Jack's meat House in Astoria is a surprising find on Ditmars.
Willie Degel famed restauranteur and host of Restaurant Stakeout on Food Network is bringing his Uncle jack's brand to Astoria. The goal is to deliver the ultimate restaurant experience.
Uncle Jack's Meat House – Astoria, New York Located at 36-18 Ditmars Boulevard in an old meat factory warehouse. Uncle jack's Meat House is more than just another steak house they offer an eclectic menu of unique appetizers, sandwiches, salads, burgers, steaks, chops and sinfully rich desserts served in a quirky setting inspired by early 1900s buildings in New York's Meatpacking District.
Astoria has been up and coming for a while now…even more so because of the foodie paradise.
This is a Neighbourhood worth coming back to.
NY Restaurants have had the rep for being the best in the world. This is being challenged across the country with chef's and cooks creating unique experiences and amazing food.
Uncle Jack's Meat House is a neighbourhood restaurant, bar with a (shhhh) speakeasy that makes you feel like you're home.
Warmly greeted by Joe Devlin the GM and Dmitira our lovely server for the evening we immediately felt at home.
Chef Drew is a master in the kitchen with a warmth and charm reminding you of your favorite family member that knows meat.
Every course was personally presented by Chef Drew himself beginning with Maine Lobster & Avocado mint taco's in a taro root shell – for the gluten free guest, herb mayo and wasabi.
A nice light bite. I could have used a little more wasabi as it seemed to need a bit more heat.
We were also treated to the candied wagyu meatball. Fresh Wagyu beef in a sweet hoision. A perfect meatball moist and flavourful. Dripping in hoision – which I love.
The reason why we are here, as Chef Drew stated was for the bacon.
Hanging on a mini meat rack with mini hooks – Applewood smoked bacon. House-made peanut butter, chipotle maple glaze.
Bacon…yes…I said bacon. How could anything be bad with bacon.
This is a Meat house and bacon is king.
Perfectly aged and seasoned. From the first bite of soft chewable perfection with the right amount of crispy on the edges. Then a touch of peanut butter makes this a perfect bite.
Drip the chipotle maple glaze and I could have ended this night right there.
I am a bacon lover. This brought bacon to a different level.
Our mixologist, Kevin crafted some beautiful pairing for us as well.
Michael, my photographer is an Old Fashioned snob. Not really but he is always on a quest for the best Old Fashion.
This did not disappoint.
I asked Dmitira our waitress for her recommendation. Maia's Nectar was her choice. Ketel Grapefruit & rose Vodka, Pear liqueur, Honey and lemon juice. Beautiful balance of sweetness and beauty. Not unlike Demitra herself.
We also had their signature drink Fur Trader's Mule. Ketel One Vodka, fernet Branca and ginger beer. Very refreshing.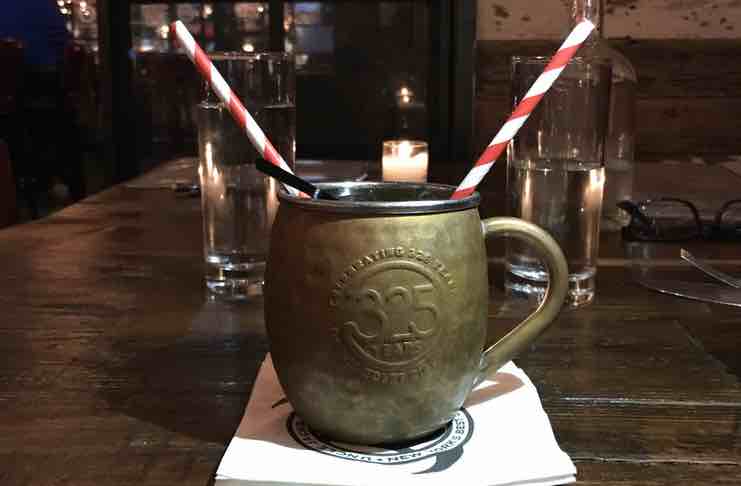 18 month aged Serrano ham came out next…If you like prosciutto you'll love this.
This was accompanied with the best popover I have ever had.
I love popover's. I think there was a brunch place called popover or that could have been a dream.
Anyway. This popover was light crunchy on the outside with pillowy goodness on the inside.
It was a perfect popover with the best maple butter served also with the flakiest buttermilk biscuit with honey butter.
No lie, you could eat this butter with a spoon.
Main – We believe we had a perfectly cooked NY Strip. Lovely presentation. Table-side a shot of fire to add a bit of drama.
Glazed Asparagus – shaved parm California olive oil.
5 cheese mac & cheese, Gouda, parm, cheddar, jack and gruyere.
Hit of the night…Corn"gasm" Brulee.
Sweet roasted corn pudding, crystallized sugar
I love a brulee. I love corn. This combination was fresh, sweet and a side dish I will dream of.
Yes…bacon and cheese.
These were the stand outs of the evening.
Can it be topped ?
Oh yes.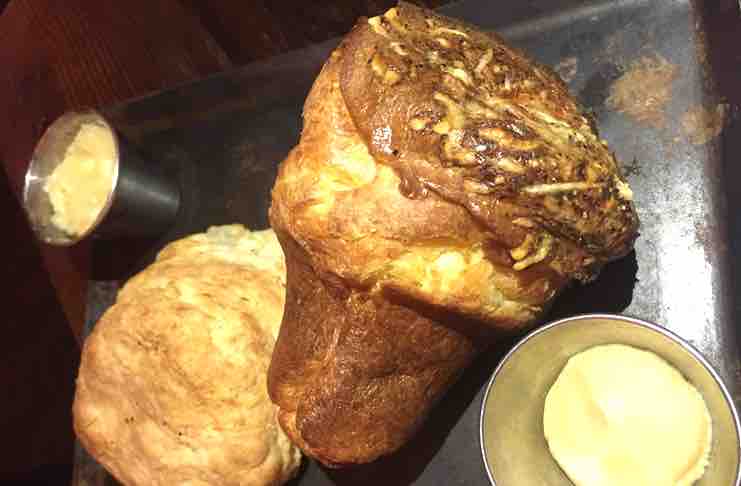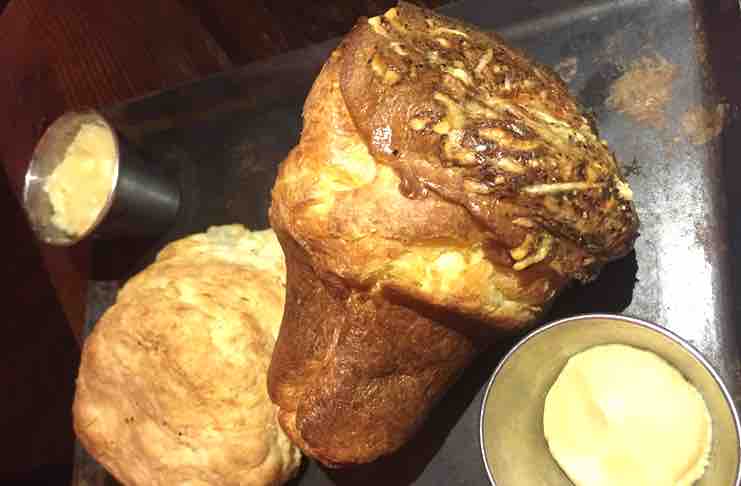 Newly added to the menu…
Chocolate mousse with a layer of peanut butter mousse and a chocolate ganache topped with….YES. Bacon !!
Start me with the bacon and end my taste experience with bacon.
The layers of flavors were Top Chef worthy.
The first bite was a mmmm feel then an explosion of salty, sweet, savory, rich and a hint of spice.
Every emotion came a reality with every bite of this amazing finale.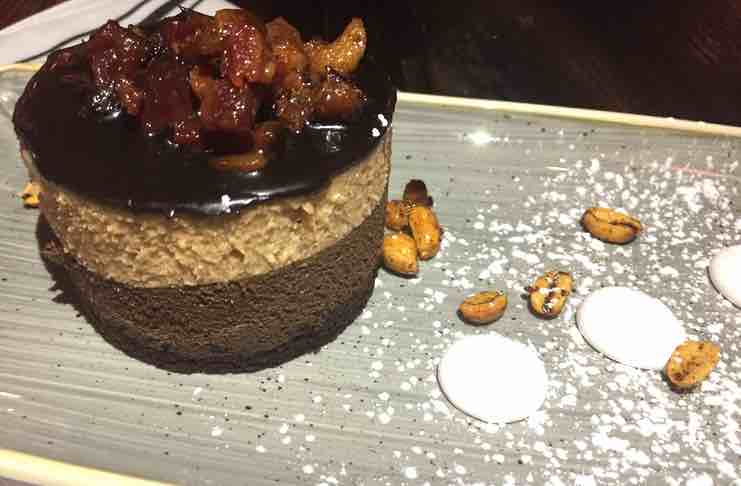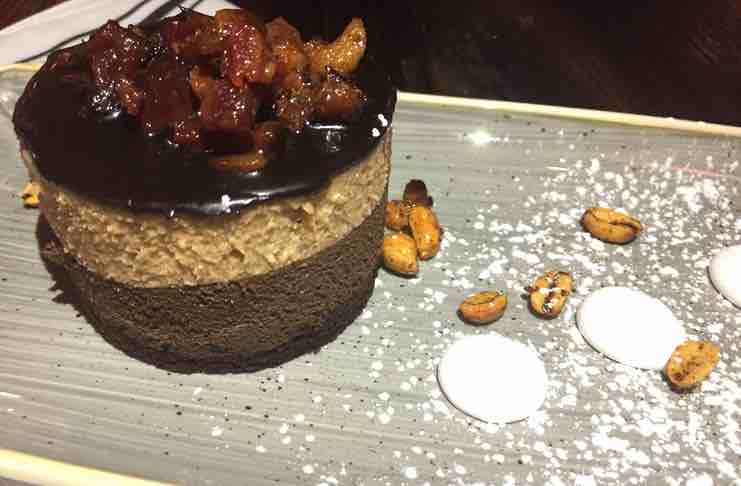 Uncle Jack's Meat House is a beautiful thoughtful restaurant. The décor was warm and inviting and brought you to an unstuffy boy's club steak house with plenty of room for the gals club as well. Rich beautiful Cadillac banquettes. Meat hooks as light installations. Also holding meat on the hooks. plastic curtain strips leading you to the restroom ala meat locker. So many small but meaningful touches throughout.
At the end of our evening Joe, the GM directed us downstairs to the Speakeasy. This space is open every weekend and available for private parties.
As you travel downstairs you enter the restroom area which isn't…but a surprising selfie wall. Fantastic fun. This includes the secret door with what else but a secret password. If you are lucky enough to know it and enter you will be part of this sexy cool experience. I never thought I was cool enough but the staff makes you feel special and yes…everyone is cool enough.
Uncle Jack's Meat House is having a special Valentine night in the speakeasy. What a perfect place to cozy up with a special person…intimate friendly with amazing cocktails and even better food.
What makes this place special is not just the amazing food and fun comfy atmosphere but the staff.
Chef Drew mentioned that he loves Astoria. He lives here as does many of the staff.
Being in this area amongst so many fine restaurants Uncle Jack's hopes to establish themselves Astorian's for a very long time.
Living and loving in NYC, food has been a passion of hers. East Coast to West, Faith's goal is to explore and learn with the contribution of other like-minded foodies. Faith Rein has written for 2Girlsfromabar@blogspot.com. Youtube channel – faith.rein, love food love faith. You can find her @: Faith.rein/facebook (always looking to add friends) / faith rein@twitter / faith.rein@instagram / faith.rein@gmail.com