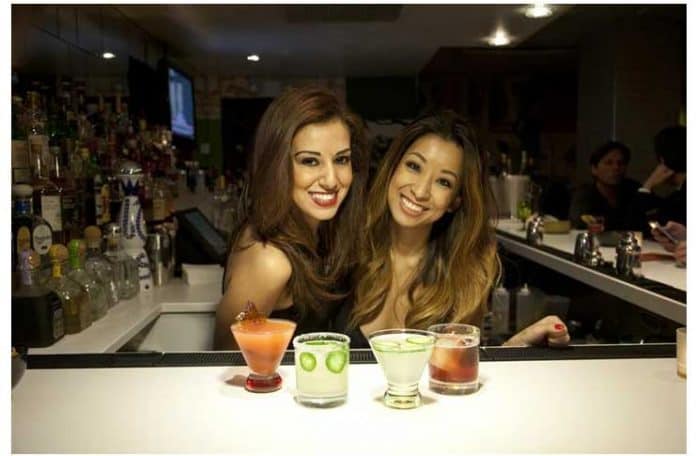 A Yummy Review by Faith Rein
Where were we? T Bar NYC, or by its full name –T Bar Steak & Lounge , located at 1278 3rd Avenue.
Let's begin with…
Yellowfin Tuna Tartar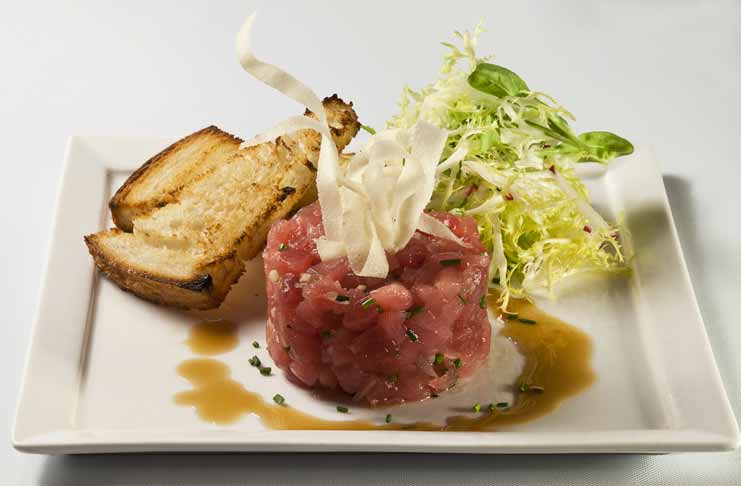 Drizzle of soy, Ginger and topped with sesame seeds. The tuna was bright and fresh and plate licking good.
I like fresh Tuna…this I loved ! So simple a dish but can go wrong easily.
This was a surprisingly great start.
We also were treated with the special – Quinoa salad with butternut squash, black olives, fresh greens and mixed in a heavenly light dressing that truly was special.
T Bar NYC and Quinoa
I had never been a big quinoa fan. First time did not make my palate happy. Yet the first time I had avocado I was not pleased. The secret to anything new is flavor. Seasoning and spending a little time and love to enhance the goodness that lies beneath the hype.
I love avocados now. Fresh with a little lemon and red pepper flakes. Mixed in as a guacamole and any ole way.
Is Quinoa the avocado of the millennials. Sorry but my thoughts on millennials vary. They are smart and innovative. I am not one of them. Although smart and innovative I was born too early and I was just born this way. Thoughtful and polite. Respectful and unpretentious. I envy the millennials that pretention is now acceptable. Thank you for that and thank you for quinoa. It is a lovely grain that can take on many different forms. In a salad as a main as a snack.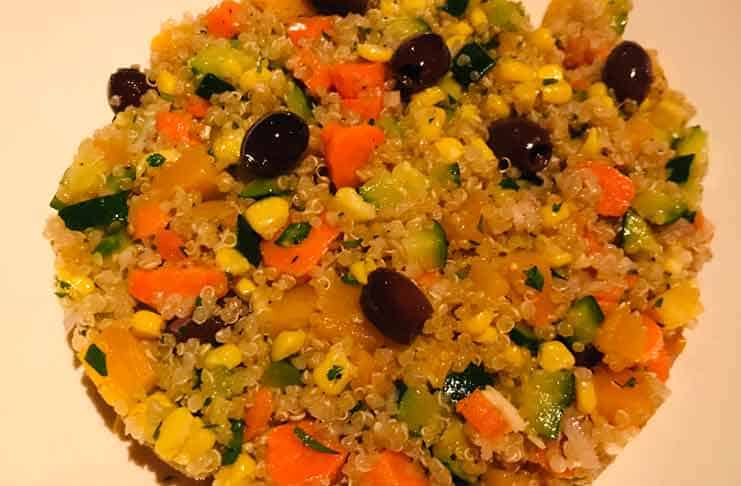 T Bar did it right. Unpretentious. Clean pure flavor enhancing every ingredient on the plate. Balancing it all perfectly. I ate all the tuna and wanted to be sure to enjoy the rest of the meal as this introduction to T Bar enfolds.
Never do I do this when reviewing but I asked to take the rest of this amazing salad home.
Yes, Millenials you had me at quinoa.
On to the main…our lovely talented and knowledgeable Server Kati suggested steak. It is however a steak house. Also mentioning that the duck is one of their most popular dishes.
My photographer, Michael had the Rib Eye. Medium rare. I opted for the duck.
Michael travels a lot and whenever he goes to a big city let's say Boston or Chicago or DC. His quest is meat !! A great steak will determine if he will return.
As any red blooded American male and Ron Swanson, Beef and whiskey is the perfect evening meal. Michael's plate came out with a steak bigger than my head. Beautiful sear and cooked exactly right. A good sign that they have the right chef for a steak house.
"At the suggestion of our server, we ordered the 24 oz. Prime Aged Ribeye Steak. The steak arrived perfectly seared and lightly seasoned with Kosher Salt and Black Pepper. I prefer my steak medium rare to preserve the natural flavor and juices of a prime cut of meat and the chef did not disappoint. No need for any other sauces. The generous portion is plenty for two guests. No disrespect to my vegetarian friends, but this steak would make Ghandi green with envy." Michael Morrissey
Personally I do like a good steak now and then. T Bar rib eye is one of the best I've had. The preparation was beautiful. Presented on a white plate this charbroiled slab of beef was treated and cooked with kind and considerate hands.
Meat lovers should be proud. In a world now where I have almost more friends that are vegan than not for many reasons. I also can appreciate the idea behind the meat lovers appreciating every part and utilizing it with purpose.
Then the duck. A lovely plate. Crispy Long Island Duck. Tasty and flavorful. Served with a side of sweet potatoes and an orange glaze.
It was a great choice.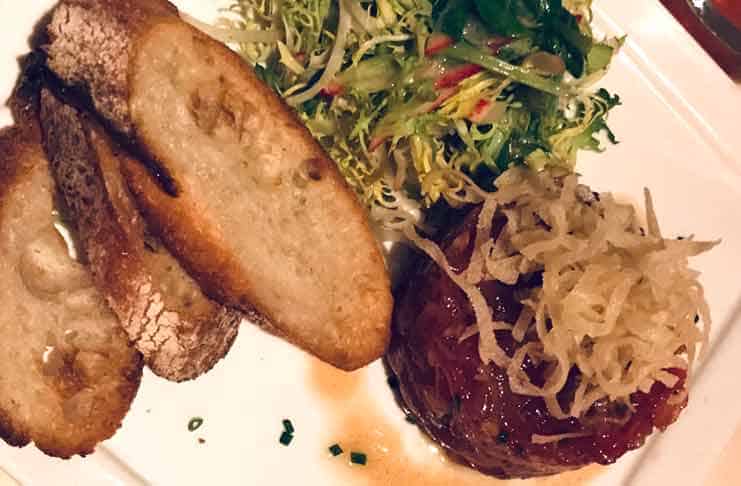 Service was perfect. We had a few minutes wait but to my surprise on a Thursday night at 7 PM this place was packed.
A few minutes later we were seated at a corner banquet. Cushioning and comfortable. The décor was lovely understated and not flashy at all.
The hostesses and bartenders were gorgeous. I felt as if I was in a Robert Palmer video. The patrons at the bar were as you would expect on the upper east side. Attractive older gentlemen with women whom you couldn't tell their age or if they were sad. They all had the same smile. Lovely all the same.
The dessert – as I mentioned often the dessert is the explanation at the end of the sentence.
We were served 2 very decadent and large desserts. First the Strawberry Sundae. Shortcake, meringue, brandy cream. They say it serves 4 I would say maybe 14. It's massive but very yummy. A steak place that just took a turn to being an ice cream social.
Then the Banana Parfait Mille Feuilles. Coconut – caramel sauce. Again can serve 4 but we needed to make more friends to get through this. It was delicious. I always love a brulle. Hard sugar on top of stuff. Who wouldn't like it.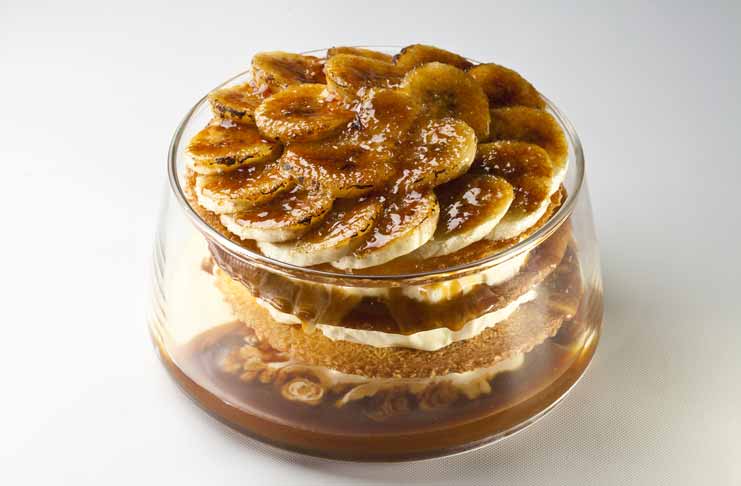 What stood apart for me was Kati. A true gem. Beginning with her warm greeting to our final good byes for the evening.
I had been a server for many years and have seen a lot in high end to street food service.
Kati not only makes you feel welcome I do believe she truly loves what she does. She loves where she gets to do it and her pride in the food shows in her pride of her service.
Knowledge from your server makes your meal better. Education makes everything better.
Kati made this experience one of my top 10 in NYC.
T Bar is worth going to and going to again. If you have to wait do it.
If you feel the wait is too long…do it and ask for Kati.
Living and loving in NYC, food has been a passion of hers. East Coast to West, Faith's goal is to explore and learn with the contribution of other like-minded foodies. Faith Rein has written for 2Girlsfromabar@blogspot.com. Youtube channel – faith.rein, love food love faith. You can find her @: Faith.rein/facebook (always looking to add friends) / faith rein@twitter / faith.rein@instagram / faith.rein@gmail.com