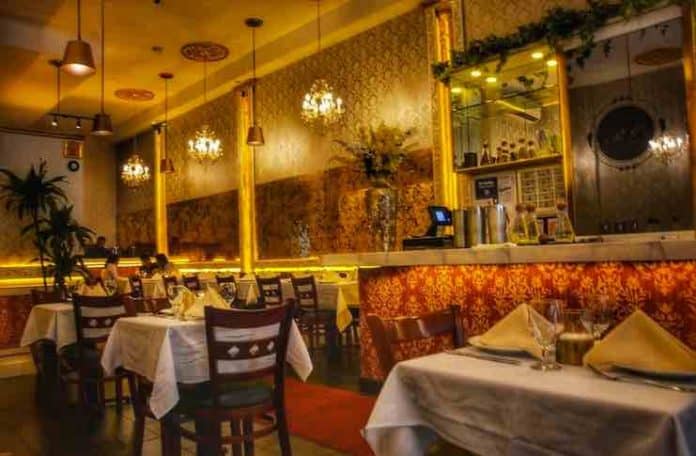 Have you ever been to a wedding and had a dish that was so good that you still think about it? For me, that dish was the samosas at my friend Chacko's wedding in 2015. I don't recall exactly what kind of samosas they were and I prefer to not remember how many I had in the thirty or so minutes of small talk, but I do know that at some point later that day I needed to lay down from all the food.
Tucked away on the Upper West Side, Roasted Masala, conveys all the splendor of an Indian wedding. Everything from the menu, the plating, to the opulent décor conveyed that Roasted Masala doesn't just want to serve you food, they want to celebrate the cuisine. The interior features high ceilings, gold accents, and gorgeous chandeliers.
Chef Jawad Rehman serves Northern Indian dishes, using the same recipes he watched his grandfather prepare for large lavish Indian weddings. And, man, those recipes are a priceless heirloom. The brilliance of Chef Rehman's dishes was not only evident in the delighted reactions of the diners around me, but also from the steady stream of patrons who walked in to order take out.
I started my meal with something I had never tried before: Falooda Milk, an elaborately decorated strawberry milkshake with boiled basil seed which gives it a bubble tea sensation. The bright pink colors and floral garnish drink coordinated perfectly with the décor and tone of the dining experience. On the occasion that you're looking for something less decadent, Roasted Masala also serves delicious Lassis and the restaurant is BYOB with no corkage fee.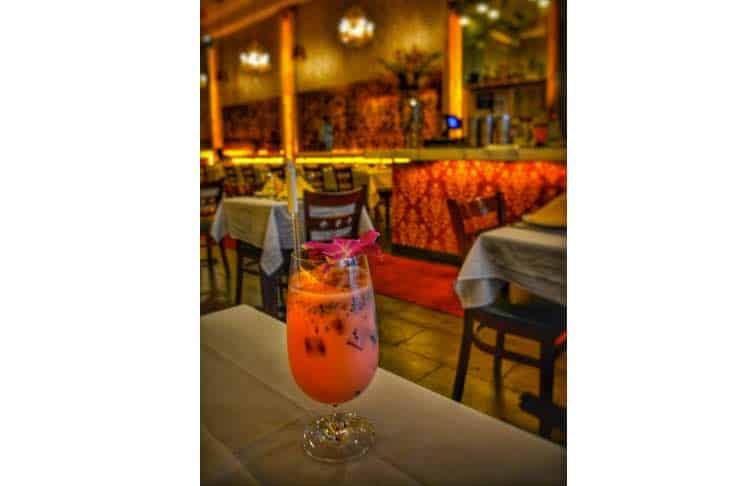 For our starters, the Spinach Chaat was lightly fried and perfectly crispy. If every vegetable was as good as the Spinach Chaat—and also fried, I might consider becoming a vegetarian.
Now, I've long advocated that Naan is the apex form of all breads and Roasted Masala's Garlic Cheese Naan did not disappoint; it was both doughy and crispy in the best ways. As I've visited more and more Indian restaurants, I've also come to observe that Indian cuisine has really nailed all the different forms of combining flour and water, and the menu at Roasted Masala really reflects this. Sure, curry is great, but have you tried a Kati Roll?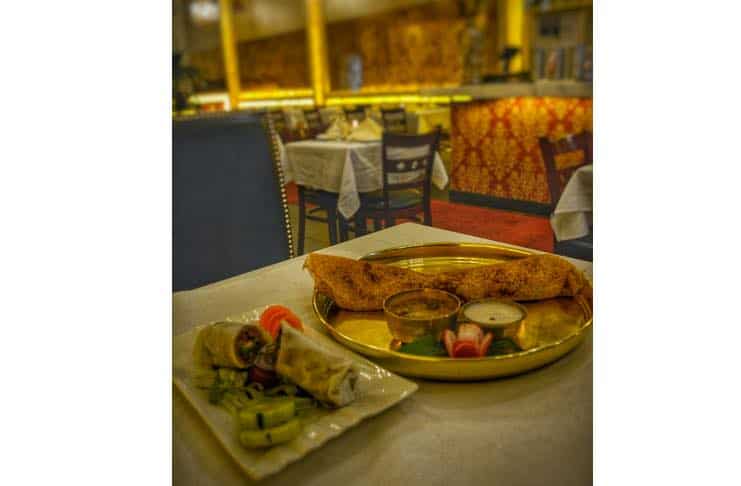 I had Roasted Masala's Goat Kebab Kati Roll and my one and only complaint about the whole experience is that between me and my dining companion, I should have at least ordered at least three of these. They were excellent. The paratha bread was buttery goodness and the goat was superbly seasoned.
Following along the grain family, the Chicken Tikka Dosa was perfectly cooked and made me wonder why anyone would order just regular chicken tikka when they could get it wrapped in a light, crispy crepe? Is Atkins still a thing? That's the only reason I could think of. I should also note that the portion size of the Dosa was large—it really could have been my whole meal…but it wasn't (don't judge me) and came with two different dipping sauces.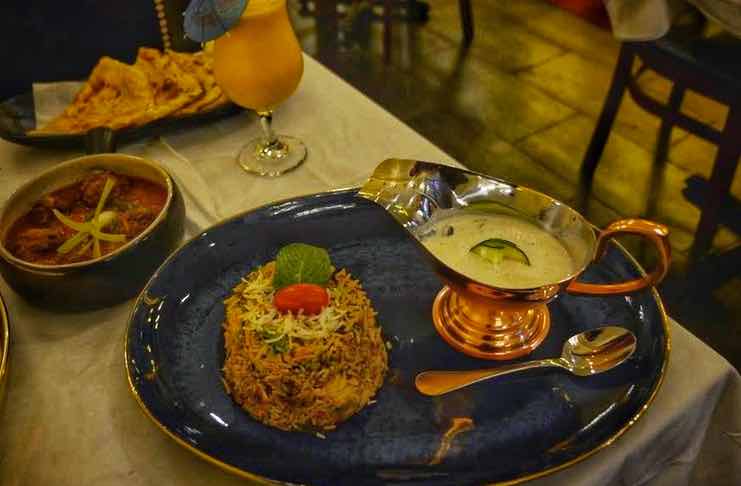 In addition to trying just about every type of grain that Roasted Masala had to offer, my companion and I also completed nearly Bingo in the protein department as well. In addition to the Goat Kebab Kati Roll and the Chicken Tikka Dosa, we also had the Beef Meatball Curry, the Goan Shrimp Curry, and the Lamb Briyani.
The Beef Meatball Curry—something you don't see at every Indian restaurant—had an excellent balance of spices and the meatballs were cooked perfectly. As for the shrimp, I generally find shrimp inferior to land-based meats, but the Goan Shrimp Curry really surprised me and was one of the highlights of the meal. The shrimp are cooked in a blend of spices and a coconut sauce, making the dish extremely flavorful with excellent consistency.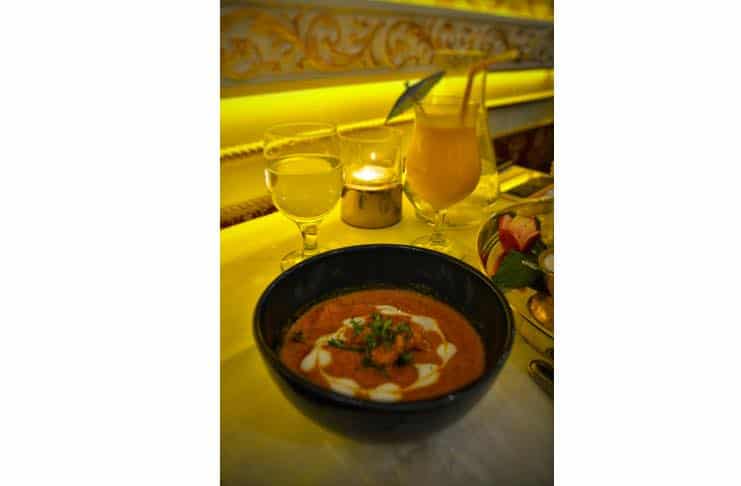 Roasted Masala is a culinary gem. They have managed to achieve a harmony between the gorgeous interior and the exceptional cuisine they prepare. The splendid décor, inspired by the palaces of India, evokes a feeling of royalty and celebration, and the menu, featuring heritage wedding banquet recipes, equally reflects those sensations. If you're on the Upper West Side make sure to drop if you want to be treated to a lavish meal or if you're just interested in grabbing a delicious Kati roll.
Ted Reilly lives and eats in New York City and can count the number of times he's said "no" to ice cream on one hand. As a teenager in the Midwest, his daily lunch diet consisted of mall pizza and/or Burger King. His passion for food developed as a college student in New Orleans where he regularly attended crawfish boils and sought out the best jambalaya. Since then he's been an avid consumer of okanomiyaki, 回锅肉, and [anything] curry. He loves traveling but knows that you can find any dish you want somewhere in Queens.