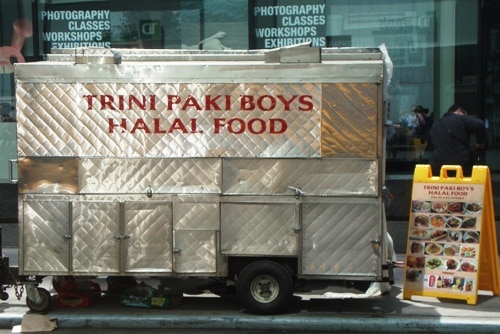 One of the better and more unique vendors in midtown is the Trini-Paki Boys cart on the south side of 43rd St just east of 6th Ave.  They serve a good chicken over rice dish, but their daily specials are what you should ask about before ordering.
There could be jerk chicken, goat curry, chicken tikka masala, beef stew, oxtail stew, shark bake (not actually shark), or any number of other Caribbean and Pakistani dishes. You see the food is a combination of cuisines, just as the married owners are – one is Trinidadian and one is Pakistani.
Several of these specials were available when I recently visited TRINI-PAKI BOYS, and I went for a small portion of chicken tikka masala for $6 and a Trinidadian double for $2.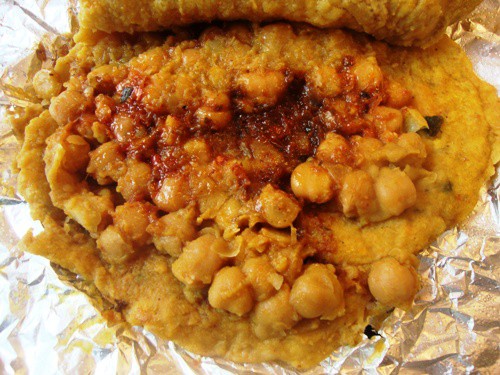 I started with the double, made by putting two thin pancakes on the grill.  When they were warmed up, he spooned some curried chickpeas and tamarind sauce onto one, put the other pancake on top, then closed it up in foil.
The double was definitely spicy, tasted of curry, and was a little sweet & tangy from the tamarind sauce.   It reminded me a little of ka-chori, an Indian dish I've had.  One double was somewhat filling, so I'm glad I got a small portion of chicken tikka masala, which was not so small.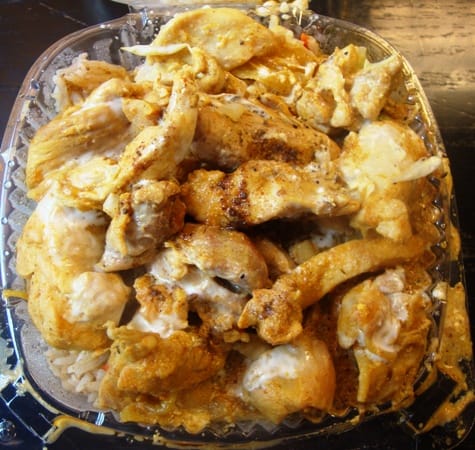 Pieces of grilled white and dark meat chicken were placed atop basmati rice, and a little hot sauce was added.  This wasn't like chicken tikka masala you get in Indian restaurants, it was more a homemade version.  There was a little celery and cabbage, which still crunched, and a few chickpeas.
If I didn't know what this was, I would have guessed curry chicken, because that's what it tasted like to me.  Not that there's anything wrong with that, but don't expect a textbook version of chicken tikka masala.
The small container was jam-packed to the top, and the basmati rice underneath was very nicely flavored.  You can get a medium portion for $7 and a large for $8, but you probably won't need that unless you have a big appetite.
The Trini-Paki Boys cart doesn't tweet or have a website, but they have delicious Caribbean and Pakistani food every weekday on the south side of 43rd St just east of 6th Ave.  You'll be able to recognize them by the line of regulars at lunchtime 🙂