Tucked on a street corner, with bright lights and loud music, La Pulperia in Midtown Manhattan is a welcome sight for sore eyes. Inside, the bar is raised and prominent, and there are inexplicably lights with pulleys posing as ceiling decoration. The overall ambiance, however, seems cheery, and something smells tasty, and every single guest appears to be enjoying themselves. I give my name and we are immediately ushered to a table, where our host, Daniel, seats us with flourish. 
The Beverages at La Pulperia in Midtown Manhattan
Daniel asks us if we want drinks. It's Friday, and it's been a long week, and yes, we want drinks. He asks us if we have any preferences. My eating companion requests whiskey or bourbon. I am fairly non-discriminatory and leave myself to the wisdom of the bartender.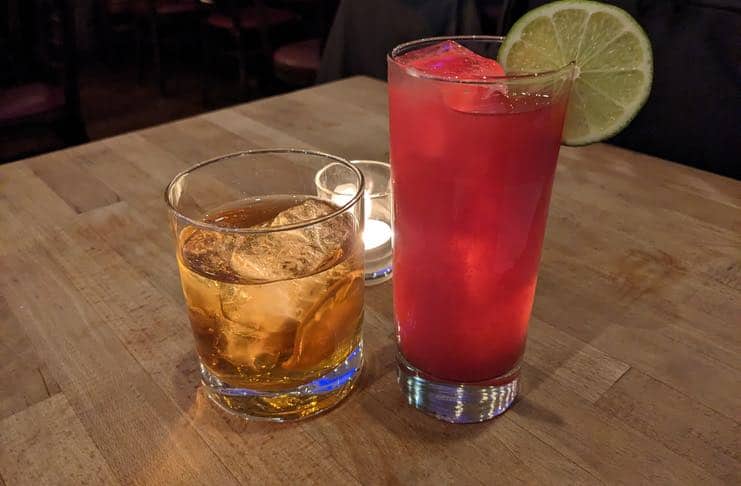 My drink arrives in a shoe. Not a literal one, but a hollow glass shoe with an elegant stopper, and the liquid that pours out is bright magenta. This is the Del Callao, with pisco, hibiscus, passionfruit, and lime. 
I am slightly hesitant, as my relationship with hibiscus has historically been divisive, and upon first sip it is somewhat stuffy. It is much improved, however, with the lime fully muddled, and becomes more refreshing and less floral. The pisco is smooth and not musty. A fun drink with tropical vibes, and an excellent complement to my companion. 
My companion's drink arrives in a smoky carafe and is poured into a glass with a slice of dehydrated orange. It's not quite whiskey or bourbon, but is the Parcero old-fashioned, combining Colombian Rum Viejo de Caldas Juan de la Cruz, amaro liquor, and chocolate bitters. 
The entire concoction receives a generous amount of smoke before being served. It is a vastly more delicious version of the orange-flavored chocolates I remember eating as a child. The chocolate bitters are the finishing note and linger in a smoky haze long after the drink has been finished. My dining companion is thoroughly pleased, noting the drink's "fantastic balance of sweet and smoky, with a non-existent bite and great mouthfeel."
The Starters 
Daniel leaves us in the immaculate care of his wait staff. Attentive but never pushy, they gracefully attend to every table and are unfailingly polite. And they insist on feeding us what appears to be most of their dinner menu (we are quite hungry and offer little resistance). 
Lobster Taquitos
The lobster taquitos arrive first. Tiny and impeccably dressed, they are delights of taste and texture. A shatteringly crispy, piping hot outer shell yields to cool, creamy avocado mousse and the luxurious lobster, whose natural sweetness is enhanced by the caramelized pineapple. The entire bite-sized morsel is prevented from becoming overly rich thanks to the acidity and heat brought by spicy mayonnaise.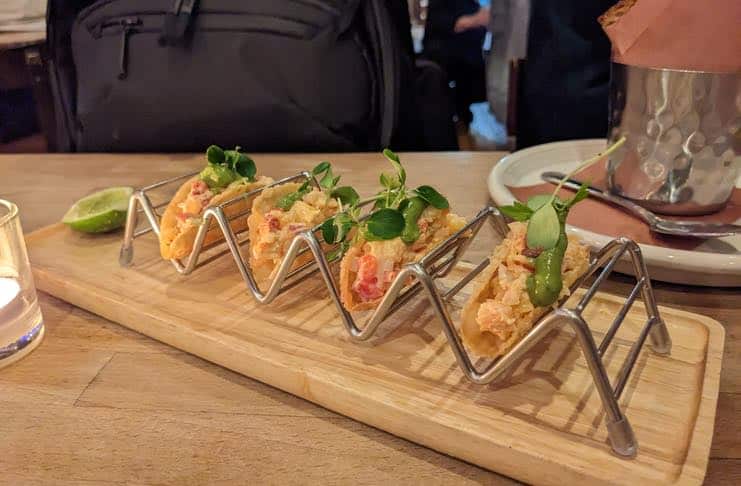 Their tuna con tomate is unexpectedly offered (and immediately accepted) and is served with impressively crunchy crostini. Eaten all together, the bite is well-composed. The tomatoes are surprisingly intense, and add salinity to the crostini and tuna. The tuna itself is excellent, seared to perfection, and refreshingly cool in the middle.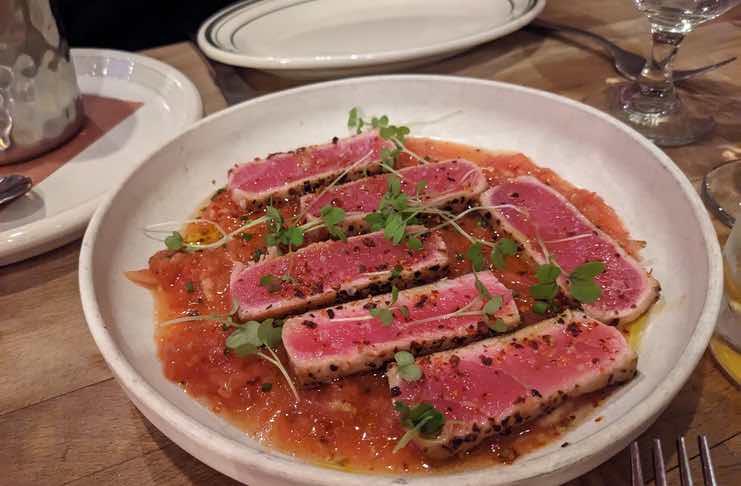 Guacamole
Our guacamole arrives and is served with three tostadas. Despite being a small portion, it packs huge flavor, with the avocado well mashed and the other ingredients finely chopped. It is generously seasoned with lime and cilantro, garnished with tomato and chives, and we could have safely eaten about five more bowlfuls. Says my companion: "A more well-rounded guacamole than my grandmother, and she was a very round woman."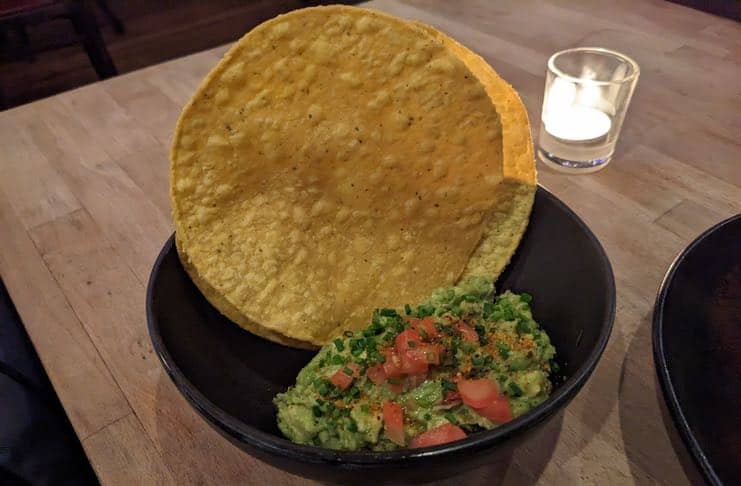 Croquetas de bacalao
Another menu item is bestowed upon us. The croquetas de bacalao are four little deep-fried balls stuffed with the famous salted cod. Citrus aioli is dolloped on top as well as on the bottom, providing a secure base to prevent unwanted rolling, and is a delightful explosion of freshness to counter the deeply savory croqueta.
This can be a one-bite situation if you're feeling courageous; if not, bite it in half and simply admire how much bacalao can fit into a deep-fried pocket smaller than a ping-pong ball.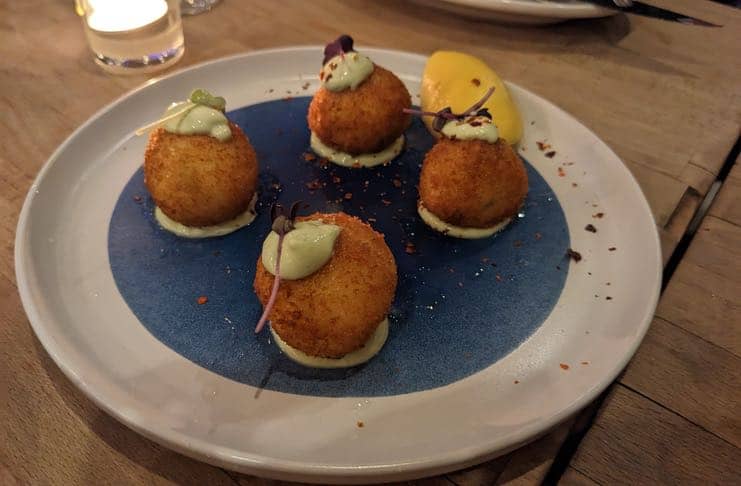 Raw bar & ceviche
At Daniel's recommendation, we order the hamachi tostada. It arrives on a bed of crunchy yellow corn tostada, sublimely ripe avocado, and jalapenos. The yellowtail itself is coddled under a blanket of crispy fried leeks, so thin they are translucent, with an airy bite more crisp than crunch. 
Within the mix is a smoky sauce of sun-dried tomatoes, adding a deep earthiness to the cloud-like avocado and hamachi. Each bite is slightly different, offering a myriad of temperatures and textures. No singular element outshines another. The hamachi is not the star, but is in the trenches with the rest of its compatriots to create each harmonious mouthful. It is perfectly balanced, as all things should be.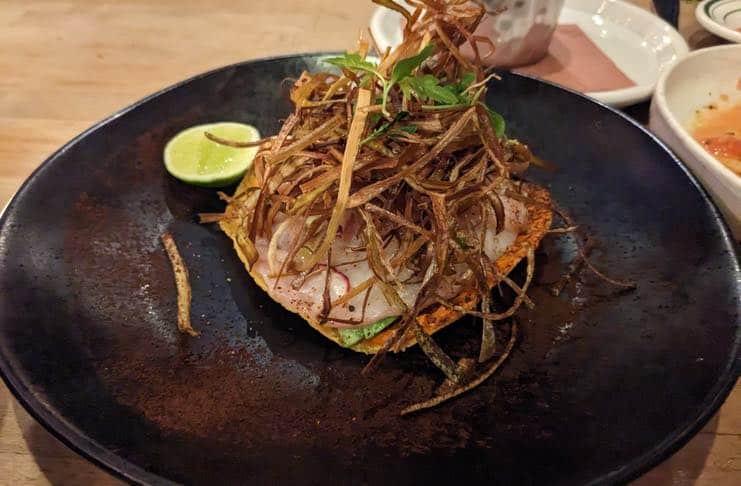 Entrees
Instead of a few entrees, we decide on the Argentinian Parrillada for two – a feast that includes NY strip sirloin, skirt steak, short ribs, chicken, chorizo, morcilla, papas a la provençal, green salad, chimichurri, and salsa criolla. It arrives and we are enthralled. It is a lot of meat. All of it is expertly charbroiled, seasoned, and sliced.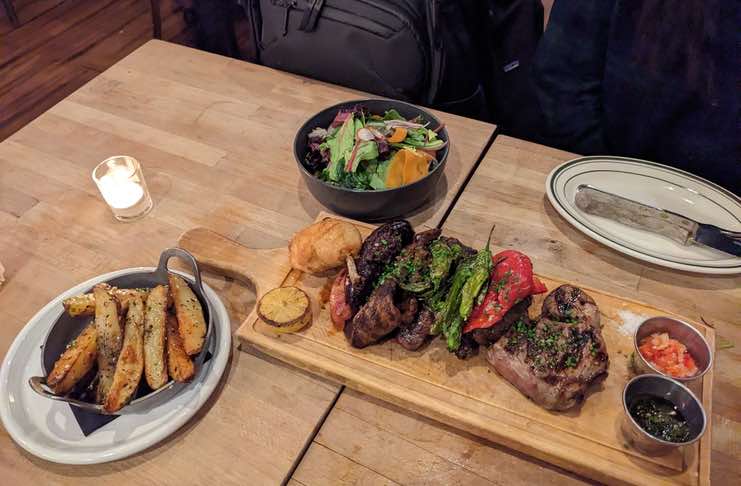 The Steak
The strip steak, despite being a cut I do not go out of my way to order, is decidedly excellent. Thick and generous and very juicy, I happily take the fattier end caps and leave the leaner middle to my healthier dining companion. The skirt steak is tasty but a little too cooked for my liking. 
Then again, most meats are (my companion had me amend my original statement to the wait staff, wherein I requested the meat "rare rare," for fear that we would end up with steak tartare). The short ribs are surprisingly thick, with a pleasant heft to them as I lift the bone and shamelessly gnaw on it. 
Perhaps a bit tough, but I am accustomed to eating them braised or stewed, where the meat literally falls off the bone, so take this note with a grain of salt. The chorizo is chorizo. Smoky, fatty, savory. My companion thoroughly enjoys it, and maybe enjoys the fact that I don't even more (he demolishes the entire sausage). 
The Morcilla
The morcilla is very soft, and very tasty, but I would have preferred a snappier casing to complement the velvety filling. The chicken ends up being my favorite meat of the group, with skin so crispy it fractures upon first bite, still tender and juicy on the inside, and perfectly seasoned down to the bone.
The sauces are both excellent, complementing the richness of the meat with bright acidity and pungency from herbs, citrus, and alliums. The potatoes are crispy on the outside and pillowy in the middle, covered with burnished garlic confit. When I start digging into the salad, my companion actually does a double take ("Who are you?"), as I am known for many things, but eating salad has never been one of them. It is almost necessary, though, to combat the heavy savoriness that is beginning to wear on my tongue. The long shaves of carrot and perfectly sliced radishes are pretty, but more importantly, they help cut the fat from the rest of the meal. 
Truthfully, I get bamboozled by the meat. The allure of a large platter of assorted cuts of beef, chicken, and pork is too much for my frazzled, harebrained self. We throw caution to the winds and indeed, wind up with (a) leftovers, and (b) a somewhat noticeable case of the meat sweats. 
Dessert
​By the time we finally push away our entrée plates, we're comfortably full. It might be more meat than I've eaten all month, but after polishing off the entire salad, I am feeling pretty good. Which is why, when the wait staff announces the arrival of not one, but two, desserts, who are we to refuse?
Volcano Lava Cake
The volcano lava cake is sumptuous. Warm and deeply chocolatey, it rests in the middle of a sea of dulce de leche. Crowning it is a shapely dollop of citrus-whipped mascarpone. My companion describes the cake as "richer than Bill Gates," and it is not an exaggeration.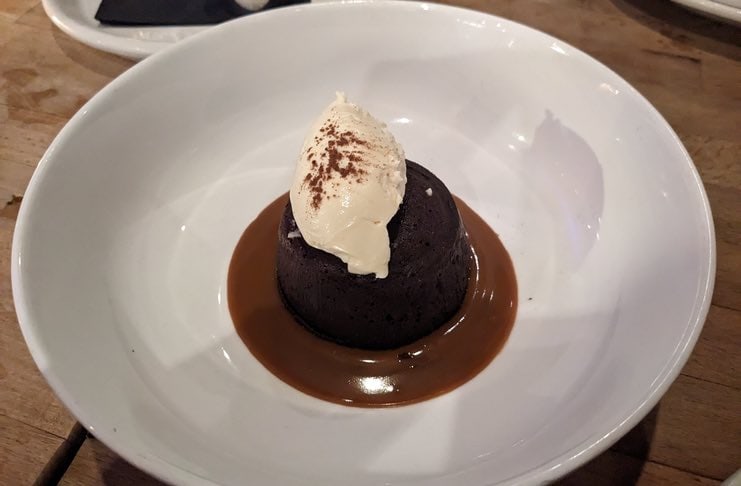 Between the decadent cake and the densely sweet dulce de leche, it would have been easy for this confection to have descended into the realm of saccharine. Mercifully, the whipped mascarpone saves the entire dessert, adding a fluffy texture and a welcome burst of freshness. I actually would not mind an entire bowl of just that, I think to myself as I casually eat the entire thing. 
​Basket of Churros
Our second dessert is a basket of churros so excellently fried, the outside layer crinkles with crispness and cinnamon sugar before melting into a diaphanous ​sheen characteristic of a well-executed pâte à choux. Served with the same dulce de leche that surrounds the cake, its effects are nonetheless drastically different here. The dulce de leche anchors the churro and allows the lightness of the latter to exist without floating away entirely. A fine conclusion to a fine meal.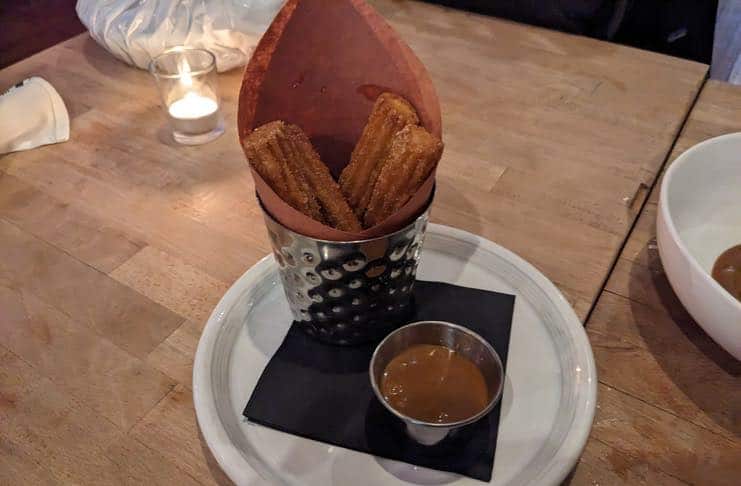 Overall Thoughts
La Pulperia offers Latin American cuisine that is both accessible and elevated, and they manage all this with hints of the unexpected. There are so many restaurants in midtown Manhattan, it becomes achingly easy to get lost. 
I am happy to report that the generosity of spirit sets La Pulperia apart from the pack. Each table is well-attended, and each guest is important. The wait staff is charming yet unobtrusive and concentrates on ensuring the full satisfaction of every customer, creating a friendly ambiance that is easy to recommend for a variety of occasions and demographics.
Check them out on Instagram.
Three Best Bites (Or Sips)
Lobster taquitos – the combination of flavors, temperatures, and textures is sublimely executed.
2. Parcero old-fashioned – sweet, smoky, aromatic, and surprisingly luxurious, this drink is memorable in all the right ways.
Hamachi tostada – a truly masterful balance between luscious, refreshing, and refined.
Want to read more of our reviews? Check out Ron's review of Metro Marche in Midtown Manhattan.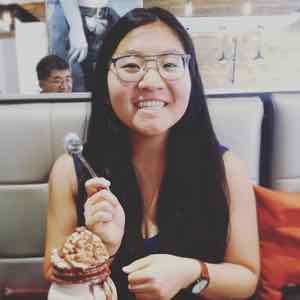 Katherine Chin was raised in upstate New York and grew up with the mindset that good food can, and does, exist anywhere. Now living and working around Manhattan, she spends most of her breakfasts pondering what she'll eat for dinner. She advocates for food that tastes good, and believes that sharing is caring – the best food is often eaten together. You can find her either walking or eating anywhere in Manhattan, when she's not planning her next food-centric adventure.