By Faith Rein
Upper East Side. 
I recently did a review on the Upper West Side and had almost forgotten how much I love the UWS. 
Yet I lived in the UES for about 10 years. 
Neil Simon…Prison on Second Ave was in my thoughts when I got my apartment on 82nd Street. 
Growing up on Long Island I always yearned to live in Manhattan. After years of living on the west coast, I found I had the chance to live out my childhood dream. 
We would drive across town after some trip to NJ for some reason or other. I would stare out the car window and wonder about everyone we saw. Where is that amazing woman dressed so smartly going? Where did she go? Who is this person that gets to walk the city streets? Who's that guy in the baseball cap with the newspaper tucked under his arm. Probably the NY Times and he did the crossword in pen. Carrying a bag of bagels, I assume.  Maybe he went through the park…THE park. Maybe he saw a matinee on Broadway or stopped for a deli and decided to bring home some bagels for the week. Maybe he's Neil Simon and the woman is Diane Von Furstenberg. 
Maybe they know each other. Maybe everyone in Manhattan knows each other and they go to smart dinner parties and laugh at all the people in the suburbs. 
Hahahhaa. 
I wanted to be them. I wanted to be the woman smartly dressed walking down the street and having young girls going back to Long Island drive by and envy me. 
Real-life was not as glamorous. 
Working in the city sometimes 2 jobs so I could have a Manhattan address. 
I did dress smartly, and I did pick up bagels. I would go to THE park, and I would have a deli on the upper east side. Or the west. 
Truth is…it was everything I dreamt of and more. 
Jewish Delis: The Treasure of NYC 
Long Island living, I did see a Jewish Deli or 2. 
I hear LI has some of the best Jewish Delis ever.  I didn't go but that's what I heard. (if you want to try, here's a list)
Growing up my Jewish education was from my friends. Friday night at the Migdal's. It was Mrs. Migdal's chopped liver that I would then compare all chopped liver to in the future. 
Mrs. Mauro's chopped liver was amazing as well, but I don't know if it was the half and half pickles that swayed me. The pickles were never better anywhere. 
From PJ Bernstein's website, a great read:
"Why Do Chickens Cross Third Avenue?
Alka-Seltzer is funny …. Tomato is not funny…. Cleveland is funny. Maryland is not funny. Then, there's chicken. Chicken is funny…. —From Neil Simon's The Sunshine Boys
At PJ Bernstein we are serious about making chicken so delicious that it puts a smile on the face of every customer who chooses one of many chicken dishes – a roasted half chicken, chicken salad, chicken soup with matzoh ball, and chicken liver pate. Oh, and our chicken dishes do cross Third avenue – just order them and we'll escort them to your place."
After marrying and converting to Judaism I would host many a holiday dinner. Seder, Hanukkah etc. My in-laws were not the traditional Jews I was used to. 
Southern California in San Gabriel Valley was not the plethora of Jews. Or delis.
LA has them and they aren't bad. But will always be compared and not kindly to the east coast. 
My in-laws loved to do seders. I did like the wine part.  Starting with matzo ball soup. Years of having Cousin Audrey's matzo balls and not having them for more years after I realized matzo balls can be great. 
PJ Bernstein is known for the Soup 
I love matzo ball soup, not Cousin Audrey's so much. 
PJ Bernstein's Triple Delight is a unique chicken soup with kreplach, noodles, and a matzo ball. What is Kreplach? Basically, it's a lump of dough with a small portion of ground meat, cheese, or potato inside. All that is boiled or fried.
This truly is the BEST Matzo Ball Soup I ever had. 
PJ Bernstein makes the lightest and most flavorful matzo balls I ever had. Kreplach is light and tasty. All swimming in the best broth "consume" that is not only good for the soul, but it's also just damn good.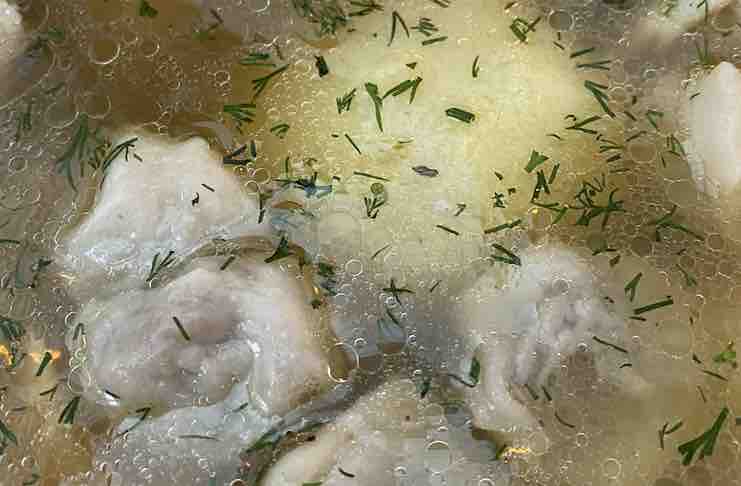 To top this, they also brought a plate of gefilte fish and chopped liver…of course, they serve this with saltine crackers. This is a must and tradition, not just a song.
Not a fan of gefilte fish. I would say after the one and only taste it wasn't bad. 
The chopped liver was the best and sadly I say better than Mrs. Migdal's, 
So good I got another serving to take home. 
The grandson, Eugene Slobodski brought us the best dishes and as he said: "why we came here". 
How Does a Pastrami Sandwich Taste in a Jewish Deli?
Pastrami Sandwich (the P in PJ, not really but a good way to remember the name) and my favorite, A Ruben. 
Now everywhere in Manhattan and across the country but American chefs love overfeeding us and every Jewish Mama. 
Over serving and just over the top.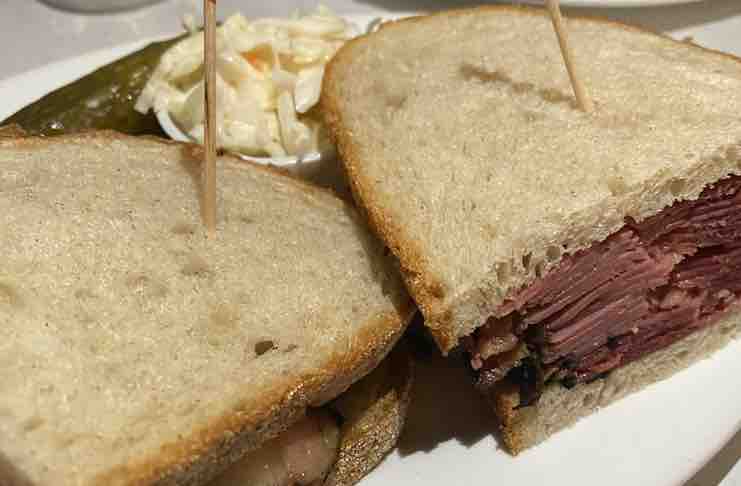 Why? I do save all the extra over and have enjoyed the leftovers. I eat leftovers and reconstruct, repurpose, and share with neighbors. I've shared my doggy bag with the homeless, the hungry, and sometimes a doggy. 
The mile-high sandwiches that delis are famous for, give you that OMG gastronomic mental heart attack is great insta moment. 
For me I want a portion that does not bring my thoughts to eating over the sink alone. Wrapping my head around the gluttony and my mouth around something that I want to believe is delicious for fear of getting a locked jaw. 
I love a good sandwich. Size does not matter. 
Balance of meat to bread. Quality meat, fresh delicious bread and the best pickles ever. 
Again, I apologize to Mrs. Mauro. 
This sandwich was that good. The cut must have been my mother's voice…"lean, I said lean". 
The Ruben, as I said my favorite.
This was the perfect portion to have filling the plate but not over the top. 
Enough for a great taste and for me to take home and enjoy again. 
The Musical Duo
On this Wednesday at PJ Bernstein, 
Question:
Why was this night different from the rest? 
Answer:
The musical duo that sat under the outdoor seating in front of this deli. 
Pandemic seating. We have come to enjoy this as a new way of living in the city. The fact that something so good came out of something so bad. A reminder to be safe and be human. 
Adding in vocalist, Isabel Alvarez. Isabel should be recording with Adele and a guitarist with musicality to balance and create a perfect duo. He's the male ballroom dancer that partners with the girl. Strong and present but never takes focus from the lady. 
Velise – Musician for hire. 
bachabooking@gmail.com
We found ourselves almost forgetting about the food and taking in this atmosphere of the neighborhood on 3rd Ave. 
Watching the people all walking past and slowing down. Stopping and listening. Dance walking and some tipping. 
A doctor from a long day at a nearby hospital still in scrubs. Finding a seat and a beer and a chat. 
Neighbors noticing neighbors. 
Having a place like PJ Bernstein's to gather with good food and good people. 
Yes…it's NY we do deli. 
PJ Bernstein is more than a Jewish Deli, it's Home 
You can read about PJ Berenstein's history on their website here, how Russian-born Alex Slobodsky started this magical place.
Now as we spoke to Eugene, Alex's grandson, 3 generations of this tradition remain. 
While living in the UES I saw that history. 
Neighborhoods are changing. 
2020 found people leaving. The millennials found it difficult with shutdowns, furlough. 
Remote living was the solution that had them leaving the city and moving back with family. 
Some come back some don't. 
We lost so many and so much. 
The identity of the city is challenged, and we sadly mention restaurants that had to close. 
Even without a pandemic, this is a tough city to have any kind of business. 
We are so glad to know that some of our history remains and PJ Bernstein's on 3rd Ave. will always have soup.
Living and loving in NYC, food has been a passion of hers. East Coast to West, Faith's goal is to explore and learn with the contribution of other like-minded foodies. Faith Rein has written for 2Girlsfromabar@blogspot.com. Youtube channel – faith.rein, love food love faith. You can find her @: Faith.rein/facebook (always looking to add friends) / faith rein@twitter / faith.rein@instagram / faith.rein@gmail.com