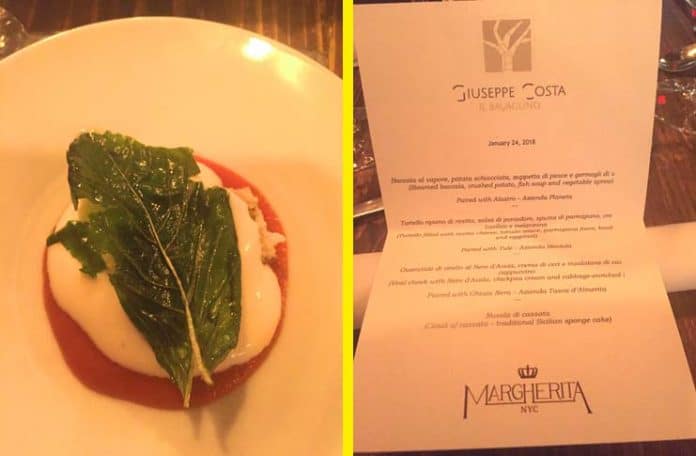 Valentine's in January…I fell in love last night with the symphony of flavors conducted by Giuseppe Costa, Il Bavaglino at Margherita NYC in Little Italy.
Restaurant Week in NYC has always been an exciting time. It can also become the most over rated event in the city. Conceptually it was created to bring in customers during the slow cold of the winter by offering special discounted menus. A Lovely idea and many of my bridge and tunnel friends have enjoyed the not so Manhattan prices those weeks to be able to say they dined at a top rated restaurant. After a few years of doing this myself I found that the limited menu and feeling as though you are that "coupon person" – I tended to avoid Restaurant Week.
Margherita NYC changed my mind and elevated the concept.
Let's bring in Michelin starred chef Giuseppe Costa for a very special 4 course, wine paired dinner.
In this charming rustic space my guest, Corey and I were greeted warmly for the first seating.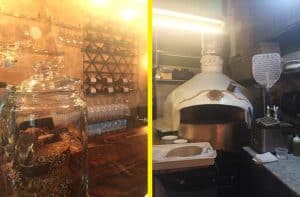 Amuse bouche of what was described as a deconstructed pizza. On a small bit of bread was a tomato sauce base topped with cheese and a spring of basil. The light fresh sauce reminded me of the best purest tomato soup. This is a good thing. Such a clean pure tomato flavor worthy of plate licking.
1st course paired with Nozze d'oro DOC Contea di Sciafani – Tasca d'Almerita. They said it was a light romantic white. Clean and crisp. Yes I was falling in love.
Baccala al vapore, potato schiacciata, zuppetta di pesce e germogli di v. (Steamed baccala, crushed potato, fish soup and vegetable sprout).
Corey said it was like a really really good fish and chips Italian style. The Baccala was cooked perfectly. Light and moist. A hint of fried skin mixed with the potato and fish soup (which was more of a sauce) and the veggies made the perfect bite.
Wanted more of the crispies.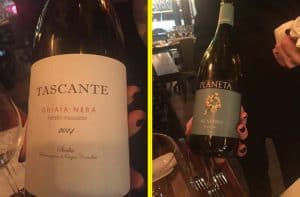 Paired with Yule – Azienda Biolviola (a bit bolder white. Yet still light with a bit of an oak undertone.
2nd course – Tortello ripieno di ricotta, salsa di pomodoro, spuma di parmigiano, cre basilico e melanzana (Tortello filled with ricotta cheese, tomato sauce, parmigiana foam, basil and eggplant.
This was my favorite course of the night. Tortello were light and the ricotta cheese filling melted in your mouth. Complimenting the plate with basil and eggplant. Petite slices of eggplant fried crispy and lightly seasoned. This would be my go to request. Can we have crispy fried eggplants with everything please? The sauce again was the freshest tomato that your Sicilian Grandmother, Nonna would make as Sunday gravy. I am not a huge fan of foam. I get the novelty but it can become over used. Initially I was not excited about the foam on this dish but tasting it alone delivered a hint of the parm and became an important part of this composition, creating a harmony of tastes.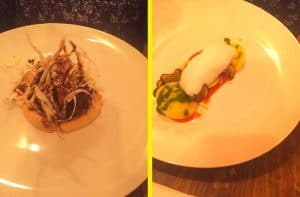 Guanciale di vitello al Nerp d'Avola, crema di ceci e insalatone di cai cappuccino
(veal cheek with Nero d' Avaola, chickpea cream and cabbage enriched, paired with Ghiaia Nera – Azienda Tasca d'Almerita)
Veal cheeks are tender flaky and cooked to perfection. But sit it on a chicpea puree and I'm in heaven.
Topped with finely shaved cabbage. A balance equaled to the finest of steak houses. With the love and care that only Giuseppe could create.
The wine pairing was superb. Did not over power your palate and enriched each taste. Truly complimenting each dish.
Fourth and final course – the dessert
Yes, dessert that can make or break a meal.
Nuvola di cassata (Cloud of cassata – traditional Sicilian sponge cake.
Let's be clear – I was not getting excited for sponge cake. To my surprise, Corey and I were treated with this dream cloud.
I have had many dishes that have a sense of memory for me. The best butternut squash from L'ECole, David Bouloud's dessert with gold flec's or anything from David Bouloud. Memories that I can still taste, not only delighting the tounge but my food brain.
Giuseppe Costa and Margherita NYC are now on my list of most memorable dishes with Nuvola di Cassata. This cloud of sponge cake filled with the creamiest ricotta cheese. I can still taste it this morning. It is far beyond words the best dessert I have ever had.
This beat my favorite course of the night. Making the finale to a most amazing dinner memorable, and feeling very loved.
With the charm of this lovely restaurant and the professional warmth from the staff, this is a must go to for a very special week.
Bravo to Giuseppe Costa and Margherita NYC.
And for those who missed it, here's the official Press Release of this amazing culinary adventure…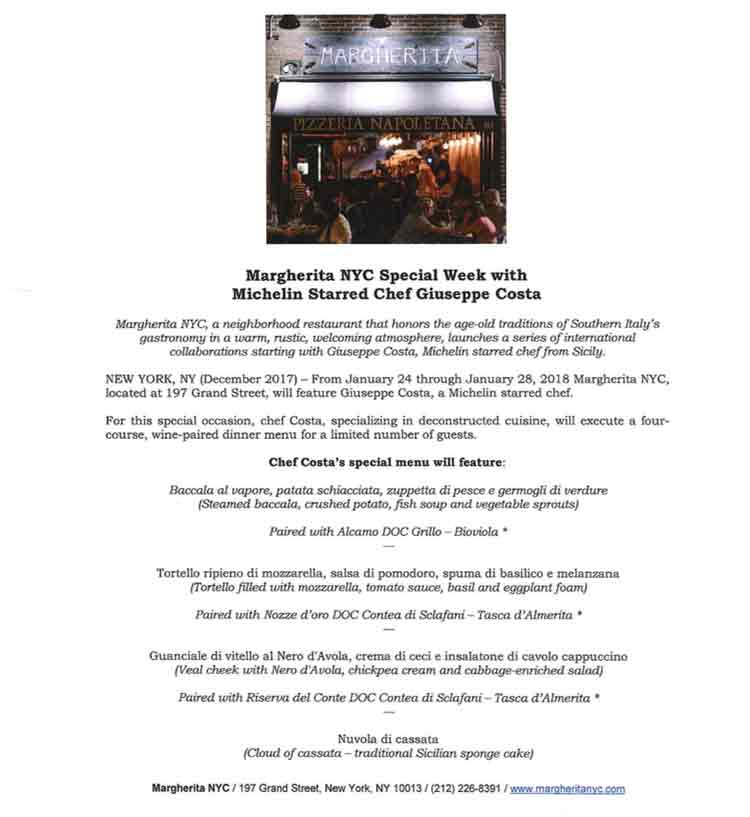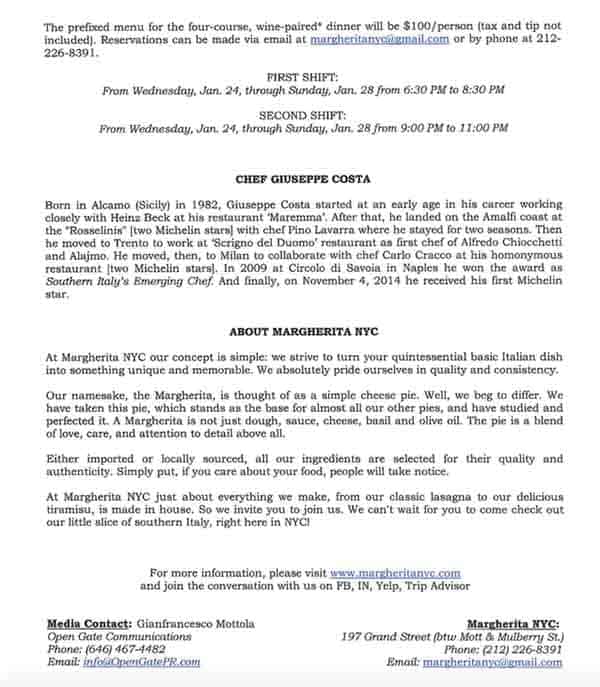 Living and loving in NYC, food has been a passion of hers. East Coast to West, Faith's goal is to explore and learn with the contribution of other like-minded foodies. Faith Rein has written for 2Girlsfromabar@blogspot.com. Youtube channel – faith.rein, love food love faith. You can find her @: Faith.rein/facebook (always looking to add friends) / faith rein@twitter / faith.rein@instagram / faith.rein@gmail.com