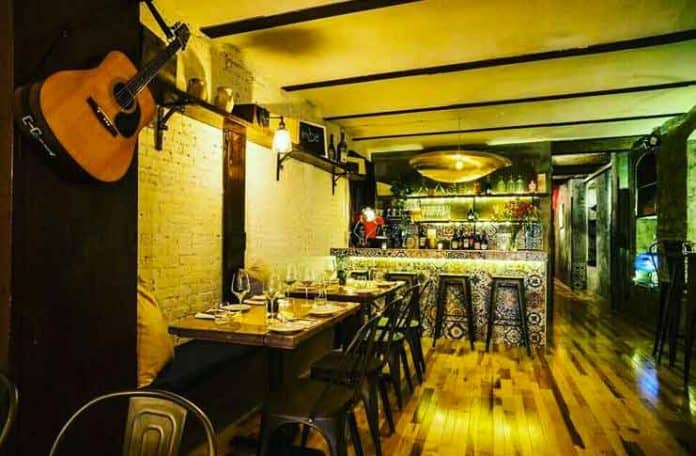 Looking for a pescatarian Italian restaurant with good food and a cozy feel? Osteria 57 is your place. As you know I usually write a review that captures the essence of the entire dining experience from the rapport developed with the owner and the staff, to the ambience and décor, but this piece will differ a bit. My visit to Osteria 57 was not quite as welcoming as my visits to other restaurants and cafes. One of the owners was rather standoffish and at times even appeared annoyed by my questions. Perplexing to say the least. Perhaps he was having a bad evening? Perhaps he has an aversion to food bloggers? Regardless, the food was enjoyable and the wait staff pleasant, so it is fitting to share the following:
The feel of Osteria 57 is cozy. In the front room there is warm lighting, wood tables and ceiling beams, painted brick walls and with a nod to the nautical, the doorway is flanked by ropes. There is also an additional room in the back that would be a lovely spot for a private party. Between the two sections is a small four seat bar, with mosaic tile. The feel comes together with a large brass suspended Gervasoni lamp.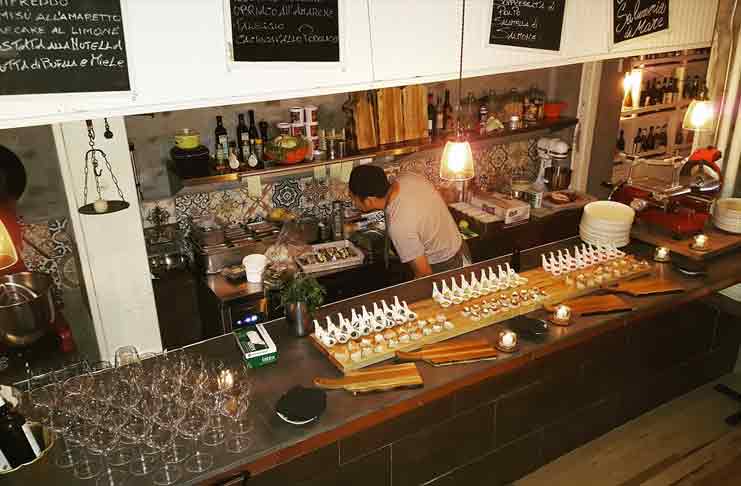 We began ("we" as in Joanne and I) our evening with a glass of Argiano Chianti. It was bold and smooth and complimented our first dish beautifully; prawns plump and cooked such that they literally popped with flavor. They were sautéed in an armagnac sauce, that added a creamy, rich finish to every bite. A dollop of caviar added yet another layer of richness.
Accompanying the dish was micro arugula tossed olive oil and sea salt, and rustic guacamole made with a touch of ginger mustard. Although the combination of flavors had a silky blend, the cleanness of each ingredient clearly stood out.
Next, we tasted cod fritters, tossed in a gluten free chick pea flour. The fritters were fried with an airiness that allowed their flakiness and flavor to shine through. They were topped with fried julienned leeks—and for a gal who loves onions this was absolutely delectable! A little beet puree was the finishing touch.
Our final dish was Paccheri Zafferano All'Arrabbiata. Paccheri is tubular pasta, which was cooked al dente, and tossed with eggplant and a traditional Arrabbiata sauce which gave each bite a fiery kick. Ironically for a pescatarian restaurant, the pasta had a meat-like quality; delicious, hearty and rich. Atop of the pasta was a seared piece of sea bass, moist with a crunchy exterior. The portion was modest and the flavor mild. The two flavor profiles of the hearty pasta and mild fish seemed mismatched and I was curious as to the inspiration behind the dish. But, as I mentioned earlier, questions were not welcomed.
For dessert we sampled a raw lemon cheesecake. It was light, with a mousse-like texture. And with a sprinkling of orange zest it was a refreshing end to our evening.
If you'd like to give Osteria 57 a try, you'll find them at 57 W 10th St, New York, NY 10011.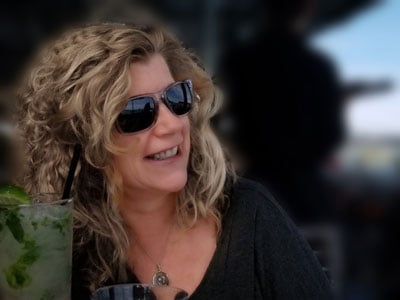 Kate E. O'Hara is a New York based freelance writer and photographer who loves all things food—especially the people who make it and market it. Her writing aims to capture the essence of the food experience; the stories that go well beyond a plate of ingredients. In addition to her love of food, Kate is also known to have a hankering for red wine and craft beer.