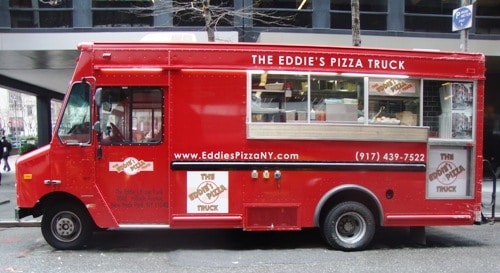 Ever had White Arugula Pizza? Well it's about time. At this point, Eddie's Pizza Truck has been on the NYC streets for a while…but not nearly as long as their restaurant on Long Island, which has been around since the 1930's!
Eddie's has expanded on their initial pizza menu with some nice sandwiches and Italian sliders, but they didn't have any sandwiches the day we went. Must have been a snafu with the rolls.
Lately we've been trying out some vegetarian options for lunch, and the White Arugula Pizza for $10 seemed like a good veggie choice for lunch. There's also a Veggie Delight Pie, but we've always had a soft spot for white pizza.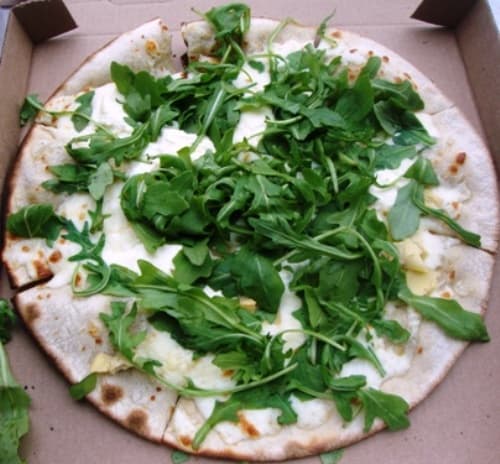 If you've never had Eddie's Pizza before, they are known for very thin crusts. This makes the outside of the pizza nice and crispy instead of thick and chewy. Even though it was thin, there were still several air pockets in the crust, which surprised us.
Atop the crust was ricotta cheese, mozzarella cheese, artichokes and lots of fresh arugula.
According to the menu, the pie also had tomatoes, which we didn't see any evidence of, and truffle oil, which we didn't taste any evidence of. Honestly, we're glad there were no tomatoes, because they don't belong on white pizza.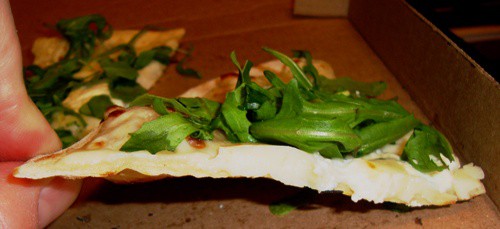 There was a decent amount of ricotta cheese. We always want more mozzarella cheese, but it was enough.
What we wanted more of was artichokes. Some areas of the pie were fine, but some areas were artichoke-free. Let's spread it around more evenly.
If you like arugula, it was the most prevalent part of the White Arugula Pizza dish. The slightly bitter greens added a welcome sharpness to the creamy ricotta and crispy crust.
Eddie's Pizza Truck has a fairly set schedule from week to week, so you can generally find them on Twitter here or on our Mobile Munchies Twitter feed.
We enjoy Eddie's sandwiches as much as their pizza, and when the winter is over, they will be bringing out Eddie's Pizza Cart again to cover more areas of the city.