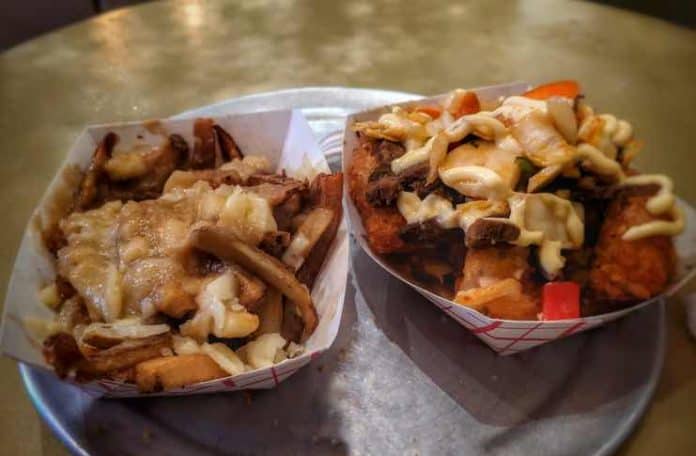 Fry Guys in NYC doubles as both a restaurant that serves delicious food and the venue for an individual metaphysical test to determine your true capacity for food consumption. I suppose it is possible to patronize the establishment in moderation, but given FryGuy's loaded fries, that seems unlikely.
FryGuy's recently relaunched with a new spacious interior, an expanded kitchen, and a new, revamped menu which reads like a choose-your-own-adventure in which every path leads to you being full. New menu options include kimchee fries, buffalo chicken fries, mac & cheese fries and nacho fries. Each option can be served on your choice of fresh regular cut fries, curly fries, or tater tots.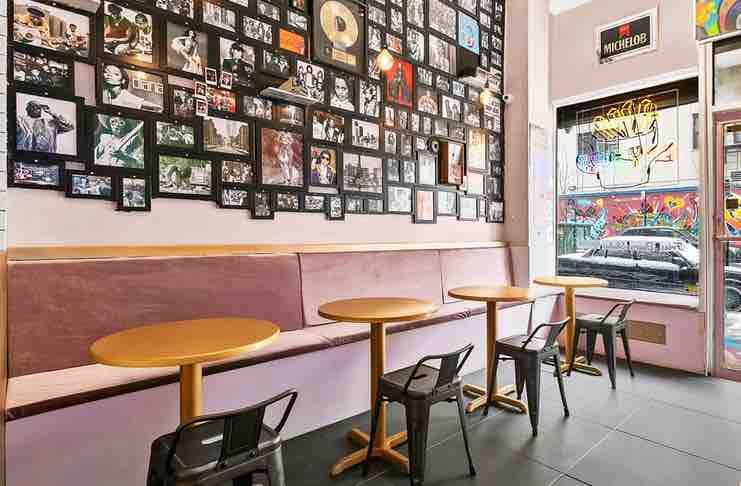 Personally, my foray into the Fry Guys NYC arena maxed out at a Kimchee fries (on tots), a Regular Fries in their amazing Poutine, a Curly fries (with many sauces) and a birthday cake shake (it was not my birthday but something you have to #treatyoself).
The Kimchee Fries are covered in queso, bulgogi, and kewpie mayo. If I had to quibble, I expected this to be a little spicier and the bulgogi wasn't my personal favorite, but the tots were crisp and light and combined wonderfully with the queso and mayo.
The Poutine at Fry Guys NYC: Perfection?
The Poutine, however, was perfect in every way. I ordered the Poutine because it seemed like a sensible thing to do at a place that specializes in fries, little did I know that there is a thing called maple gravy. Yes, these fries were served covered in gravy that tastes like maple syrup which is accompanied by cheese curds. This concoction, the creation of new chef, Dennis Hatzinger, (a veteran of New York City's Point Break and Schaefer Oyster Bar) was alone worth the visit.
Finally, with the aid of some curly fries, I checked out as many of the sauces as I could. There are nine in total. Of special note was the Habanero Banana Ketchup. It was spicy but not overpowering and added a nice dimension to each fry. Also, Fry Guys NYC offers a delicious truffle mayo. I originally neglected to request this sauce because there were many and I just got lost in the sauces. Lucky for me, my server, cook, and spiritual Fry-guide, Kevin, suggested I try it and I'm glad he did. I find many places offering a truffle-whatever, don't really care about how that item actually tastes and either they overpower you with the truffle flavor of you can barely taste it. FryGuys's truffle mayo hit the sweet spot. I ordered regular sizes of all the fries but for groups or the truly voracious a number of the options come in a size described as "bucket of fries" that claims to feed at least three (challenge accepted).
FryGuys's new menu also has a number of sandwiches and other milkshakes which I had intended to try before overestimating my appetite. For the more adept eaters who are interested, the new sandwich menu offers The Fry Guy, (slow roasted pork, smokey BBQ sauce, coleslaw); Mac n Pork, (the Fry Guy with the addition of mac n' cheese); and Buffalo Chicken, (fried chicken, Buffalo sauce, blue cheese, shredded lettuce). In the Milkshake department, they have a Cookies n' Crème shake, BamBam (which has fruity pebbles with a berry drizzle), and Cap'n Crunch (which has a peanut butter drizzle).
Ten years ago, I used to live a block and half from FryGuys 2nd street and Avenue A location. Given that I no longer have anywhere near the metabolism that I did back then, I'm glad there is some distance between me and their delicious milkshakes and maple gravy.
Ted Reilly lives and eats in New York City and can count the number of times he's said "no" to ice cream on one hand. As a teenager in the Midwest, his daily lunch diet consisted of mall pizza and/or Burger King. His passion for food developed as a college student in New Orleans where he regularly attended crawfish boils and sought out the best jambalaya. Since then he's been an avid consumer of okanomiyaki, 回锅肉, and [anything] curry. He loves traveling but knows that you can find any dish you want somewhere in Queens.