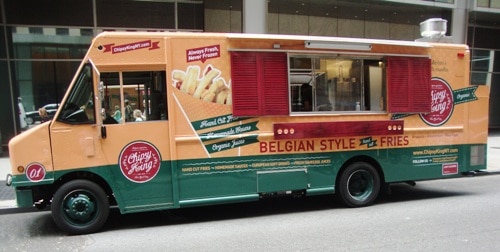 The Chipsy King truck has recently been parking on Broadway and 56th St, near our office. The first time we went there in early summer, the only sauces available were ketchup, mayo and hot sauce.
Walking by last week, we saw a lot more dipping sauces were added to the menu. The price also went up, from $5 to $7. For $7, you get a large cone of fries, one Signature sauce, and there are several free sauces you can get too.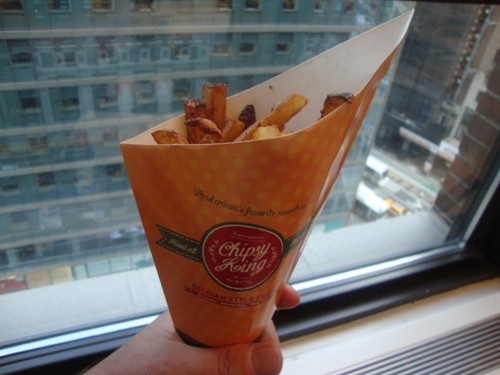 If you've ever been to Holland or Belgium, you've probably seen how popular fries stands are. The Europeans generally eat them with mayo of some sort, although Brits tend to prefer malt vinegar, and ketchup is available for Americans.
Chipsy King is a popular Belgian-style fries shop with several locations in Amsterdam. They recently decided to cross the Atlantic, and did what any self-respecting food vendor does when coming to NYC – they opened a food truck!
While there are some fries places around NYC, the cuisine has not attained the popularity here that it enjoys across the pond.
With 18 Signature sauces and 3 free sauces, there are plenty of options now for dipping. Besides a number of different mayos, there's bbq sauce, peanut satay, blue cheese, Irish curry, and even something called War Sauce.
Free sauces include ketchup, malt vinegar, and yellow mustard, raw onion and jalapeño sauce. That last one sounds like it should be called War Sauce!
As we usually do with new food trucks, we asked which sauce they recommended. The answer was rosemary garlic mayo, and since they're a new truck, they offered a 2nd Signature sauce for free. He suggested parmesan peppercorn.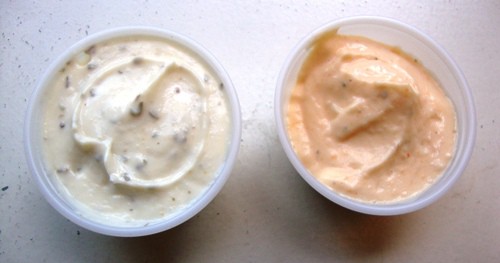 The fries were square cut and thick, cooked to well done. The fries were not soft and mushy, but they were not exactly crisp either.
Rosemary garlic mayo tasted just like what it sounds like, a garlicky mayo with rosemary. It was good with the fries, but you better eat a mint before speaking with anyone. This was more like the sauces that are popular in Belgium or Holland.
The parmesan peppercorn sauce was also mayo-based, and personally we liked it better. That's not a big surprise, considering we're huge on anything cheesy, and this was pretty cheesy. There wasn't much from the peppercorns, but it was still a good dipping sauce.
Getting towards the bottom of the cone, it would have been better if they included a small wooden fork (as they do in Europe) for getting to the smaller pieces out of the bottom of the cone.
Another thing was apparent when we got to the bottom of the cone – there was very little cooking oil. With an order this size, we expected to see a lot more oil on the cone. Nice job on oil reduction.
There were not a lot of people at the truck, and we have a theory for that. We cannot eat fries as an entire meal for lunch, and wish the Chipsy King offered a smaller size.
Since they park near other food trucks, we think their business would increase significantly if they offered a $4 size, which people can eat as a side dish with lunch from another food truck. In addition, $7 for a large order of fries is on the high side.
Another option would be to offer other types of fried food for lunch, like chicken fingers or wings.
You can find Chipsy King on Twitter here or on Facebook here. Their (US) website is still under construction, but their Dutch website is here, in case you're heading to that part of the world (which we will be doing in January).