Food gifts are my all favorite gifts to receive (and give) during the holidays, specially on Christmas. Firstly, if chosen well – they are delicious and fun to consume. I also love the thought behind it, as food gifts can symbolize a wide range of wonderful things. So, when I learned about Tasty Ribbon, a NYC-based company that specializes in Italian gourmet food gifts – I had to check it out.
Tasty Ribbon: Italian Gourmet Food Gifts Sourced From Italian Villages
If you're looking for unique gourmet food gifts that will take you on an authentic journey to Italy – then Tasty Ribbon is your place to start. You'll find yummy chocolates from Tuscany, high-end Pasta from Campania, Extra virgin Olive oil from Puglia, and so much more. 
So where and how did this all start? Well, Tasty Ribbon is a women-owned food gifting company founded in 2019 by Giulia Scargetta. Giulia moved to New York from Umbria in Italy in 2018, and began her online business during the COVID pandemic. Gourmet Italian foods were a key ingredient in Giulia's daily life from the moment she arrived in New York City. 
She started Tasty Ribbon to celebrate her love for this unique cuisine and the connection it makes to our dearest memories and loved ones. How did she do that? She began with an extensive research journey to discover some of the most iconic foods across Italy. She then brought these back to the States and created unique and creative gift boxes filled with these Italian delicacies. Giulia also made it easy (with only a few clicks) for anyone to choose and send a gourmet taste of Italy to a friend or loved one, anywhere in the US.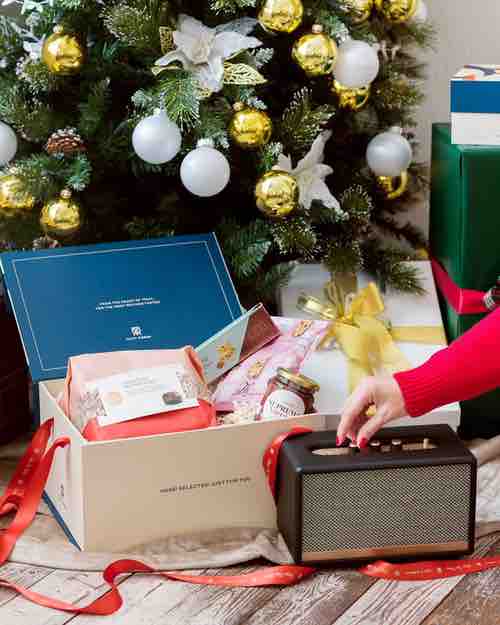 Tasty Ribbon really looks as if it may redefine the traditional food gift basket industry. How you may ask? Well, first, they are elevating both personal and corporate gifting, and adding class to it. Secondly, they select natural ingredients and unique flavors that are mostly not available otherwise in the States. And lastly, to make sure that the authentic taste of Italy comes right out of each box – Giulia travels to Italy every year. She explores small villages and towns to find new partners, creative family-owned artisans that truly represent Italian food traditions and history. A few examples of such partners include Acetaia Leonardi's award-winning balsamic vinegar, Extra virgin oil from Frantoio D'Orazio (Puglia), Vestri's chocolates in Tuscany and T'a Milano's in Lombardy, Sauces and sweet delicacies from Cascina San Cassiano in Piedmont, hand-picked truffles from Tartufi Bi anconi and San Pietro a Pettine in Umbria, and much more. 
Tasty Ribbon's Best Selling Items
According to Giulia, Tasty Ribbon's best selling gourmet food gifts are these: 
Pasta 1-O-1:

A delicious starter kit that will probably turn you into a real pasta chef! This Italian food gifts box includes two types of pasta, three exquisite sauces, and dazzling olive oil.

Taste of Italy:

This gourmet food gift box gives you a tour of Italy through its most ingredients and products. This box includes extra virgin olive oil, authentic Pasta Di Gragnano, aged balsamic vinegar, real traditional Italian tomato sauce, gourmet Porcini mushrooms and white truffle sauce, a chocolate-flavored blend of jasmine and white tea, four chocolate bars, and more.

Written in the stars:

This special Italian food gifts box includes products inspired by the stars. For example, there are Tea blends from Tuscany that are designed with the recipient's zodiac sign in mind for a more personal experience. There's also a bite of Piedmont hazelnuts dipped in silver milk chocolate that is absolutely delicious!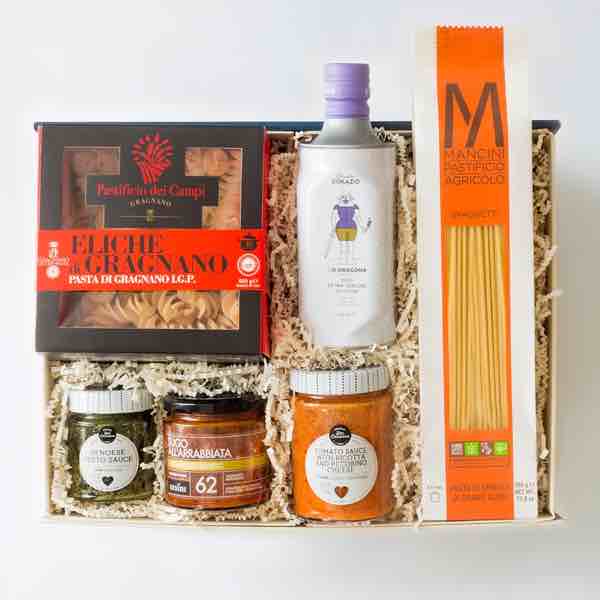 Tasty Ribbon offers customizable gift boxes, both for the single client as well as for corporate food gifting. You can choose from pre-curated gift boxes to entirely customizable ones. You can decide the size of the box and add whichever products you prefer from Tasty Ribbon's wide selections of Italian delicacies. Another nice touch is the fact that all the boxes come with a handwritten-like note that you can of course personalize. 
Tasty Ribbon is also in the works of partnering with Convive Wines, a lovely NYC-based boutique wine store. This will allow the creation of special corporate orders pairing Tasty Ribbon products with delicious wines. However, that's not all what these guys have in plan. Here are some more of their latest inventions.
Tasty Ribbon's Latest Gourmet Italian Food Gifts
Giulia Scargetta and her team are launching a brand new gourmet food gift box called "The Starred Dinners". This will be a series of one-of-a-kind luxury meal kits with unique recipes created by Michelin-starred chefs. The first of many unique recipes is already available on Tasty Ribbon's website under "Vecchia Latteria" (Old Dairy). This meal kit includes a recipe by Michelin Star Chef Andrea Larossa, with all the ingredients you'll need to create Risotto with Monte Vecchio cheese, powdered licorice, and butter.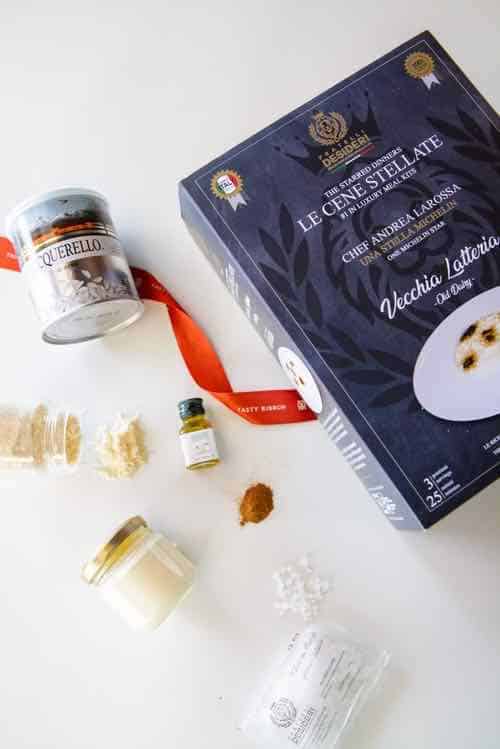 Another exciting item of Tasty Ribbon is their newly launched Christmas Collection. As we all start shopping for holiday gifts, the easiest way to the hearts of our loved ones is through their stomach, with unique Christmas food gifts. Why not give them a gourmet Italian food gift? Tasty Ribbon's Holiday Collection includes delicious and prestigious T'a Milano's Panettone (Classic, Chocolate and Pears), handmade using nothing but the highest quality ingredients. This means using sourdough and no preservatives or artificial flavorings, following an old recipe handed down by the Alemagna family from father to son and into the hands of Tancredi and Alberto, founders of T'a Milano and great-grandchildren of the famous Gioacchino Alemagna.
With all these delicious Italian gourmet food gift ideas, you'll have more than enough presents for all the loved ones in your life this year.