Within these onions, there is magic. This is the only coherent thought I am able to manage. Chef Sato calls them "veggie fritters," and this is a sore understatement. Then again, what does one call the cacophony of transparent, delicately fried onion shards that shatter ponderously in my mouth? 
The Beginning, at Amayar Kitchen
The evening at Amayar Kitchen begins with a truly enthusiastic staff and such a warm welcome that I'm able to momentarily forget my perennial state of exhaustion. Attentive and eager to please, they seat my guest and me in a corner bench with a perfect view of the kitchen. I would later learn that the staff is largely family, with the chef's three daughters and sister assisting restaurant patrons. The middle daughter, Ruth, unabashedly talks up her favorite dish on the menu.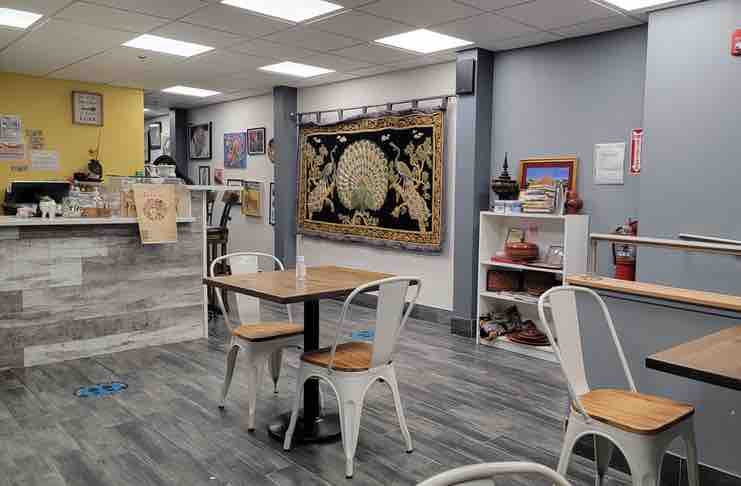 Chef Sato comes to greet us. Warm and courteous, he reviews the menu and I ask for his recommendations, telling him I am unfamiliar with Burmese cuisine. He immediately highlights his veggie fritters and Burmese tea leaf salad, and promises their authenticity. 
He brings us bags of "Sato chips," large, ruffled potato chips tossed generously with flash-fried curry leaves and pepper flakes. They are spicy, aromatic, and instantly addictive. He asks us our spice tolerance; I'm not a wimp but I'm also not eager to burn off my taste buds, so we say medium. He suggests both noodle and curry dishes, and I'm so glad I didn't eat a snack earlier. 
The drinks arrive — a zippy cherry-flavored, neon green Burmese cream soda, and a more muted grass jelly juice. Both are refreshing, though the latter steals the show with its cane sugary aftertaste and textured jelly being a delight to slurp or spoon up. There is also a very nice Burmese green tea, served either hot or cold to your liking. 
The Appetizers
The appetizers start to arrive, along with a Sato off-menu special — piles of fresh cilantro tossed with pickled red onion and dried shrimp. A winning combination filled with both lightness and rich umami. Then comes the Burmese tea leaf salad, with crispy baked-then-fried butter beans, yellow peas, and peanuts perfectly balancing the herbaceous, salted leaves. Again, comes the sense that each element of the dish has been meticulously crafted to exist in harmony. The potato samosas are also nothing to sneeze at; pleasantly light and crispy on the outside, yielding to a rich, spiced, and beautifully creamy potato.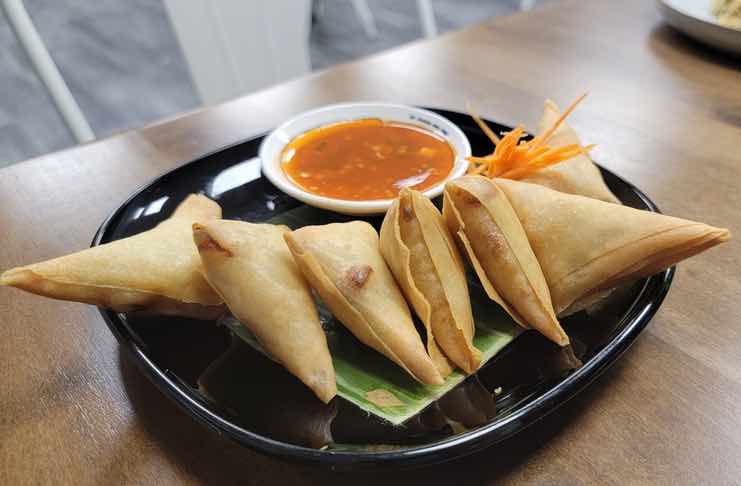 The presentation is simple, family-style, and welcoming. The appearance of a trio of veggie fritters, however, catches me off guard. Paper-thin slivers of onion have been lightly coated and fried in spheres, so the overall effect is reminiscent of a modern light fixture.
It is served with a spicy, acidic, garlicky sambal-style sauce to help balance the decadence and is a wonderful match. The batter is airy and perfectly fried, and the trio of vegetables (onion, squash, and beans) is a texturally pleasing combination. Meanwhile, our ever-attentive staff keeps us well hydrated and entertained (were we ever that spritely in high school?).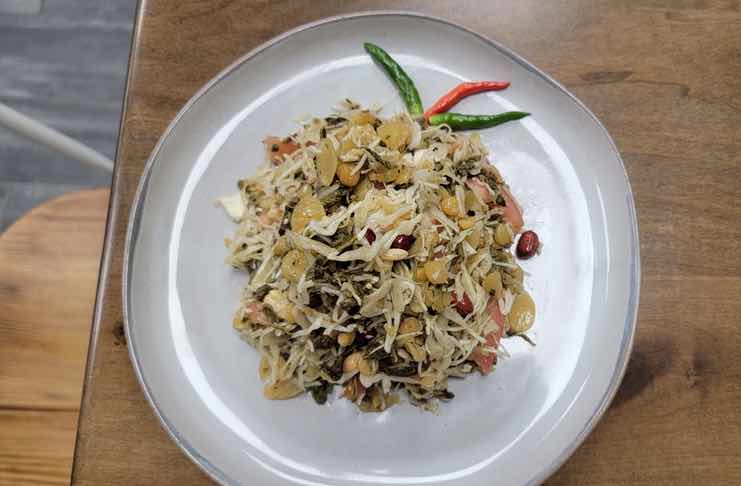 The noodles
Chef Sato and his sister, Lin, then present to us a duet of noodle dishes. The first, his daughter's personal favorite and recommendation, is kyae oh, a noodle soup with a pork neck bone broth that is exhilarating just to smell. The second, see jet noodles, is a generous serving of glossy wheat noodles topped with green onion and shredded duck. "You have to taste each one separately," Chef instructs us. "They are so different to appreciate."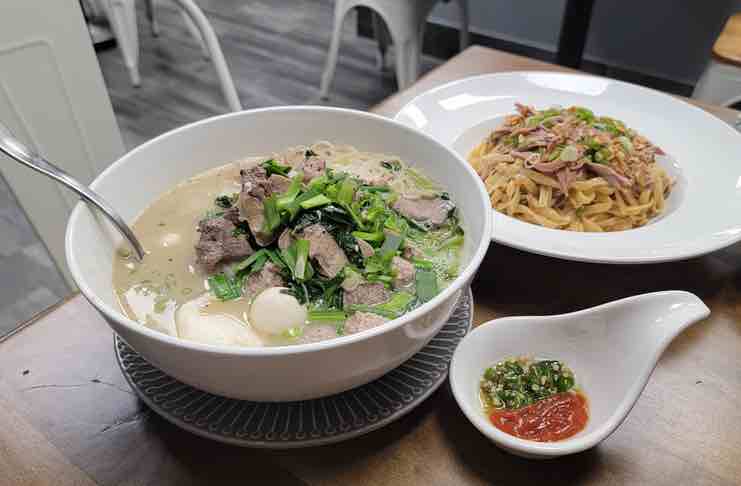 Kyae oh is filled with an assortment of pork —  small meatballs, liver and offal (the latter two being completely optional depending on your preference), along with two different types of eggs (chicken and quail).
The meatballs are a delight, porky and gingery and remind me of the Chinese lion's head meatballs, albeit smaller. The liver and offal are well cooked and offer a pleasant textural contrast to the meatballs. The clear star, however, is the broth. Incredibly rich and creamy, with a distinctive porky aroma, it is perfectly slurped with thin, pho-style rice noodles. 
The see jet noodle is a "dry" noodle (no broth), and is a study in contrast. Despite the luxuriousness of the duck meat and noodles, the flavor is almost delicate in comparison to the pork bone broth. There is a distinct softness to the dish, intermittently livened with the sharpness of fresh alium. Still, it cannot compare to the galactic flavor of the kyae oh. 
Another Sato special appears – the neck bones, with tender and gelatinous meat clinging on for dear life. Topping it is a shock of fresh julienned chiles (seeds included), cilantro, and fish sauce. The pork falls off the bone with a light prod of my chopstick, and both fat and meat melt magically in my mouth.
It is unctuous and velvety, perked up with the funk and salinity of fish sauce and fresh chiles. Pro tip: add the neck bone meat right into the noodle soup, and thank me later. This broth is also marvelous with white rice. 
The curries
We're not even close to done; Chef Sato insists that we try his curry. As we are already close to rolling out of the restaurant, we beg for smaller portion sizes. He obliges, and brings us small plates of chicken and beef curry, served with white basmati rice. Each has been slow-cooked to perfection, layered with impossible flavor and spice, and served with a shameless amount of oil. 
"It's more authentic this way," Chef announces, "The oil would help preserve the food before there was wide access to refrigeration." I'm certainly not complaining, as the oil is infused with both the spices and the savory essence of the meat itself.
The rice holds its own, sturdy yet pliable and ever so slightly fragrant. Both the chicken and the beef curries are slightly different, and made more so by the individual flavors of both proteins. 
The fish curry comes next, with succulent pieces of fresh white fish deep fried before being coated with yet another different curry sauce, more onions, and less oil. The fish itself is supple and lean, greatly enhanced by the decadence of deep frying and by the enigmatic spices. Chef Sato also brings us a sampling of his mother's vegan curry; it comes in a bowl and rather looks and feels like a delicious and comforting soup.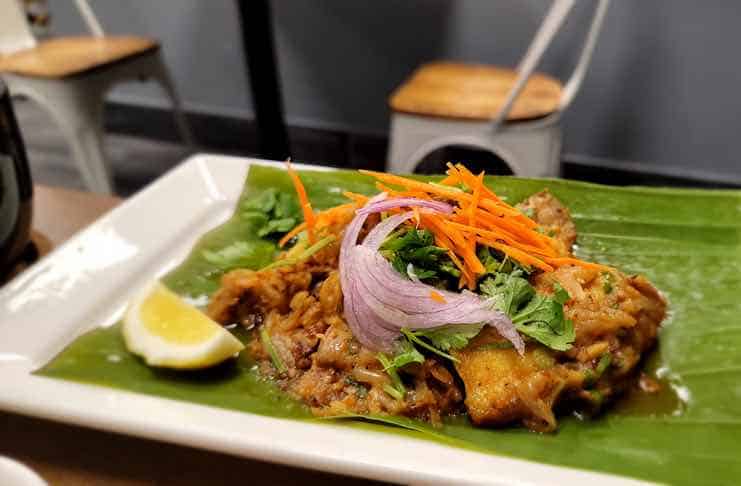 Savory and vegetal, it is filled with okra and an assortment of beans, and tastes far better than a soupy bowl of beans has any right to taste. It is exactly what one would crave on a day where they've consumed far too much rich, fatty foods and they need something warm and wholesome, tasty but not heavy. Delicious with white rice. 
Our final savory course is the mohinga, a peppered fish soup served with the same thin rice noodles as the kyae oh. The smell is delightfully briny; the taste intensifies this sensation. Incredibly concentrated oceanic flavors in each spoonful, it is scattered with flaky shredded fish. The ever loyal and chameleon rice noodles are a deserving companion, happily soaking up the delicious broth without being overcooked.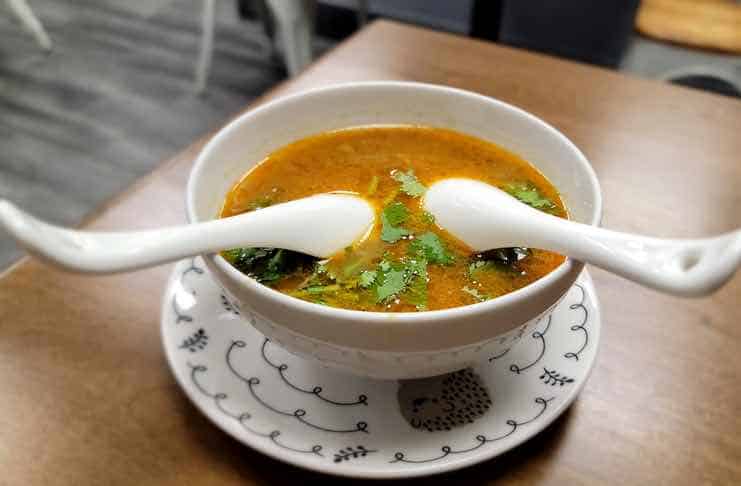 The end of our Burmese Cuisine Adventure
Dessert is faluda, an egg custard soaked in rose milk and topped with vanilla ice cream. Not overly sweet, the sponge-like quality of the airy custard absorbs the rose milk beautifully. The combination of flavor, texture, and temperature play well together, and if your mouth is still burning after multiple rounds of spicy food, this is a harmonious conclusion. 
"This is a kitchen, not a restaurant." Chef Sato's words linger as we bid our goodbyes. A stark contrast to many, perhaps more highly esteemed, establishments, whose chefs often believe that they hold higher power over the guests who seek to enjoy their creations.
Chef Sato wants you to relish his food, and if that means toning down the spice, taking away the offal, or adding less oil to your plate of curry, he will do it. Not because the customer is always right, or because it is what they deserve, but rather because it is what his food deserves — food deserves to be enjoyed. Chef Sato knows this, and he will go the extra mile to ensure that his guests do, too. 
Menu items noteworthy from a second visit: pork curry with coconut rice (outstanding pork flavor pairs with extra creamy and fragrant rice); nan jee noodle salad (served cold with creamy rice noodles, chicken, and egg); coconut chicken noodle soup (coconut curry flavors with schmaltzy chicken and noodles); and tofu salad (Chef Sato's family recipe with silken tofu, it is bright and acidic with surprising heat). All delicious and well worth the price (menu items top out around $10 to $12.50). 
Lastly, you can find Chef Sato and the Amayar Kitchen on the 5th of December, 2021 at a fundraising event in midtown Manhattan, highlighting Burmese cuisine and culture. Find more details at bit.ly/4Burma 
For more about Amayar Kitchen – check their Facebook page.
Want to read more of our latest reviews? Check out our review of this trendy noodle bar in Williamsburg.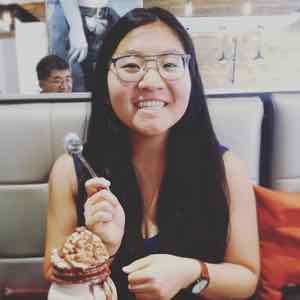 Katherine Chin was raised in upstate New York and grew up with the mindset that good food can, and does, exist anywhere. Now living and working around Manhattan, she spends most of her breakfasts pondering what she'll eat for dinner. She advocates for food that tastes good, and believes that sharing is caring – the best food is often eaten together. You can find her either walking or eating anywhere in Manhattan, when she's not planning her next food-centric adventure.