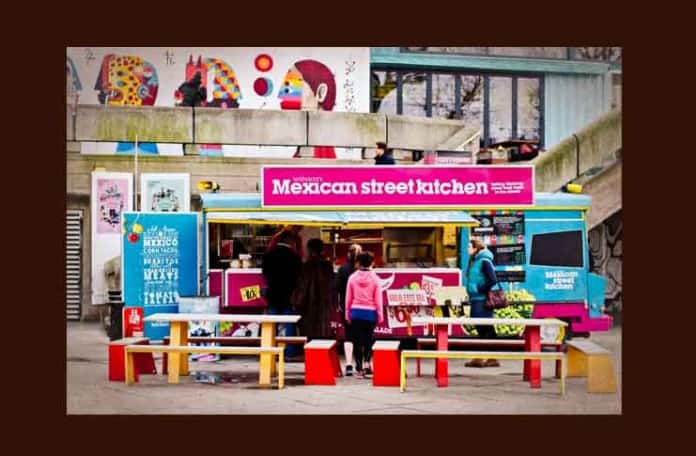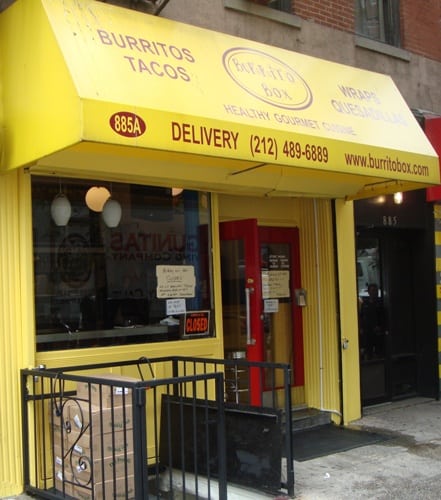 Since the weather was pretty bad, and I had a lot of work to do, I walked over to Burrito Box at 885A Ninth Ave (57-58 St).  Burrito Box ix in our Honorary Street Food category, which are storefronts with few or no tables that serve what is generally considered to be street food.
Last time I was there, I wanted a taco salad in one of those big shells, but mis-ordered and ended up with a tostada salad.  It was a decent lunch, but this time I made sure to order properly.
Today's Lunch is a grilled chicken taco salad ($9.15 incl tax) from Burrito Box.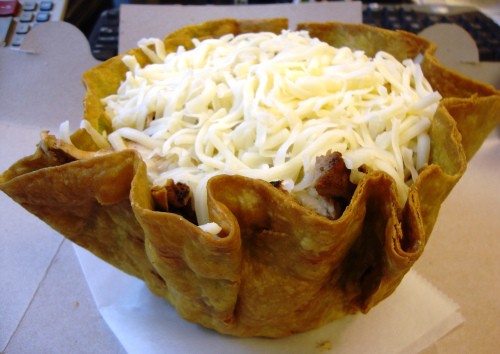 The taco salad is layered, with lettuce and tomato on the bottom of the shell, meat in the middle, and (lots of) cheese on top.  I wish it was mixed around a bit before being put into the shell, because it's tough for me to mix it around without making a mess.  But if i don't, then it's all cheese, then all meat, then all salad.
I took off one piece of taco shell to check out the inside, and the food pretty much stayed in place because it was packed in.  It looked like one of those cross-sections you see in science class or a museum.  That said, this was one of the tastiest looking cross-sections I've seen.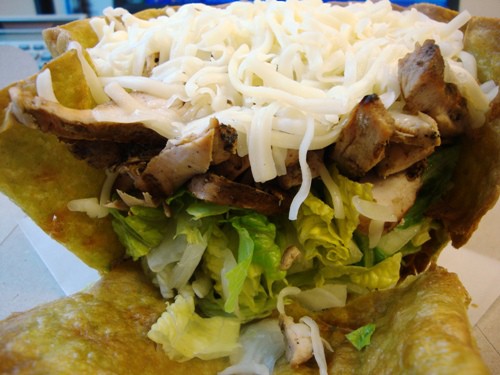 They give you small containers of red and green hot sauce, guacamole and sour cream.  I put on guacamole, sour cream and green hot sauce and started eating.  There was a huge amount of cheese on top, and a lot of nicely grilled chicken in the middle.  That's a great lunch – grilled chicken and shredded cheese with these toppings.  Don't need much more.
The green hot sauce was brutally hot, and the lettuce cooled things off a bit.  I also ate some pieces of the taco shell, bacause carbs are one of the better things to counteract spicy food.  I'm not a scientist, but I believe they absorb some of the spiciness.
Unfortunately, about the only negative thing in this lunch was the taco shell, which was either too overcooked or they used old cooking oil.  The rest of the lunch was great, but my favorite part, the taco shell, was not that great.  It was edible, but not excellent like the rest of the lunch.
At this point, I've had several lunches from Burrito Box, and can definitely recommend them as an Honorary Street Food vendor.  The prices are a little on the high side for street food, but the quality of the food is usually very good.