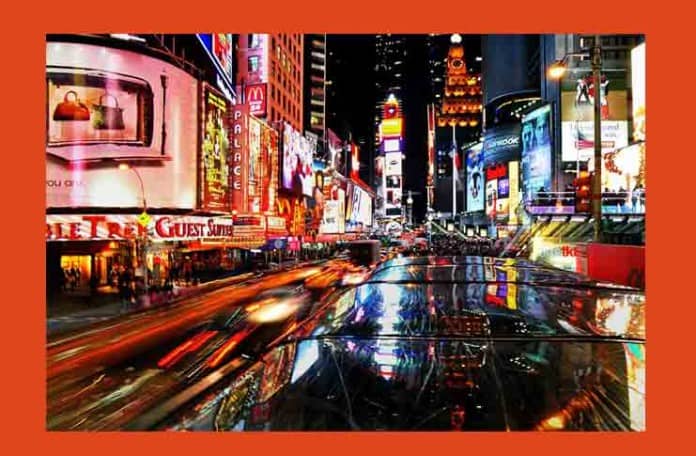 I was near Union Square again today, and one dish I've been wanting to try at Num Pang is the veal hoisin meatball sandwich.  Everything else I've had there has been excellent, and this sounded like a good choice for the next sandwich to try.
Today's Lunch is the veal hoisin meatball sandwich from Num Pang ($7.35 incl tax), a charter member of our Honorary Street Food category.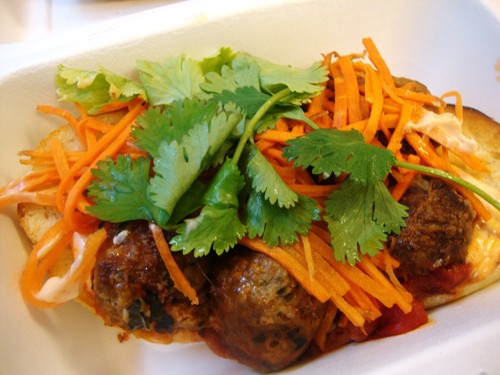 If you're familiar with num pang, the Cambodian version of banh mi, you can probably skip to the next paragraph.  All the num pang sandwiches here include shredded carrots, thinly-sliced cucumber cilantro (including the stalks), and a chili mayo.  It goes great with bbq beef brisket, pork belly, grilled mackerel, coconut shrimp and all the other dishes I've tried at Num Pang.
The veal hoisin meatballs were very nice.  Veal makes for lighter meatballs than beef, and they were flavored well with some greenery (cilantro?) mixed into the ground veal.  The hoisin taste was detectable when I tasted the meatball by itself, but in a bite with everything, it was lost.  They also put a light tomato sauce on the meatballs which I didn't think really went with the rest of the sandwich.  It certainly didn't ruin the sandwich, which was very tasty, but I would have preferred the sandwich without any tomato sauce.
By the way, their toasted sandwich buns are really good too – kind of like smaller baguettes.
Today's Lunch gets an 8.5 out of 10.  All the ingredients at Num Pang are top-notch, and I haven't had a bad lunch there yet.  It will continue to be a regular part of my lunch repertoire when I'm in the Union Square or central Greenwich Village area.