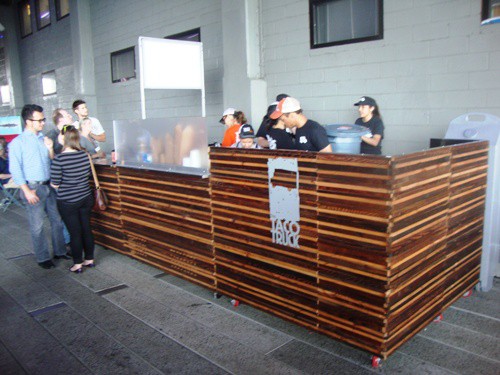 As we told you last week, The Taco Truck NYC just opened a kiosk at the High Line, and we stopped recently to check it out.
Last year the High Line had a few stands, but this year, they really increased the number of vendors.  Within 2 blocks of the 16th St entrance, we saw L'Arte De Gelato, People's Pops, Blue Bottle Coffee, Bark Hot Dogs, Melt Bakery Ice Cream Sandwiches and Terroir on the Porch.  We understand Northern Spy Food Co and La Newyorkina Paletas are there as well.
But we were there for The Taco Truck NYC, the 2011 Vendy-Award winners for Best of NJ, who have been very busy.  In addition to opening a small storefront in Hoboken last year, just last month they opened a 2nd truck in the Boston area, and now the brand-new kiosk at the High Line.
The menu of Taco Truck NYC is similar to their other locations with tacos, tortas and a few other goodies.  Protein options are pork, beef, chicken and veggies, but there's much more to it than that.
We ordered tacos – Barbacoa de Costilla and Carnitas Michoacan, which were $5.50 each.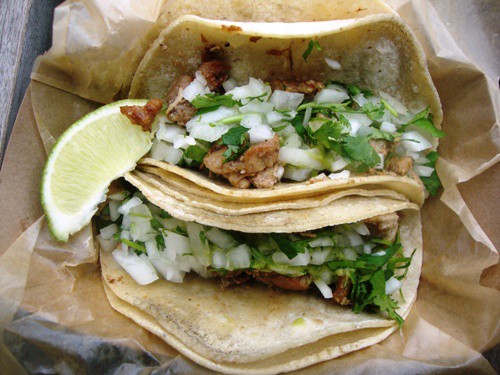 The lettering on the menu was pretty small, and what we thought said two tortillas per taco was actually two tacos per order.  We didn't realize there were two tacos in each order, but that made more sense.  A $5.50 taco would have to be enormous to be worth the money (or filled with gold).
We started with the Carnitas Michoacan, which had chunks of marinated pork, onions, cilantro and green salsa underneath it all.  The pork was very tasty, especially with freshly-squeezed lime juice.  There weren't a lot of extraneous ingredients, but the ones included were fresh and good.
The Taco Truck NYC uses two tortillas per taco, which is how they do it in Mexico, and is important to prevent breakage.
The Barbacoa de Costilla had braised beef with the same onions, cilantro and fresh lime, but these had red salsa instead of green.  That gave the tacos a more tomato-ey flavor, and the braising of the beef added a little crispiness (and lots of tenderness) to the beef.
The red salsa was a bit cold, which was a little disconcerting at first, but the beef warmed it up by the 2nd bite.
It's good to see The Taco Truck has maintained their high standards with this new High Line stand.  One order of two tacos will probably be enough for some people for lunch, but I wanted to try more than one thing.
I'm also looking forward to trying a torta, which I've never had from The Taco Truck.
The Taco Truck NYC is at the Chelsea Market Underpass at 15th St & 10th Ave.  The hours are be Sun-Tues from 11am-9pm and Wed-Sat from 11am-10pm.  They anticipate being open through October, and are a good choice if you're taking a stroll on the High Line.