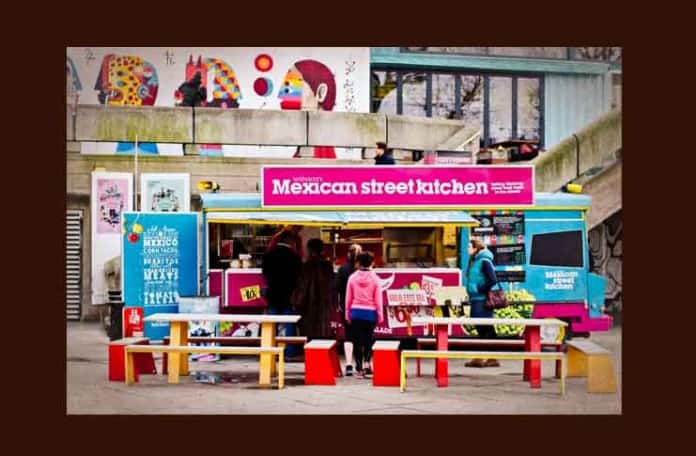 We ran across a recipe for tacos al pastor on the Denver On A Spit blog that looked pretty good.  They found it in the Planet Barbecue cookbook by Stephen Raichlen. The meat needs to marinate at least 4-6 hours, preferably overnight – so make sure you plan ahead for this recipe. It will be worth it.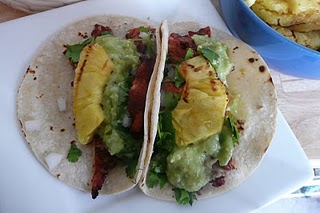 Click through for Friday's Recipe, tacos al pastor – along with amusing commentary from Denver On A Spit.
Start with a 3-lb pork loin, sliced paper-thin. When you're finished slicing, it's time to work on the marinade.
The Taco al Pastor Marinade:
4 ounces guajillo chiles, seeded, de-veined and soaked in 4 cups of hot water for 1 hour
1 cup of the chile-soaking liquid
1/4 cup white vinegar
3 tomatillos
2 cloves of garlic
2 bay leaves
1 tbsp coarse salt
2 tsps freshly ground black pepper
2 tsps dried oregano
1 tsp ground cumin
1 tsp cinnamon
1 tsp anise
1 tsp dried thyme
The marinade is super easy. After the chiles are ready, chop them and add them to a blender.  Throw in everything else, including 1 cup of the water where the chiles were marinating.  Mix it all up as best you can.  Chop an onion up into 1/4 in slices and mix it in a tray or bowl with the slices of pork and all the marinade.  At this point the marinade did not quite smell like pastor, but rather the strong spices of pepper, cinnamon and anise.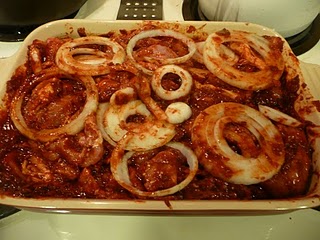 Cover the meat it in foil and put it in the fridge overnight. (Mr. Raichlen recommends at least 4-6 hours.) The next day, fire up the charcoal grill and set the coals up in the middle for maximum direct heat. If you're a city-dweller without a charcoal grill, the broiler can be used.  Grill the pork slices several minutes on each side, or until they had some nice spots of char on them.
Mr. Raichlen also recommends grilling the onions, but pastor doesn't have grilled onions, so I didn't waste any more grill space with them. (NYSF note: we love grilled onions, whether it's authentic al pastor or not. We will be grillin' them suckers.)  Oh, and before I grilled the pork, I grilled 1/4 inch slices of pineapple.
I also made a salsa from my own recipe book that goes like this: 8 to 10 boiled tomatillos, a slice of white onion, 2 cloves of garlic, a pinch of cilantro and 2-3 serranos.  I blended it all up and then sautéed it for 4-5 minutes in some oil, adding salt to taste. I then mixed in a half avocado and mashed it up.  It ends up being similar to the typical "salsa verde con aguacate" that is found in many a taqueria.
I also had ready some warmed tortillas, chopped onion and cilantro. When the first batch of pork came off, smelling, I must say, quite a lot like pastor, my wife and I made some tacos and nodded to each other, recognizing this potential world-changing first bite. [Denver On A Spit]