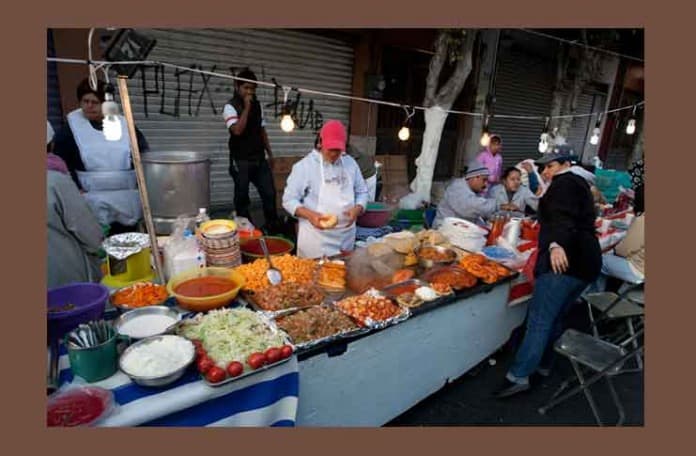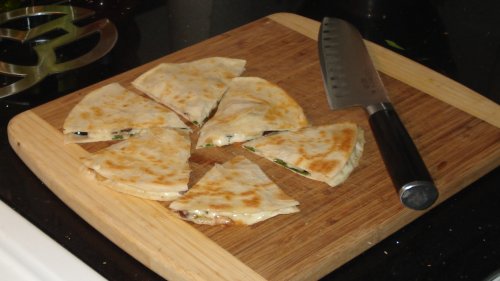 This Friday's Recipe comes from an old issue of Bon Appetit magazine that we use pretty regularly in our house.  The combination of smoked gouda and caramelized onion is always excellent, but especially inside a quesadilla with proscuitto.
Ingredients
2 tbsp (1/4 stick) butter
1 onion thinly sliced
1 tbsp brown sugar
1/4 tsp white wine vinegar
1 1/2 cups grated smoked gouda cheese
4 10-inch flour tortillas
2 ounces sliced proscuitto, chopped
2 tbsp (1/4 stick) butter, melted
Melt 2 tablespoons butter in heavy medium skillet over medium heat.  Add onion, brown sugar and vinegar. Saute until golden brown, stirring frequently about 25 minutes.  Remove from heat and cool to room temperature.
Preheat oven to 350 degrees. Sprinkle cheese over half of each tortilla, dividing equally. Sprinkle proscuitto and sauteed onion over cheese. Season with pepper. Fold other half of each tortilla over cheese mixture. Brush tortilla with some of the melted butter.
Brush heavy large skillet with some of the melted butter. Place over medium-high heat. Working in batches, cook quesadillas just until brown spots appear., brushing skillet with butter between batches, about 2 minutes per side. Transfer quesadillas to heavy large baking sheet.
Bake until tortillas are golden brown and cheese melts, about 5 minutes.
Transfer quesadillas to work surface and cut each into 6 triangles.  Arrange on platter and serve hot with guacamole, sour cream, or whatever you like.
Serves 6 appetizer portions.