We heard from Albert Teran, Chef and Co-Founder, along with his brother Danny, of the Miami Food Machine. The Miami Food Machine will be doing a promotion today for their good friends, Chef Eric Greenspan (LA) and Chef Roberto Treviño (PR) called El Ñosh.
Chefs Greenspan and Treviño are  opening a pop-up restaurant today through Sunday in the Meatpacking District, and they are taking over the Miami Food Machine today to promote it.
El Ñosh features Jewish-Latin Fusion Cuisine, and the chefs will be opening an El Ñosh food truck in LA next year.
Click through to find out more about this crazy Jewish-Latin cuisine, and how you can try it right here in NYC! Today!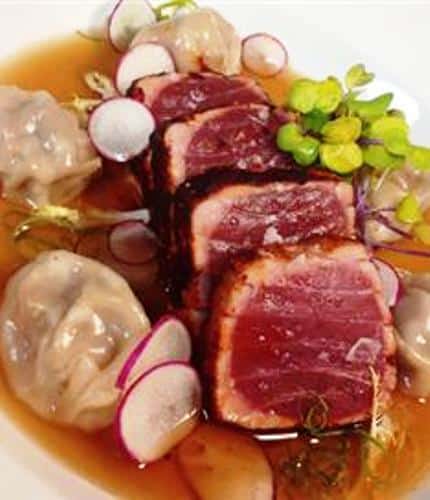 While the pop-up restaurant will have noshes like Salami Tamales and Kishka Mofongo Nuggets, main dishes will be more like Puerto Rican Rum Glazed Salmon with Black Bean Hummus and Platano Eggplant Mina.
TheJewish-Latin truck menu will be quite different, with tortas on challah bread and Sephardic congri (rice & beans).
For more information about El Ñosh and the chefs go to the El Ñosh website. You can also make reservations there for dinner Thurs-Sat or for Sunday brunch.
The truck is going to be at various locations throughout NYC today only. Find the Miami Food Machine on twitter here or on our Mobile Munchies twitter feed.
The pop-up restaurant's twitter is @elnoshpopu
Here's the El Nosh truck menu: