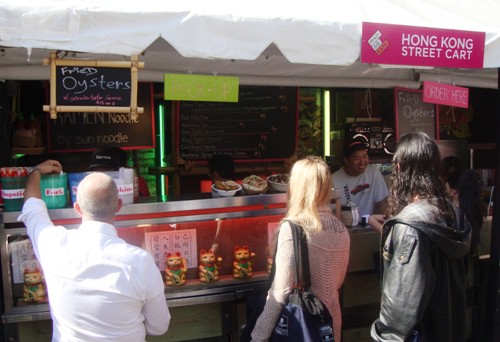 Feel like Hong Kong Noodles? While walking through Madison Square Eats over the weekend, another vendor caught our eye besides Delaney Barbecue.
We tried Hong Kong Street Cart (HKSC) at Madison Square Eats way back in June 2011, but their menu today looked nothing like their menu 2½ years ago. Now they had 2 types of ramen!
The choices were red curry ramen or soy sauce & garlic ramen. Both cost $13, yet another example of Madison Square Eats vendors raising prices beyond what they should.
With each ramen, you have the option of lemongrass chicken, fried shrimp or fried vegetarian soymeat. We chose the red curry ramen with fried shrimp.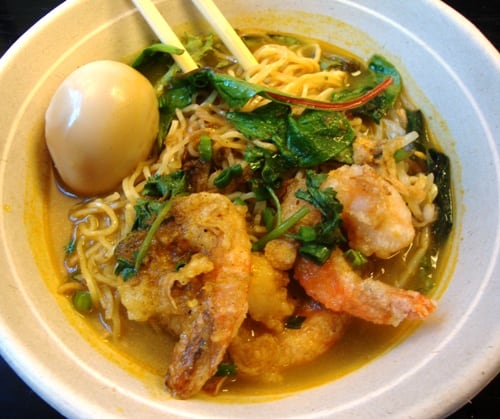 Thankfully, HKSC packaged the fillings and the broth in separate containers. This made it really easy to hop on the subway and bring lunch back to the office, with little to no adverse effects.
The ramen came with 3 large fried shrimp, plenty of noodles, a hard boiled egg, scallions, bean sprouts, and fresh cilantro.
The shrimp were large and cooked right, not overcooked…but there were only 3 🙁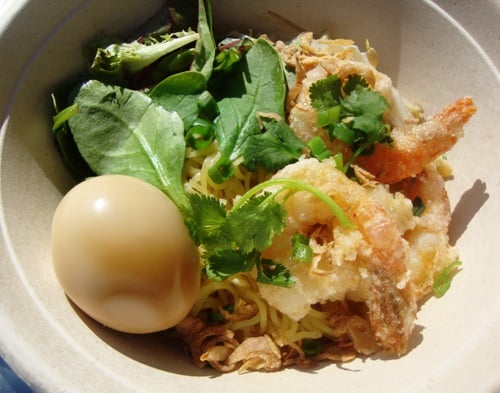 The Hong Kong Noodles were also cooked right, with a certain amount of springiness in each bite. Much better than the other ramen noodles we've had on the street, which were usually overcooked and too soft. According to the sign, they were fresh artisanal ramen noodles from Sun Noodle.
The broth had a nice curry flavor, plus more basil flavor than we expected. This was a pleasant surprise.
You can find Hong Kong Street Cart on twitter here or on facebook here. The red curry ramen was tasty, but pricey.
Madison Square Eats runs until October 25th, so you still have time to stop by for lunch or dinner. The prices are generally high for lunch, but more reasonable if you make a dinner out of it.