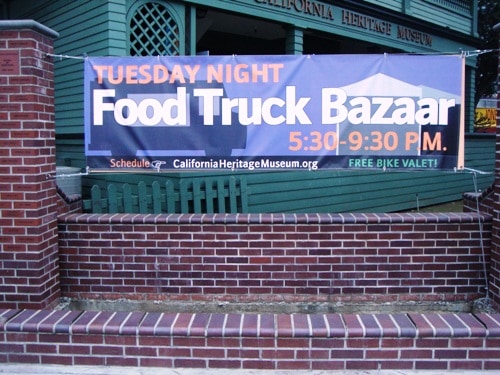 Monday night we flew into LA, and last night, we went to the Santa Monica Food Truck Bazaar. It's held every Tuesday Night at 2640 Main St, just off Ocean Park Blvd, right in the heart of Santa Monica. As you can see in the photo above, the Bazaar is sponsored by the California Heritage Museum.
The Food Truck Bazaar was recommended by Ross from Roaming Hunger, who we contacted before coming out to LA. We had corresponded before, but never had a chance to meet in person before last night.
Ross met us at the Bazaar, and we had a chance to talk shop, eat from some of the trucks, and chat with some of the owners.
There were about 8 food trucks overall, and we got to sample from several of them, which you will read about over the next few days. There was even a food truck for dogs called Chef Michael's, which we didn't get to try, as our dog is still in NYC.
We will post one LA review per day for a few days, but everything else will be the same, including our Mobile Munchies posts each day. The LA posts will give you a chance to see what else is out there in the food truck world.
We hope you enjoy it as much as we expect to.